After A Year Of Delays, Should No Time To Die Move Up Its Release Date For Daniel Craig's Bond Swan Song?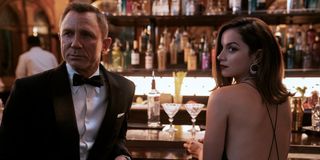 If 2020's tumultuous events hadn't upended the world in unprecedented ways, No Time To Die would have been released in its original April 10th release date as planned. We'd probably still be talking about Daniel Craig's James Bond swan song, the secrets it revealed, and how it sets the path for the future of the 007 franchise. Sadly, as we all know, several release date delays have the world still waiting to see director Cary Joji Fukunaga's work on the 25th James Bond film.
But is it time for that trend to change, seeing No Time To Die finally push its release date up instead of back? With the shuffling release dates of the Mission: Impossible and Top Gun sequels already prompting fans to wonder if there's going to be another push, it's the perfect time to ask such a question. Also, it's literally a year since No Time To Die was supposed to be released, so if that doesn't seal the deal, then nothing does.
No Time To Die's History Of Release Date Shifts So Far
Even before the solid domestic April 10, 2020 release date that was meant to see No Time To Die burst into theaters, November 9, 2019 and February 2020 both saw the film temporarily parked in their slots on the calendar. But April 10th felt like the real deal, the moment where everyone's tuxedos and evening gowns could be worn to a theater near you. And then the COVID-19 pandemic hit, causing several key shifts.
The first postponement saw No Time To Die push off of April 10th and into a more traditional November 25th release date. Were that to have held up, Daniel Craig could have found himself called the king of the Thanksgiving box office. But alas, that wasn't meant to be, as the continuing world health crisis saw the film moved to April 2nd, 2021; a year later than the original solid UK release date. One last push saw No Time To Die hitting its current release frame, with October 8th being the current domestic debut.
The Pros Of Moving Up No Time To Die's Release Date
If EON Productions, MGM, and Universal decided to push up the release date for No Time To Die, you'd probably hear much rejoicing. Fans of the James Bond franchise would be absolutely delighted to know that Daniel Craig's final 007 adventure would be heading to theaters, and sooner than anticipated for a change. Not to mention, movie theater chains that have a taste for making the sort of money Godzilla vs. Kong has been bringing in would be almost assured another record-breaking success in the industry's hour of need.
A move forward would also help out quite a bit with curtailing the expenses required to keep No Time To Die on the shelf. With $1 million a month going out the door to postpone James Bond's theatrical future, there's a lot of money that's being paid to not show this film. So the quicker No Time To Die goes to theaters, the quicker the path to PVOD rentals and streaming availability would be, helping make up the money lost by the continuous delays.
As the 25th Bond film is set to go to Paramount+ and EPIX in its streaming afterlife, and movie theaters have negotiated shorter exclusivity windows with various studios, those that want to watch 007 from the comfort of their homes wouldn't have to wait that much longer themselves. Even the promotional partners who worked to get their latest wares into No Time To Die's product placement showcase would be able to see themselves benefitting from an aggressive move forward.
The Cons Of Moving Up No Time To Die's Release Date
No Time To Die's move forward, while being an exciting moment for James Bond fans and sponsors who want to see the franchise move forward, would also be rather difficult to engage. Most other movies have found themselves easily shifting from one date to the other, and nowhere is that better seen than in the flexibility Warner Bros. has had with shifting release dates in their 2021 calendar. With HBO Max debuting the studio's entire cache of titles this year, Mortal Kombat was easily moved back a week so Godzilla vs. Kong could reign supreme.
No Time To Die does not have that luxury, as there's no simultaneous streaming release; and such an endeavor would probably not net as much money as EON Productions would hope. Plus, even just from a traditionally theatrical standpoint, the film would need to see a lot of promotional pieces moving into place in order to set the film up for maximum box office potential. And then there's the greatest problem: finding a proper release date for No Time To Die to take flight from.
That's going to be hard, as other studios are currently moving their films across the board of 2021 and 2022. Would-be blockbusters like The Tomorrow War and Luca heading off to streaming exclusive releases, and other films like Snake Eyes: G.I. Joe Origins and F9 are poised to steal some of the action adventure fanbase that No Time To Die would want to cash in on. No Time To Die would find quite a bit of company at the summer multiplex, and the greatest obstacle that 007 could find himself facing in a move forward is the cruelest of all: trying to find the right release date.
Where Could No Time To Die Move Its Release Date To?
For No Time To Die to truly get its money's worth, it's going to have to release in a spot where it has the best chance to dominate the theatrical market for as long as possible. While the new normal would probably still see the film have some strong legs in the weeks after its release, it's safe to say that at least two weeks of pure dominance would be ideal for James Bond's return to cinemas. Two dates come to mind when thinking of pushing No Time To Die into a safe new home.
The most extreme option would be Friday, July 23rd, which would give No Time To Die the chance to get itself into the summer box office picture. With Snake Eyes and M. Night Shyamalan's Old being the only competition on that day and Disney's Jungle Cruise posing the only real week 2 threat to 007, those two weeks could see record gains, with The Suicide Squad set to take the torch in early August. Cue the PVOD window in the middle of the month, and plenty of Bond fans taking advantage of their good fortune throughout the rest of 2021.
However, if EON Productions and its studio partners want to be a bit more conservative, No Time To Die could find itself released just slightly earlier, on September 17th. Two weeks after Shang Chi and the Legend of the Ten Rings makes its debut, the only direct competition on that day is The Boss Baby: Family Business and Venom: Let There Be Carnage. There would still be a bump in the release window for No Time To Die to make some extra cash, and there'd be even more room for Top Gun: Maverick to spread its wings a little wider.
Obviously, none of these dates are sure fire solutions, and No Time To Die could even find itself moved into a 2022 release date. With the 60th anniversary of the 007 cinematic universe's debut with Dr. No on the horizon and the overall picture of the theatrical landscape still being a bit clouded, there's no telling where the next move might put the film's fates. But it is looking more likely that a shift in No Time To Die's release plans will be in the air, at least that seems to be the fanbase's prevailing opinion. So unless those notions turn to reality, we should expect to see No Time To Die stick to its October 8th release date for the time being. Which leaves plenty of time to break out the Bollinger, or hit the tailor shop to make sure your opening night wardrobe is in order.
This poll is no longer available.
Your Daily Blend of Entertainment News
Senior Movies Contributor
CinemaBlend's James Bond (expert). Also versed in Large Scale Aggressors, time travel, and Guillermo del Toro. He fights for The User.
Your Daily Blend of Entertainment News
Thank you for signing up to CinemaBlend. You will receive a verification email shortly.
There was a problem. Please refresh the page and try again.