Watch Mortal Kombat Fans Go Crazy Watching The Brutal First Trailer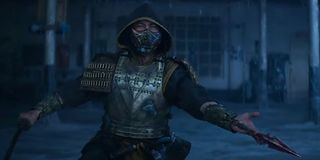 Mortal Kombat has a certain way of getting folks excited. Whether it's a favorite character, the signature fatalities or the series' iconic music, there's a lot to like from the video game based franchise. Recently, Warner Bros. released the first trailer for Simon McQuoid's upcoming Mortal Kombat reboot, and fans went crazy for it.
In a video posted to the studio's YouTube page, fans from around the world reacted to the brutal Mortal Kombat trailer with shock, awe and everything in between. Check it out:
The Mortal Kombat trailer, which broke red band records, is spliced in with reactions from major reaction channels such as #StruggleNation and Blind Wave. Throughout the video, you can see fans react to some of the brutally beautiful moments, including a showdown between franchise favorites Sub-Zero and Scorpion.
The video comes just after the stars of Mortal Kombat were in a reaction video of their own, which featured members of the stacked cast sharing their thoughts on the upcoming reboot. Right now, it's looking like the hype is at an all-time high. Even though some are concerned that Simon McQuoid's adaptation may be taking itself too seriously, I'm pretty impressed with what we've seen so far.
Heck, the director has already outlined just how important fatalities will be in Mortal Kombat. Apparently some of them are so intense that they caused a member of the cast to actually get sick during filming, which is probably due to the insane amount of blood they were working with on set.
I mean, what more could you ask for as a Mortal Kombat fan? There are even rumblings that fans may see a secret character. While a number of fighters were already confirmed from the most recent trailer, the team behind Mortal Kombat had a long list of characters to work with. From Kung-fu robots to four armed half-human half-dragons, there is a lot of material to cover.
Fortunately, director Simon McQuoid has already outlined exactly how he's going to keep long-time fans of the franchise pleased, while entertaining those new to the series. Hopefully he can manage the high expectations, especially after the record-breaking trailer.
One thing is certain: people are pumped to get back into the ring with the fighters of Mortal Kombat. The upcoming martial arts film features some of the most talented actors in the business, including Joe Taslim as the iconic Sub-Zero.
I know that I'll be part of that fanbase watching Mortal Kombat when it releases on HBO Max and in theaters on April 16. In the meantime, it's the perfect chance to revisit some of the video games that started it all. Maybe you could even try out a fatality or two.
Into tracksuits by Paulie Walnuts, the Criterion Channel and Robert Eggers.