Wonder Woman Gal Gadot Reveals Husband Actually Threw Her Finger Away In Unheroic Kitchen Incident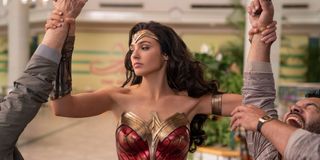 Wonder Woman herself, Gal Gadot, has had quite the past year. We saw the release of Wonder Woman 1984 and its gag real, as well as Zack Snyder's Justice League, while also teasing a new project while debuting her pregnancy. Her role as Dianna Prince, which she has stated has been influenced by Princess Diana, has shown how heroic and powerful she can be on screen. Gadot is not immune to having accidents though, as she recently revealed that her husband threw her finger away in a very unheroic incident in the kitchen.
Cooking for yourself or your family can be very fulfilling; still, it's a lot of work. The love and work you put into making food for others is part of the joy of cooking, but sometimes accidents can happen to even the most experienced home cook-- especially when you have had a couple of cocktails. Gal Gadot recently told a story about having a kitchen accident involving her finger and her husband discarding it in an unheroic manner, telling Jimmy Kimmel Live:
Gal Gadot just wanted to make a salad while having a cocktail which is very relatable, but ended up cutting the top of her finger off. If that wasn't enough, her husband got so disgusted he just threw the top of her finger in the garbage disposal. Gadot goes on to explain how she and her husband saw just how ridiculous and messy the situation was saying:
Gal Gadots story about drinking and making a salad is hilarious and it's nice to see that she and her husband saw the hilarity of what occurred. Gadot is a bonified action star. Even though Wonder Woman 1984 wasn't as well-received as the first Wonder Woman movie, it still showcased Gal Gadot as a force on screen. Gadot has endured tough physical filmmaking and issues with Joss Whedon, so nothing will or can deter her drive and motivation.
Gal Gadot has been a part of one of the best movie crossover fights and has become the embodiment of her role as Wonder Woman. Fans are wondering what's next for her Dianna Prince after Zack Snyder's revamped Justice League, but she is almost guaranteed to take up the mantle of Wonder Woman again. In the meantime, let's hope she doesn't have any more cooking accidents.
Movie and TV obsessive. A good Heist movie is the way to my heart. Enjoyer of everything from Marvel Movies to Rom-coms.
Your Daily Blend of Entertainment News
Thank you for signing up to CinemaBlend. You will receive a verification email shortly.
There was a problem. Please refresh the page and try again.