Ariana DeBose: 5 Cool Things To Know About The West Side Story Star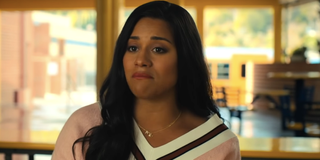 When Hamilton broke out onto the Broadway stage at the Richard Rogers Theater in New York City, there were several stars who got their big break from the mega-hit that it became. While there are plenty of names that you might have heard of pretty often, such as the popular Lin-Manuel Miranda or Daveed Diggs, there's a newcomer who you should keep your eye on, and that's Ariana DeBose.
Not only was Ariana in the Hamilton cast as "The Bullet," and was nominated for a Tony for her performance in A Bronx Tale, but she's also had a career that many of us are learning about, which I'm sure is only going to expand more and more over the next couple of years. With her new role as Anita in Steven Speilberg's West Side Story coming out later this year, you won't forget her name. But, until then, here are five cool facts about this young actress that you should know.
Ariana DeBose Was In Productions Of Bring It On, Motown, And Pippin Prior To Hamilton, Showing Her Talent
As if you couldn't guess already, the 30-year-old actress has had plenty of work in her life, mainly on stage. She's had several opportunities to show off her amazing triple-threat abilities of dancing, acting, and singing in Hamilton, but prior to that, she had plenty of roles on Broadway, according to Broadway World.
DeBose was in a production of Bring It On, where she played Nautica, and also performed as an understudy for Danielle for two years. After that, she moved on to working in Motown: The Musical, where she was a part of the ensemble, before taking on the role of Mary Wilson and becoming the understudy for Diana Ross. After that, she worked on Pippin, where she would start out as the understudy to the Leading Player before gradually taking the role for her own.
It's clear that she has plenty of work on her plate from her past time on Broadway to share with the world.
Ariana DeBose Has Had On-Camera Roles In The Last Several Years
However, besides her work on the stage in New York City, Ariana DeBose has been pretty active elsewhere in the entertainment world. Prior to her getting her big break on Broadway, DeBose actually took place in Season 6 of So You Think You Can Dance?, and made it all the way to the Top 20, according to Pop Buzz.
But, if you're looking for something a little more recent, DeBose had a guest-star role on the CBS hit Blue Bloods back in 2016, and had a major role as Alyssa Greene in the Netflix musical film, The Prom, in 2020, so she's starting to step into the entertainment world of TV and film slowly but surely. In the future, besides West Side Story, she's going to have a role in the new Apple TV series, Schmigadoon!, so it seems television might end up becoming a new home for her soon.
Ariana DeBose Identifies As Queer
Ariana DeBose is a part of the LGBTQ+ community, and has been ever since 2015. In an interview with Glamour Magazine when promoting her movie The Prom, DeBose talked in detail about her journey, from her identity as an Afro-Latina to her orientation.
With so much in her life that has been going on, it's great that she feels open enough to share her experiences with the world so that she can find a way to connect with her fans. We're all rooting for her.
In Hamilton, Ariana DeBose Was Part Of The Ensemble - But Had A More Important Role
If you don't know musical theater jargon, the ensemble is the cast of characters who push along the plot with the main characters, providing essential dance moves, singing, and sometimes even acting. In Hamilton, Ariana DeBose was a part of the ensemble, but she actually played a very important part within that – "The Bullet."
You see, in the show, "The Bullet," is often considered an omen of death for Alexander. Each time she appears on stage as "The Bullet," often moving in slow motion up until the end, Alexander is able to avoid it. For example, with her sailing over his head while he is busy doing secretary work, foreshadowing his demise later on in the show. It's a really strong central theme of the musical, and it's so cool to see that this talented actress was the person behind it.
Fun fact, DeBose actually also has a speaking part in "Blow Us All Away," saying "I saw him just up Broadway, couple of blocks, he was going to see a play," leading Phillip Hamilton (Alexander's son) towards the man who would inevitably kill the younger Hamilton. Seems like death is working overtime on this one.
Ariana DeBose Takes Pride In Creating A Sense of Community For Her Fans
In an interview with Logo, Ariana DeBose talked all about her career, from Hamilton: An American Musical to her Tony-nominated performance in A Bronx Tale. However, Ariana says that she would be nowhere if not for her fans, and she wants to build a place for her fans to go when they feel they have nowhere else, like what the theater did for her.
The theater has always been about finding that family away from home while doing what you love, so it's great to see that Ariana DeBose is trying to do the same thing for her fans, even just through social media.
With how much she has done in the past, and how much she has planned in the future for one of the top upcoming 2021 movies, the world better look out for Ariana DeBose. I have a feeling that we're going to see a lot more of her in the coming years.
Your Daily Blend of Entertainment News
Big nerd and lover of Game of Thrones/A Song of Ice and Fire. Will forever hate season eight. Superhero and horror geek. And please don't debate me on The Last of Us 2, it was amazing!