Mad Max Furiosa Prequel: Release Date, Cast And Other Quick Things We Know About The Movie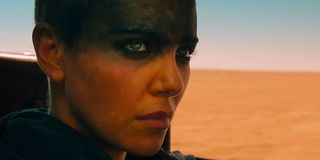 After a 30-year wait, Mad Max: Fury Road burst into the cinemas in 2015 and gave an adrenaline kick to all who saw it. The high-octane ride that starred Tom Hardy and Charlize Theron became both a fan favorite and a critics favorite. Thankfully, we won't have to wait another 30 years to see George Miller's next foray into the Mad Max universe, as his Mad Max Furiosa spinoff is reportedly just a couple of years away, with some new additions in Anya Taylor-Joy and Chris Hemsworth, among others. Get the lowdown on all things Furiosa below.
Anya Taylor-Joy Will Take On The Furiosa Role Previously Played By Charlize Theron
Charlize Theron famously brought the role of Furiosa to life in Mad Max: Fury Road. However, for reasons we'll get to below, Theron will not be returning for her character's spinoff (a point she's a little heartbroken over). Instead, the new Furiosa will be played by Anya Taylor-Joy.
Variety reported Taylor-Joy's casting in October 2020, as she will play a younger version of Furiosa. Taylor-Joy's star has been rising in the last couple of years, with Netflix's The Queen's Gambit and the latest adaptation of Emma as major breakthroughs for the young actress. Before hopping behind a war rig, Taylor-Joy will star in Edgar Wright's Last Night in Soho and Robert Egger's The Northman.
Taylor-Joy is aware of the responsibility of filling Charlize Theron's shoes (and mechanical arm).
The Furiosa Cast Also Includes Chris Hemsworth And Yahya Abdul-Mateen II
The same Variety report announcing Taylor-Joy's casting added that she will be joined by another pair of Mad Max newcomers, Chris Hemsworth and Yahya Abdul-Mateen II. However, just who they will be playing is not known at this point.
Hemsworth, of course, is best known for his role as Thor in the Marvel Cinematic Universe, but has aptly provided his talents to other films like Extraction and Bad Times at the El Royale. Yahya Abdul-Mateen II also has a superhero background, as he was the villainous Manta in Aquaman and on HBO's Watchmen. He was also in the recent Best Picture nominee The Trial of the Chicago 7.
Furiosa Is Aiming For A June 2023 Release Date
So we know who will be in Furiosa, but when will we get the film? It should come as no surprise that this will be a summer blockbuster, but not until the year 2023.
Warner Bros. announced a slew of release dates for upcoming films last December, and among them was a June 23, 2023, slot for Furiosa. And in case you were wondering, Warner Bros. has already announced that - at least for now - 2021 will be the only year they release their films the same day in theaters as they do on the HBO Max streaming service, so Furiosa is expected to be seen on the big screen.
Miller Opted Against De-aging Technology To Bring Back Charlize Theron
Now that we've got the main information out, let's dive into the nitty gritty. Anya Taylor-Joy taking over the role of Furiosa means that Charlize Theron will not be returning to the character that she helped make iconic in the previous film. However, there was some thought as to how they could bring Theron back for one more go around.
In a New York Times profile, Miller explained that he considered using de-aging technology with Theron, much like The Irishman and Captain Marvel. The script is said to feature Furiosa in her 20s, and as of this writing Theron is 45. Ultimately, Miller determined that the technology was not to his satisfaction.
There Was A Script For Furiosa Before Shooting Began On Mad Max: Fury Road
The 30-year gap between Mad Max Beyond Thunderdome and Mad Max: Fury Road did not mean that George Miller wasn't thinking about the world he created. In fact, as the process to bring Fury Road to the screen took several years, Miller took the time to build elaborate character backgrounds from Immortan Joe to the Doof Warrior (that guy with the guitar). Unsurprisingly, Furiosa's history was also well developed.
Another tidbit that Miller shared in the New York Times piece was that the more they dove into Furiosa, the more they loved her. So much so that before they even shot a single scene of Mad Max: Fury Road there was a script for a Furiosa origin story.
Rosie Huntington-Whiteley, who played Splendid in Fury Road, was quoted saying:
Yes, Rosie, yes it is.
Much Of Fury Road's Oscar-Winning Production Team Is Returning
The look of Mad Max: Fury Road was one of the film's most memorable components, and the Academy agreed. Mad Max: Fury Road won six Oscars in 2016: Best Editing, Best Costume Design, Best Makeup & Hairstyling, Best Sound Mixing, Best Sound Editing and Best Production Design.
Furiosa will bring back much of that behind-the-scenes crew, including production designer Colin Gibson, editor Margaret Sixel, sound mixer Ben Osmo and makeup designer Lesley Vanderwalt. Mad Max: Fury Road stunt coordinator Guy Norris and Fury Road's Oscar-nominated cinematographer John Seale (who was quoted in the New York Times story he would only come out of retirement for Miller) are also set to return.
Furiosa Is Expected To Be Australia's Biggest Movie Ever
Mad Max: Fury Road was no indie film, but the production of Furiosa is poised to surpass that of its predecessor. According to the Associated Press, Furiosa will shoot in South Wales, Australia, and is expected to be the biggest film ever produced in the country. Furiosa will infuse $350 million AUD into the local economy and create 850 jobs, per AP.
As for when the cameras will start to roll, we don't know. Miller is working on post-production for his next film, Three Thousands Years of Longing starring Tilda Swinton and Idris Elba, and is expected to head into Furiosa right after that as they work to make the June 23, 2023, release date.
George Miller Has Two Mad Max Sequels Beyond Furiosa In Mind
One character that we won't be seeing in Furiosa is Mad Max himself. Furiosa and Max Rockatansky proved to be a dynamic duo in Fury Road (despite Hardy and Theron having some tension on the set). At the end of Fury Road, (SPOILER ALERT) Max went his own way as Furiosa and company overtook the Citadel.
Sooner or later, Miller intends to bring Max back to the big screen. Miller said that he has two Mad Max sequels in mind, even revealing that the title of Fury Road's follow up could be titled Mad Max: The Wasteland.
It will take some time to get any Mad Max sequel, but if this franchise has taught us anything, good things can come to those who wait.
Your Daily Blend of Entertainment News
D.C.-based cinephile. Will dabble in just about any movie genre, but passionate about discovering classic films/film history and tracking the Oscar race.
Your Daily Blend of Entertainment News
Thank you for signing up to CinemaBlend. You will receive a verification email shortly.
There was a problem. Please refresh the page and try again.