Dune And 14 Other Book-To-Movie Adaptations Coming In 2021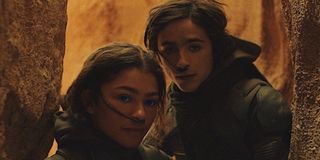 CinemaBlend participates in affiliate programs with various companies. We may earn a commission when you click on or make purchases via links.
It's common to hear "the book was better than the movie" when it comes to movie adaptations, but how often do you get to be active in that conversation? Reading a book before the movie can certainly lead to disappointment when our own imaginations don't match the vision of a production, but without fail it does allow us to appreciate stories like Denis Villeneuve's movie based on Frank Herbert's groundbreaking sci-fi novel Dune on the screen in front of us at a deeper level. There are a ton of books being adapted to movies in 2021 – enough to serve as a reading list for movie fans from all corners of Hollywood.
There are a ton of book-to-movie adaptations coming our way this year, even exceeding this list. Those that do not have set dates yet we've omitted, such as YA sequels To All The Boys: Always and Forever, Lara Jean, After We Fell and crime action flick Tom Clancy's Without Remorse starring Michael B. Jordan. Here's just about every major movie you might want to crack open a book for in 2021:
The White Tiger - January 22
One of Netflix's first major releases of the year is an adaptation of Aravind Adiga's The White Tiger, a dark and fast-paced crime drama about a man from India's countryside who gets his big break when he's hired to be the driver of his village's wealthiest man. The job opens up Balram to break away from his servitude and become an important and corrupt person himself. The movie features an Indian cast including Priyanka Chopra Jonas (also executively producing) and is written and directed by Ramin Bahrani, who previously made Fahrenheit 451 and critically acclaimed 99 Homes with Andrew Garfield.
Get Aravind Adiga's The White Tiger here (opens in new tab).
The Dig - January 29
Another winter Netflix release based on a novel coming in January is John Preston's The Dig, which will star Carey Mulligan, Lily James and Ralph Fiennes. The book is based on historical events in Britain in 1939 is a recreation of the Sutton Hoo dig, which became the site of two cemeteries, one of which containing an undisturbed ship burial, home to a slew of Anglo-Saxon artifacts that have since found homes in the British Museum. The movie will center on Fiennes' archaeologist team and Mulligan's widow farmer who lives on the site.
Get John Preston's The Dig here (opens in new tab).
French Exit - February 12
Michelle Pfieffer and Lucas Hedges will play mother and son in an adaptation of Patrick deWitt's French Exit, a dark comedy about a wealthy widow who leaves New York for Paris on the heels of scandal and bankruptcy with her adult son and their cat Small Frank. The movie promises some standout performances from its leads and will be going for a theatrical release for an unlikely trip to the city of love for Valentine's Day weekend.
Get Patrick deWitt's French Exit here. (opens in new tab)
Cherry - February 26
It's going to be a seriously eventful year for Tom Holland, and that all starts with the Russo Brothers' Cherry, a contemporary crime drama about a young man who goes to war in Iraq and returns to his wife with profound PTSD and drug addiction. In a desperate effort to survive and keep taking heroin with his partner, "Cherry" turns to bank robbing. The adaptation based on a novel by Nico Walker will see Avengers: Endgame filmmakers challenging themselves with a drama and Holland venturing into dramatic territory. The movie is going to reach AppleTV+ on its release date.
Get Nico Walker's Cherry here (opens in new tab).
Chaos Walking (The Knife of Never Letting Go) - March 5
Just one week later, Tom Holland will also star in Chaos Walking with Star Wars' Daisy Ridley in a YA dystopian sci-fi movie covering the first of a trilogy of books, The Knife of Letting Go. The story revolves around a town of men, infected with a germ that allows each other to hear everything they think, that gets disrupted by the arrival of a mysterious girl. Chaos Walking looks to be an exciting, adventure film set to hit theaters and the book is an award-winning page turner.
Get Patrick Ness' The Knife of Never Letting Go here (opens in new tab).
My Salinger Year - March 5
The first non-fiction read on 2021's book-to-movie reading list is Joanna Rakoff's My Salinger Year, a memoir about her time as an assistant to the agent of J.D. Salinger, the famed writer of The Catcher and the Rye. The story revolves around the aspiring writer, played by Margaret Qualley and Salinger's agent, played by Sigourney Weaver. This '90s set NYC drama looks like a bookworms' dream of a movie and a reflective read.
Get Joanna Rakoff's My Salinger Year here (opens in new tab).
Fatherhood (Two Kisses From Maddy) - April 16
Another Hollywood movie based on a memoir coming this spring is Fatherhood, an upcoming drama starring Kevin Hart, Alfre Woodard and Lil Rel Howery. The movie is about a first-time father raising his daughter alone after his wife and high-school sweetheart dies shortly after giving birth to their child. This one is definitely going to be a tear-jerker, but perhaps one that will shed some light on single parenting in the midst of grief.
Get Matthew Logelin's Two Kisses For Maddy here (opens in new tab).
Infinite (The Reincarnationist Papers) - May 28
Training Day and The Equalizer director Antoine Fuqua is teaming up with Mark Wahlberg and Maze Runner actor Dylan O'Brien to adapt the sci-fi thriller The Reincarnationist Papers. The book by D. Eric Maikranz is about a secret society of people who have the ability of recalling their past lives. The story is told through the eyes of a man as he's learning about them and joining their ranks. The Paramount movie is apparently eyeing a spring theatrical date.
Get D. Eric Maikranz's The Reincarnationist Papers here (opens in new tab).
The Green Knight (Sir Gawain and the Green Knight) - July 30
Independent studio A24 is taking on a 14th century epic poem for its upcoming summer release, The Green Knight starring Dev Patel and written/directed by Pete's Dragon's David Lowery. In a change of pace for this reading list, Sir Gawain and the Green Knight is an Old English poem that is recognized alongside Chaucer's masterworks. Set in Arthurian Camelot, the poem revolves around a hero's journey to strike the mysterious "Green Knight" to strike him with his axe. Knowing A24, the film will surely be a fresh and subversive take on the historical work.
Get Sir Gawain and the Green Knight here (opens in new tab).
Deep Water - August 13
Throughout the year, you may have heard about Ben Affleck and Ana de Armas' blossoming romance, well that all started on the set of Deep Water. The erotic crime thriller is based on a 1957 novel by Patricia Highsmith about a loveless marriage held together by the wife's arrangement to take as many affairs on, as long as she doesn't desert her family. But, her husband becomes jealous and begins deadly mind games with her. Now real-life couple Affleck and de Armas will play the Van Allens in the summer release.
Get Patricia Highsmith's Deep Water here (opens in new tab).
Death On The Nile - September 17
Following Kenneth Branagh's successful adaptation of the Agatha Christie Hercule Piorot novel Murder on the Orient Express in 2017, the filmmaker is back for another star-studded murder mystery based on Death on the Nile. It's a classic novel that follows a group of people on a luxury cruise in Egypt, who witness a murder and all become suspects to a scandalous homicide case. It's a timeless classic and the movie starring Gal Gadot, Armie Hammer, Letitia Wright, Annette Bening and so forth is finally coming this fall.
Get Agatha Christie's Death on the Nile here (opens in new tab).
Dune - October 1
The most highly-anticipated book-to-movie adaptation of 2020 has now become one of the most exciting releases set for this year. Denis Villeneuve's Dune will take on a legendary science fiction novel that served as a reference point for Star Wars years before George Lucas' franchise was even a concept. The epic follows Paul Atriedes (Timothée Chalamet), who becomes the center of a "spice" and planet war between his family's house and House Harkonnen. Dune is a must-read for science fiction fans and for cinephiles looking forward to the theatrical and HBO Max release.
Get Frank Herbert's Dune here (opens in new tab).
The Last Duel - October 15
A second book adaptation lined up with a huge cast is Ridley Scott's The Last Duel, which comes from a screenplay written by Good Will Hunting pair Ben Affleck and Matt Damon, along with Nicole Holofcener. This story is based on the true story of the last officially recognized judicial duel fought in France back in the late 1300's. Matt Damon and Adam Driver will portray the duelers, Ben Affleck will be playing Charles VI of France and Killing Eve's Jodie Comer will play Damon's wife in the film. The book should offer some more in-depth context to the story before fall release.
Get Eric Jager's The Last Duel here (opens in new tab).
Gucci (The House of Gucci) - November 24
Our last non-fiction biography to add to your book-to-movie reading list for 2021 is House of Gucci, which is also a Ridley Scott film with big names, including Adam Driver. The movie will center on Patrizia Reggiani (Lady Gaga), the ex-wife of Maurizio Gucci (Driver), grandson of the famed fashion designer and her plot to kill him. The 2021 movie will also reportedly star Jared Leto, Al Pacino and Jeremy Irons. Get the details about the movie's remarkable story with Sara Gay Forden's The House of Gucci: A Sensational Story of Murder, Madness, Glamour, and Greed here (opens in new tab).
The Nightingale - December 22
Rounding out this list is an adaptation of Kristin Hannah's The Nightingale, a critically-acclaimed historical-fiction bestseller about two sisters in France who are torn apart during World War II. The movie will pair real-life sisters Elle and Dakota Fanning and be directed by Mélanie Laurent. The inspiring novel will certainly be the perfect addition to the holiday season at the end of this year.
Get Kristin Hannah's The Nightingale here (opens in new tab).
That's enough to get you busy reading throughout the year! For a full list of what movies are headed to theaters, streaming and on demand this year, check out CinemaBlend's 2021 release schedule and stick with us for updates and exclusive coverage on these exciting book-to-movie adaptations throughout the year.