Idris Elba's The Suicide Squad Character: What To Know About Bloodsport From The Comics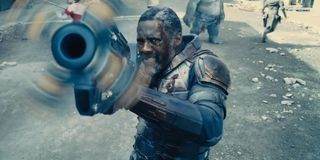 CinemaBlend participates in affiliate programs with various companies. We may earn a commission when you click on or make purchases via links.
I remember, before Idris Elba's The Suicide Squad character was revealed, many assumed he was replacing Will Smith as Deadshot. While I do not think too many people would have been opposed to that, we can probably all agree it is much more satisfying to see Idris Elba play Bloodsport, a new character to the DCEU movies, instead.
The DC villain is actually making his official live action debut in James Gunn's rebootquel - one of the most anticipated 2021 movies - which means this will be many audiences' introduction to Bloodsport. The following five essential facts should help acquaint moviegoers with one of the Suicide Squad cast's newest recruits before August, when The Suicide Squad hits theaters and HBO Max. We shall begin with the surprising reveal of his archenemy.
Bloodsport Is A Gun-Toting Superman Villain
Created by DC Comics writer and artist John Byrne with fellow artist Karl Kessel, Bloodsport is the alter ego of Robert "Bobby" DuBois (at least in the villain's original incarnation, that is, but more on that later). The criminal made his debut in the fourth issue of Superman Vol. 2 from April 1987, in which he used his expertise in hand-to-hand combat and fully ambidextrous marksmanship to take on the Man of Steel.
A paramilitary themed villain like Bloodsport sounds like an odd choice of enemy for a hero known to be faster than a speeding bullet (let alone impervious to them), though I assure you it will make sense, and likely intrigue you, soon enough. But first, what led Robert DuBois to become a formidable Superman foe in the first place?
Bloodsport Is A Vietnam War Draft Dodger
When he was younger, Robert DuBois was drafted into the Vietnam War, at which point he immediately fled to Canada, not out of any moral opposition to the conflict overseas, but out of fear for his life. Bobby's younger brother, Michael "Mickey" DuBois, would take his place in Vietnam, where he lost both of his arms and legs.
The tragic loss his brother suffered while serving in the war as a result of his own decision to avoid it sent Bobby into a downward spiral of guilt, which saw him in and out of several psychiatric hospitals throughout Canada for the next several years. What most people would have ultimately seen to be an irrevocably hopeless case, powerful master criminal Lex Luthor saw as an opportunity.
Bloodsport Was Hired By Lex Luthor To Take Down Superman
After catching wind of Robert DuBois' story and his skills, Lex Luthor decided to take advantage of the broken man and use him for his next attempt to take down Superman. To better prepare him against the nearly unbeatable Kryptonian, Luthor equipped DuBois with a device that could transport any weapon of his choosing into his hand in an instant, including a gun that shot needles made of Green Kryptonite.
However, what Lex Luthor was not prepared for was the dangers of Robert DuBois' mental instability. Even the ruthless criminal was horrified to see his new hired gun take on the name Bloodsport and attempt to lure out Superman by opening fire on innocent civilians in Metropolis. While Superman recovered from a Kryptonite needle wound, Jimmy Olsen managed to save the day by tracking down Robert's brother, Mickey, and bringing him to scene where he convinced Bloodsport turn himself in.
Bloodsport Has Faced Off Against Deadshot
I mentioned earlier how I was happy see Idris Elba play one of The Suicide Squad's new members instead of replacing Will Smith as Deadshot after he stepped down from the sequel. One of the reasons I am especially glad that the recasting was avoided is the chance to see both of these gun-toting DC villains share the screen one day.
In the same year that he debuted in DC Comics, Bloodsport would experience a brief confrontation with the fellow expert marksman before Batman and Superman came between them in that April's issue of World's Finest. With some uncertainty over what is still considered DCEU canon these days, I would not necessarily expect a big screen adaptation to go down the same way if it were to happen at all. Regardless, if we are destined to see more of Bloodsport in another movie after The Suicide Squad, I just hope it is not the second iteration of the villain.
The Second Bloodsport Was A Fanatical Racist
A number of people have actually assumed the Bloodsport alias, including a woman officially identified as Demolitia in the mid-1990s and an anonymous male, only known as "Bloodsport III," from 2006. Yet, the most notorious of Robert DuBois' successors was Alexander Trent who, ironically, was a staunch white supremacist and devoted follower of the Aryan Brotherhood. In fact, he is partially the result of experiments his mother allowed to be done on her while pregnant in order to breed a superior white specimen.
The most essential aspect that tied Alexander Trent to the Bloodsport moniker was Lex Luthor's weapon teleporting device, which he had surgically grafted onto his chest. However, Trent would cross paths with Robert DuBois while doing time at the same prison where they both were forced to fight in a boxing match with Superman serving as referee. On second thought, maybe I would rather see that movie as a The Suicide Squad sequel one day.
In all the clips we have seen so far of Idris Elba as Bloodsport, it seems that the actor is using his natural British accent, on top of having a seemingly more relaxed and well-balanced disposition. This leads me to suspect that James Gunn's The Suicide Squad may be introducing a whole new take on the character of Robert DuBois and a reinterpretation that is necessary to matching with the film's intended tone, perhaps. Either way, this a Suicide Squad member I am most looking forward to meeting in the upcoming movie… except for, maybe, Polka-Dot Man, if I am being honest.
Your Daily Blend of Entertainment News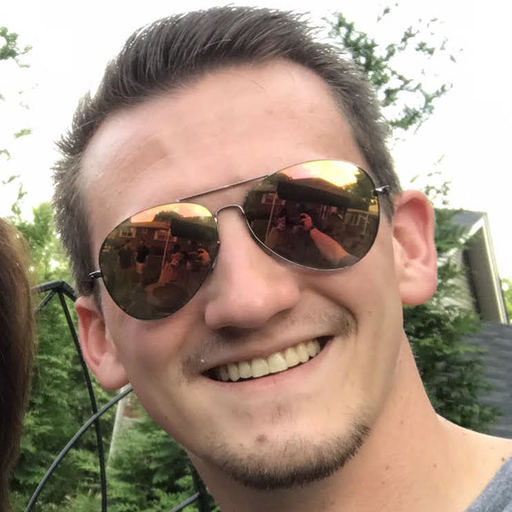 Jason has been writing since he was able to pick up a washable marker, with which he wrote his debut illustrated children's story, later transitioning to a short-lived comic book series and (very) amateur filmmaking before finally settling on pursuing a career in writing about movies in lieu of making them. Look for his name in almost any article about Batman.