Andrew Garfield Explains Amazing Reason Why He Fully Streaked Down Hollywood Blvd For His New Movie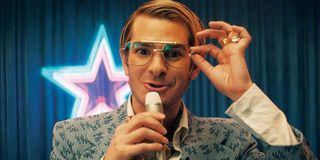 Since his days as Spider-Man, Andrew Garfield has branched out remarkably, and his new film Mainstream is continuing that trend. Garfield, who has admitted to having a secret Twitter account, has recently addressed the rumors that he will be reprising his Spider-Man in the Spider-Man: No Way Home. All in all, Garfield's superhero past is still very much a part of his present, but he is also taking some pretty bold risks. Andrew Garfield has now explained the reason why he fully streaked down Hollywood Blvd for his new movie and what it felt like.
Andrew Garfield has addressed the infamous incident in 2019 that had him running down Hollywood Blvd naked. For his new film, Mainstream, Garfield had to do something he had never thought about doing and required a lot of convincing and self-belief to actually perform the deed. Garfield remarked about the experience in an interview with Indiewire.com:
Andrew Garfield describes the anxiety and dread he initially had the day leading up to the filming of his streaking scene. Once he finally broke the seal and streaked, Garfield immediately felt relief, excitement, and freedom of running down the busy street completely nude and was eager to do it again and again. Sounds like a freeing experience.
Andrew Garfield basically says, "You only live once", and he would rather not have any regrets than one day looking back on the situation as a "What If?" moment. It's a good attitude to have, and Andrew Garfield definitely believes in doing everything possible for his roles, no matter how uncomfortable they can be. Going full Will Ferrell seems to have been a liberating experience for the actor.
Though it's a rumor and Andrew Garfield has put them down to an extent, it's still possible that Garfield will appear in the MCU as his version of Spider-Man. Alfred Molina has already confirmed that he will be reprising his role as Doctor Octopus, so fans still have hope and are expecting big things for Marvel's Phase 4. There's still no word on if Joe Manganiello will be coming back as Flash Thompson, but anything is possible when you are dealing with the Multiverse, even a former Spider-Man fully streaking isn't out of the question.
Your Daily Blend of Entertainment News
Movie and TV obsessive. A good Heist movie is the way to my heart. Enjoyer of everything from Marvel Movies to Rom-coms.