Watch A Rideshare Convo Get Awkward Really Fast In This Relatable Clip From The Get Together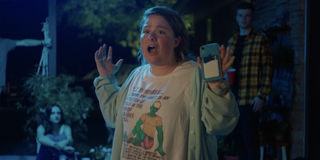 Remember house parties? Feels like a thing of the past, doesn't it? Well, you can attend this one from the comfort of your own home with the digital release of The Get Together. The lives of four twenty-somethings intertwine over the course of one Friday night house party in this inventive and hilarious coming-of-age comedy.
If you've ever taken a rideshare, you've probably experienced the too-talkative driver or been the passenger who won't shut up. In this exclusive clip from The Get Together, it's the driver, August (Courtney Parchman) who overshares and makes things really awkward, but then things get real and I want her to keep talking. Check it out below.
The narrative of The Get Together weaves together story arcs of four lead characters, one being August, the rideshare driver in the clip above. Played by Courtney Parchman, August is a quirky recent college grad struggling to find her footing in a new town. In the clip, she talks about meeting her best friend, McCall, who is revealed in the trailer to be attending the very party August is en route to and it seems McCall doesn't share the closeness August feels between them.
August's passenger, Caleb, is played by Alejandro Rose-Garcia (aka Shakey Graves). Caleb is a directionless musician who's recently lost the love of his life (and I'm sure you can guess that she's at the party!). This explains why he's so subdued at the beginning of his conversation with August, and why he gets so hyped up when he learns she recently graduated from college and the two bond over the pains of adulting. Anyone else out there who couldn't wait to be on your own when you were a teen but then felt a bit tricked once you got there? Raise your hands!
Also starring Jacob Artist and Johanna Braddy as Damien and Betsy, a couple whose invite to the party upends Damien's secret plan to propose, The Get Together promises to be one unforgettable night for everyone involved. Each character attempts to navigate the often difficult and hilarious problems that come with growing up in the modern world (and let's face it, there are a lot of those).
When it comes to getting older, there's a lot to learn, and only so much can be taught in school or from parents. In many areas of life, the only way to learn is through experience, and when you see others experience things you're not, it only gets harder. That's the heart of the scene, at the end when Caleb mentions people rushing to buy houses and have babies - things he's nowhere near ready for and it's clear that he feels left behind and afraid.
The Get Together is such a relatable film because whether we've passed it, are in it, or coming upon it, this is a stage of life we all have to get through. And the best way to do that is to laugh! The clip above is just a taste of the comedy you'll enjoy throughout the movie. Vertical Entertainment is releasing The Get Together On Demand and Digital May 14.
Your Daily Blend of Entertainment News
Obsessed with Hamilton and most things Disney. Gets too attached to TV show characters. Loves a good thriller, but will only tolerate so much blood.