Top Gun Producer Jerry Bruckheimer Reveals What He's 'Proudest' Of When It Comes To The Tom Cruise Film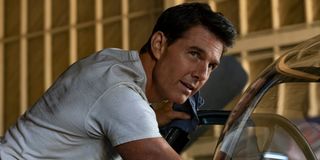 Top Gun: Maverick is one of the most anticipated upcoming blockbusters, and it has been continually delayed due to the global pandemic and the closing of movie theaters – the most recent push of the Tom Cruise-led film seeing it moved to the end of the year so that it can have a full theatrical release. Miles Teller, who is starring alongside Cruise, is optimistic about the future of the big screen and really wants fans to experience the new release the way it was intended: in a packed theater, sound blaring, on the silver screen. It's a sequel to a movie with a big legacy, as 1986's Top Gun holds a special place in the hearts of many, and producer Jerry Bruckheimer has revealed what he's proudest of when it comes to the original.
The original Top Gun featured Tom Cruise as he was becoming a megastar, and his performance is now regarded as one of the actor's most iconic and essential. The film's success can be attributed to the perfect mix of star power and thrilling set-pieces that resulted in one of the biggest blockbusters ever, and Jerry Bruckheimer recently revealed that he is proud of what the high flying feature did for Cruise's career, telling People,
Jerry Bruckheimer is proudest that he was able to work with Tom Cruise as his career was taking off, convincing him to be the lead of Top Gun, which would become an iconic movie. Bruckheimer says he was fortunate because Tom Cruise has carved out such a long and legendary career and the Tony Scott-directed film had a part to play in that. Bruckheimer got Cruise at the perfect time and it resulted in a resounding success for everyone involved.
The producer goes on to say that now everything Tom Cruise is a part of is going to be successful because of the hard work and care the star puts into everything he does. We see examples of this in the super dangerous stunts and groundbreaking action in the Mission: Impossible films. Cruise goes all out and his success according to Jerry Bruckheimer comes from his work ethic and dedication.
Tom Cruise is working on the new Mission: Impossible film and recently saved a crew member's life (no big deal), and celebrated Top Gun day. Cruise is a committed performer who will go above and beyond to make any movie he is a part of the best version of itself, even if he has to eat chocolate cake for three days straight.
The hype for Top Gun: Maverick is so big that even Mission: Impossible 8's director has high praise for it. Whenever Top Gun: Maverick releases, it will certainly fill the void of that classic blockbuster feeling that fans desperately need.
Your Daily Blend of Entertainment News
Movie and TV obsessive. A good Heist movie is the way to my heart. Enjoyer of everything from Marvel Movies to Rom-coms.