After Landing A Role In The Highlander Reboot, DCEU Vet Henry Cavill Has Responded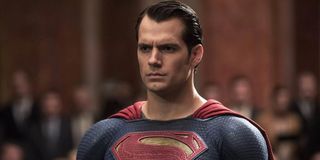 Henry Cavill keeps adding to his list of major franchises he is a part of, from his work as Superman in the DC Extended Universe to his villainous role in Mission: Impossible Fallout to even Enola Holmes with Millie Bobby Brown. Of course, his Netflix fantasy series, The Witcher, is still in production and, in between working out for his role as Geralt of Rivia and building his gaming PC, the actor has even found love. Cavill cannot stop landing roles, as he's just been reported to be joining the Highlander reboot. Now, the DCEU vet has responded to the news in a pretty cool way.
Henry Cavill has confirmed he will be starring in the reboot of the 80's classic Highlander, and he couldn't be more excited. Cavill seems like the perfect fit for the new Highlander film given his experience with fantasy worlds through his work on The Witcher. The highly sought-after actor responded to the news on his Instagram, saying:
Henry Cavill says he has a personal connection with Highlander, as it was one of his favorite films growing up, and he is excited to work with John Wick director Chad Stahelski. Cavill cites that he isn't unfamiliar with swords and, if you've seen The Witcher, then you know he has some serious skills. All in all, Cavill is ready for this adventure to begin and is already doing a bit of personal research to prepare for his role. Here is the Instagram post in full:
The original Highlander centered on a line of immortals who could only be killed by one another, hence the iconic phrase "There can only be one." With a director like Chad Stahelski, this new take on Highlander is sure to be a cutting-edge, violent sword-fighting epic, and Henry Cavill will thrive in this franchise.
The new movie will allow Henry Cavill to put his skills to use once more, as The Witcher season 2 recently wrapped filming -- and will hopefully be out soon. It'll be interesting to see how his combat skills will translate to the new Highlander movie and how he might work with Chad Stahelski to refine his style and possibly change things up.
The Highlander reboot just shot up the list of most exciting projects Cavill has on the docket, so hopefully, it delivers an epic adventure like the original. We do know that, however the film turns out henry Cavill is going to look cool as hell swinging a sword.
Your Daily Blend of Entertainment News
Movie and TV obsessive. A good Heist movie is the way to my heart. Enjoyer of everything from Marvel Movies to Rom-coms.