Upcoming Adam Sandler Movies: What's Ahead For The Comedy Actor And Producer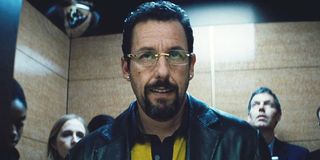 When it comes to comedy legends, there are so many that can pop into your mind probably from some of your favorite movies. For some, it's actors and comedians like Robin Williams or John Mulaney, but for me, it's always been the legendary Adam Sandler. From his time working on Saturday Night Live, to some of his golden hits of the '90s, to even some of his more recent entries into the drama genre, Adam Sandler has proved to be a man of many talents.
With many movies resuming production and plenty of news coming out day by day, it's not a surprise that Adam Sandler also has some new stuff coming out, along with so many other amazing stars. So, with that in mind, here are some upcoming Adam Sandler movies that you have to look forward to, hopefully in the next couple of years or beyond.
Hustle - TBA (Post-Production)
In 2014, it was announced that Adam Sandler would have a deal with Netflix to produce six films for the popular streaming platform. However, since then – with most of those films being big successes for Netflix – he has agreed for four more films for the platform, signing a $250 million deal. One of those upcoming movies happens to be Hustle.
Hustle, starring Adam Sandler and produced by Lebron James, is about a basketball coach who, after he was unjustly fired, finds a talented player overseas and decides there and then that he wants to bring him back to the United States to prove to the NBA that they both have a shot to make it in the industry, according to Variety.
Already the idea itself sounds super interesting and hearing that an actual basketball player, who knows the insides and outs of the NBA, is going to help produce it makes me even more excited for this movie. However, there's more that you need to know.
As reported by Deadline, there have been plenty of stars that have already signed on for Hustle. Queen Latifah, known most recently for her roles in CBS show The Equalizer and plenty of her awesome comedy movies, has signed on to the sports movie. Robert Duvall, known for his Oscar-winning performance in Tender Mercies and some really iconic roles such as Boo Radley in To Kill A Mockingbird and Major Frank Burns on MASH, has also taken up a starring role alongside Sandler.
Deadline also reported that Ben Foster, known for roles such as The Punisher and Hell or High Water, will also be appearing in the movie, alongside several other actors and actresses who are jumping on the Hustle train.
As of late, one of the most recent looks that we have gotten into the film was back in October of 2020, from Entertainment Weekly, where we got to see Sandler and Latifah walking alongside each other in the streets of what seemed to be a city. The movie reportedly filmed in Philadelphia, so that may be at least one of the settings for the story.
While there's no set release date yet for this already impressive-looking sports film, I'm sure that the moment it drops, we'll all be adding it to our countdown lists to look forward to. Maybe even to the 2021 movie releases, but only time will tell. It has been in production for some time, so we'll see!
Spaceman - TBA (Pre-Production)
Remember when we said that Adam Sandler had a whole deal with Netflix? Well, here's more of that, with Spaceman, previously known as The Spaceman of Bohemia.
As reported by Deadline, this new Netflix film follows the story based on Jaroslav's Kalfar's novel, telling the tale of an astronaut, played by Sandler, who is sent to the very edge of the galaxy to collect some sort of mysterious dust from space. But when he finds out that his life on earth is falling to pieces, he turns to the only voice that can help, which just so happens to be a creature from the beginning of time that is apparently lurking on his ship.
From the same article, Deadline also said that Promising Young Woman star Carey Mulligan has signed on to co-star alongside Adam Sandler, portraying his earth-bound wife. The film is set to be directed by Chernobyl director Johan Renck, with a screenplay by Colby Day, adapted from the novel.
In a different article from Deadline, they reported that more cast had already signed on for the film. Paul Dano, known for some roles in 12 Years A Slave, Love & Mercy, and his upcoming portrayal of The Riddler in The Batman, has signed on to play a part in this movie.
In addition to Paul Dano, Deadline reported that Kunal Nayyar will also be joining the cast. Nayyar has had plenty of big-time roles in his years as an actor, including a main role for 279 episodes on the smash-hit comedy The Big Bang Theory, as well as a current role on an Apple TV+ series, Suspicion.
It's unknown yet who these two very talented actors will play alongside Adam Sandler, but once a release date is set (hopefully soon!), I'm sure that we'll learn more about the story and the characters that surround it. Heck, all I need to hear was Adam Sandler in space. That sounds like a good time.
Murder Mystery 2 - TBA (Announced)
Back in 2019, Murder Mystery, starring Adam Sandler and Jennifer Aniston (a long-time collaborator with the comedian/actor) premiered on Netflix. This film, featuring the famous co-stars, ended up becoming a major hit, with Netflix reporting that the movie was watched by a record-breaking 30,869,863 accounts in its first three days. That's individual accounts. That's not even counting for the number of accounts that are most likely shared between family members to watch it.
So with those numbers, that warrant a sequel... right?
Well, you'd think. When the movie premiered, it didn't take long for a sequel to be announced, with The Hollywood Reporter reporting that it was indeed in the works at Netflix. James Vanderbilt, who wrote the screenplay for the original Murder Mystery, was in negotiations to return and pen the script.
However, since this announcement, there haven't been any updates on the sequel or when it might hit the streamer. Which is unfortunate in my opinion.
Don't get me wrong. I know that both of these talented actors have some amazing things coming up. Adam Sandler has several other Netflix deals that aren't even announced yet, and Jennifer Aniston has the Friends reunion special releasing soon, so it's not surprising that a sequel to this may be taking a bit longer than usual to get going.
Even so, there's no denying that Murder Mystery was a great addition to the Netflix original lineup, especially with how great Jennifer Aniston and Adam Sandler's chemistry is. The duo starred in Just Go With It way back in 2011, which was a critical and financial success, grossing a worldwide total of $214,945,591, according to Box Office Mojo. It wouldn't be a shocker if Netflix tried to capitalize on their incredible chemistry once more.
But because there haven't been any updates since this announcement came out, I'm afraid we're all just going to have to cross our fingers and hope that some more news comes out soon.
Happy Gilmore 2? (Rumored But Nothing Is Confirmed)
Ok, sadly, there's nothing confirmed about Happy Gilmore 2 happening, but the topic has come up in recent months.
Often, fans of Adam Sandler will talk about which film from his golden age of comedy movies was his best, whether that be Billy Madison, or The Waterboy, or The Wedding Singer. But to me, my favorite was always the classic, Happy Gilmore, the amazing sports comedy film that seemingly always finds a way to make me smile.
This year, the film celebrated its 25th anniversary (I know, I feel old too), and rumors started to swirl around the internet that possibly, a Happy Gilmore 2 might be on the horizon. But guess what? These rumors somehow found their way into the palm of the legend himself, Adam Sandler.
When he heard of these rumors, Adam Sandler and Happy Gilmore's Christopher McDonald – known for playing Happy's rival Shooter McGavin in the comedy film – reminisced together about the film on the Dan Patrick Show, and Sandler spoke up about how he felt about it.
While nothing has been confirmed for a Happy Gilmore sequel, Adam Sandler did seem fond of the idea of Happy and Shooter golfing against one another in a senior tournament. With both of the main stars in their 50s and 60s now, there's plenty of jokes I could see delivered while out on the green.
Again, there's absolutely nothing confirmed about this, as it's all just good fun and possibly a lot of wishful thinking, but for a moment, let's just imagine what a sequel to this classic would be – iconic. Maybe Sandler will listen to our prayers? Let's all hope.
I for one can't wait to see what Adam Sandler has for the next couple of years, and since most of his films are most likely going to be on the streaming universe, my laptop will be getting plenty of use out of viewing him once these films go live. What are you looking forward to with this comedic legend?
This poll is no longer available.
Big nerd and lover of Game of Thrones/A Song of Ice and Fire. Will forever hate season eight. Superhero and horror geek. And please don't debate me on The Last of Us 2, it was amazing!
Your Daily Blend of Entertainment News
Thank you for signing up to CinemaBlend. You will receive a verification email shortly.
There was a problem. Please refresh the page and try again.