Cruella Cast: Where You've Seen The Disney Movie Stars Before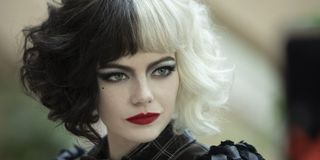 Alright, so we all know about Disney's live-action films at this point. We've seen some of the good ones like 2015's Cinderella, and we've seen some meh ones (looking at you, Lion King). Disney has also stepped into the live-action market when featuring some of their villains, with Maleficent and its sequel being a smashing success among fans. However, the one villain I never thought Disney would adapt would be Cruella de Vil.
But who would want to feel bad for someone who literally kidnaps puppies and use them for their fur. I know that as a child, I hated Cruella probably more than any other Disney villain besides Scar from Lion King. But, Disney decided to make the live-action Cruella, featuring the origin story of one of Disney's oldest villains. In Cruella, we see amazing cast members like Academy-Award winning Emma Stone, all the way to some familiar faces from Game of Thrones – and you might have seen them around as well. Here's where you might have seen Cruella cast before they donned those black and white coats.
Emma Stone (Estella "Cruella" de Vil)
If you haven't heard of Emma Stone at this point in your life, I don't know where you've been. Emma Stone took on the intense role of playing the titular villain in Cruella, showing just how many layers there truly are to this villain, one we never thought we would see before. But I mean, who else would be the perfect choice to show those layers off than Emma Stone herself?
The Hollywood actress has been in plenty of big-time roles and TV shows that you might have seen. Stone played the lead role in La La Land, for which she won the award for Best Actress at the Oscars. But she also gained acclaim for her roles in other dramas, including Battle of the Sexes, The Help, and Birdman – another role that she was nominated for an Oscar for.
As great as she is in dramas, Emma Stone is just as good in comedy as well. She's had plenty of roles in some of the best comedic movies out there, including the hit Superbad, the apocalypse movies Zombieland and Zombieland 2: Double Tap, the memorable lead role in Easy A, and so many more. Even besides that, Stone has also stepped into the television world a little, having a lead role in the Netflix miniseries Maniac alongside Jonah Hill, for which she was nominated for a Golden Globe.
With how much she has done, I can't wait to see what she does in the coming years. The future is bright for this one.
Emma Thompson (Baroness von Hellman)
My God, Emma Thompson. Truly an actress for our generation, the one before us, and so on. I think the moment we saw that both Emma Stone and Emma Thompson had signed up for Cruella, we were all on board. Baroness von Hellman, the head of the prestigious fashion house and Estella's boss, is almost like a catalyst for the character of Cruella, and Emma Thompson takes on that role with pride and did a fantastic job.
Emma Thompson herself has done so much in the Hollywood industry, I would be stunned if you hadn't seen her in something. She got her start in the '80s and rose to further success and fame in the '90s with films like Sense and Sensibility and Much Ado About Nothing, and in the last twenty years, she has given us some of the best performances, in my opinion.
In terms of comedy, Thompson has done plenty, including the popular Christmas film Love, Actually, the Mindy Kaling led comedy Late Night, and recently in 2019 Last Christmas, in which she starred alongside Emilia Clarke. Emma Thompson has also had plenty of experience in fantasy roles as well, having the main role in Nanny McPhee, as well as portraying Professor Trelawney in the Harry Potter movies.
Emma Thompson has done plenty of drama as well, with starring roles in films like Saving Mr. Banks and A Walk in the Woods adding to the impressive list of genres that she can tackle. Thompson herself has already had practice in a Disney movie before, starring as Mrs. Potts in the Disney remake of Beauty and the Beast, so it's not a surprise that she rocked this other Disney roll as well.
Joel Fry (Jasper Badun)
To every villain, there is always the henchmen that stick around and try to help as much as possible, and that is where Jasper Badun comes in with Cruella (along with his other half but we'll get into him later), played by Joel Fry.
Fry has done plenty of work in the industry, but you might recognize him the most from his recurring role on Game of Thrones during Season 5 as Hizdahr zo Loraq. Besides the popular HBO series, Joel Fry has done a lot of work in television, with a main part in Trollied, a British sitcom, as well as another main role in White Van Man, yet again another British sitcom. Joel Fry also had a prominent role as Rocky in the popular movie Yesterday back in 2019, showing his versatility as an actor. I'm eager to see what he has coming up soon, following his role as Jasper in Cruella.
Paul Walter Hauser (Horace Badun)
In Cruella, Jasper didn't work alone, and because of that, he had his brother, Horace, by his side as his second thief, another accomplice to Estella. Paul Walter Hauser is the man behind the other half of the classic thieves, showing off that continued change to the comedic characters, giving them more depth than any of us were expecting.
Hauser has done many films, despite only being in the business since 2005. You might have seen him in the Academy-Award nominated drama film I, Tonya as Shawn Eckhardt – or, you might have seen him as Richard Jewell himself in the titular film Richard Jewell, another critically-praised film. It seems historical characters are a great option for this amazing actor.
But it doesn't stop there. Hauser has also had parts in drama movies as well, taking on the part of Ivanhoe in the comedy-drama BlacKkKlansman, as well as portraying Simon in the Neflix drama Da 5 Bloods, so it's clear that Paul Walter Hauser had some range.
Hauser has also been featured on the small screen, with plenty of guest appearances. Along with that, he had a main role in the American drama series, Kingdom, as Keith, as well as portraying Raymon "Stingray" in the popular Netflix series, Cobra Kai. Cruella is only an addition to the amazing films this actor has done, so it's not a shocker that he rounded out the Badun brothers perfectly.
Emily Beecham (Catherine de Vil)
You know, I don't know what it is, but in my opinion, when it comes to villains, there always seems to be that one person in their family lives that either makes them or breaks them, and that was what Catherine de Vil was, Estella's impoverished mother who works as a laundrywoman. Emily Beecham took on that new role with flair, creating a great experience and a refreshingly original character to Cruella amongst the familiar faces from the original 101 Dalmations.
Beecham has a diverse portfolio of films and TV that she has done, including a role in the horror movie 28 Weeks Later, portraying the titular Daphne in the film Daphne, and a part in the British romantic-comedy anthology film Berlin, I Love You. But television is where Beecham has really shined.
While she's had plenty of guest roles across several shows like Merlin and The Musketeers, she's also had recurring roles like Caro Allingham on The Village, as well as portraying The Widow on the popular AMC television series, Into the Badlands. It's always a pleasure to see new characters introduced to flesh out a well-known character, and fortunately, that was the case with Beecham's Catherine de Vil.
Kirby Howell-Baptiste (Anita Darling)
I think we all appreciated Anita in the original film just because of how amazing her willingness and skills are to somehow take care of their dalmatians, but in Cruella, we really get to see a different side of her and see that friendship that she and Estella once had when they were children. Kirby Howell-Baptiste brings that charm to the big screen.
In terms of movies, Kirby Howell-Baptise, hasn't done as much as some of her other costars on here, with some notable roles in A Dog's Purpose as Maya and Maude in the 2021 black comedy thrilled Happily, so Cruella is a great way for her to really break out into the film scene a bit more.
However, she's been in plenty of TV shows over the years, having several main, guest, and recurring roles, including shows like Comedy Bang! Bang!, the Netflix original House of Lies, Beth on the Netflix show Love, Nicole Malloy on Season 4 of Veronica Mars, Simone Garnett on The Good Place, Elena Felton on the popular series Killing Eve, and Taylor Harding on the dark comedy Why Women Kill. Now that's a lot of TV shows. I wonder if she's going to be on any of the 2021 TV shows. I wouldn't be shocked.
While we do love a versatile TV actress, I'm waiting with bated breath to see what she does in movies after her great role in Cruella.
Mark Strong (John)
As our last entry on this list, John was a mysterious figure, someone who you didn't really know if you could trust or not, even if he was just the valet for the Baroness. That sense of mystery was portrayed by Mark Strong, a veteran actor who has done plenty in Hollywood.
For the film, you have probably seen Mark Strong in plenty of movies. He had a role as Lord Henry Blackwood in one of the latest adaptions of Sherlock Holmes, portrayed the character George in Zero Dark Thirty, an Academy-Award nominated film, portrayed Stewart Menzies in The Imitation Game, and had a role in the series Kingsman: The Secret Service and Kingsman: The Golden Circle, both playing Merlin. Mark Strong also had a villainous role in the superhero movie Shazam! as Doctor Sivana, as well as portraying a captain in the war film 1917, as Captain Smith.
Strong has also had plenty of recurring and guest spots on TV shows, too many to write down here, as his voice is very prominent, including a voice role in The Dark Crystal: Age of Resistance. It's not a shocker that he got a role in Cruella with how much he has done, and I can't wait to see what else he has up his sleeve for the future.
Cruella was a great addition to the 2021 new movie releases, and it'll be exciting to see what these amazing actors and actresses have coming up soon in the next couple of years. It almost makes me want to go back and watch Cruella again just to see them once more. What did you think of the Disney villain film?
Your Daily Blend of Entertainment News
Big nerd and lover of Game of Thrones/A Song of Ice and Fire. Will forever hate season eight. Superhero and horror geek. And please don't debate me on The Last of Us 2, it was amazing!
Your Daily Blend of Entertainment News
Thank you for signing up to CinemaBlend. You will receive a verification email shortly.
There was a problem. Please refresh the page and try again.