The School For Good And Evil: 6 Quick Things We Know About The Netflix Movie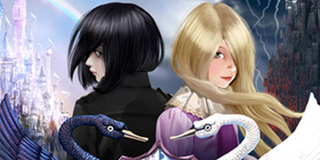 Book adaptations of big-time novels always seem to go over well with audiences, and have for plenty of years, with movie sagas such as Harry Potter and Lord of the Rings taking over the box office. But, a newcomer is arriving on the movie scene, one which should have been adapted almost as soon as it came out, if you ask me.
The School for Good and Evil, an amazing addition to the fantasy genre, is finally getting its own adaptation into the film world – but not in theaters. However, it will be appearing as a Netflix movie, on the popular streaming website. However, what else do we know about this upcoming film? What is it going to be about? Who is going to be in it? There are plenty of things that you might not know, but we do. Here are some quick things we know about the upcoming Netflix film.
The School For Good And Evil Will Release On Netflix In 2022
I know, we all wanted to add The School for Good and Evil onto our 2021 new movie releases list, or even the 2021 Netflix movies list, but unfortunately, that is not the case. According to Variety, The School for Good and Evil is going to be coming out in 2022.
When, exactly, in 2022 that will be is unknown, but whenever a date is announced you know it'll be on our calendars.
The School For Good And Evil Has A Star-Studded Cast
With an adaptation like The School for Good and Evil, we all knew that the cast needed to be amazing. And, luckily, there's no shortage of amazing additions to this Netflix movie. First, let's take a look at the two leads of the film, Sophie and Agatha, where the story begins. These two roles will be played by Sophia Anna Caruso, known for her role in the Broadway musical Beetlejuice, and Sofia Wylie, who's had plenty of practice behind the camera on a show you really should watch, High School Musical: The Musical: The Series.
Adding on to this cast, Deadline reported that two megastars, Charlize Theron and Kerry Washington, signed on for two of the main roles in the upcoming film. Theron is set to play Lady Lesso, and Washington will portray a teacher at the school, Professor Dovey.
In addition to these two, in another article, Deadline reported that Laurence Fishburne, known for his roles in The Matrix trilogy and many other films, as well as action star Michelle Yeoh, from movies such as Crouching Tiger, Hidden Dragon, Crazy Rich Asians, and her TV role in Star Trek: Discovery, have stepped up to be in The School for Good and Evil. Fishburne will play the Schoolmaster – a role that sounds quite fitting for someone of his talents, and Yeoh will portray another teacher, Professor Anemone.
Already, this film is shaping up to be filled to the brim with some of the Hollywood elite. I, for one, can't wait to see what they do with the material they are given, because it's about to get magical.
The School For Good And Evil Will Follow The Bestselling Book Series
For those who don't know, The School for Good and Evil is composed of several novels in a series. Netflix confirmed that this new movie will be based on the series by Soman Chainani, and from the premise of the film, it's looking to be exactly like the first novel.
In this new movie, Sophie and Agatha (as mentioned above) are going to find out where heroes and villains are trained, the School for Good and Evil. Sophie knows that with her princess ambitions, she will be picked for the school of Good, while Agatha believes that with her wicked cat and her grim aesthetic, she will be heading for the school of Evil. However, their ideas are soon switched, when Sophie ends up going to the school of Evil and Agatha to the School of Good. They think it might be a mistake – but what if it's truly not?
I'm already on board for a story like this. Two opposing personalities who end up being trained in styles that they thought they weren't aligned with? Thrown into unlikely situations? Fantasy elements? My god, I can almost feel the franchise coming. Netflix has a great addition with this one.
Bridesmaids Director Paul Feig Is Directing The School For Good And Evil
I don't think there could have been another perfect choice for the director for The School for Good and Evil than Paul Feig. The legendary director has produced some of the biggest comedic hits in the last ten years. For example, Feig directed the smash-hit Bridesmaids back in 2011, the 2016 remake of Ghostbusters, the Emilia Clarke Christmas comedy Last Christmas, the comedy thriller, A Simple Favor, and so many others.
Besides movies, Paul Feig has also directed multiple episodes of several incredible sitcoms, such as The Office, Arrested Development, Parks and Recreation, and 30 Rock. The School for Good and Evil novels have an amazing comedic element to them, and I can only imagine what a comedic director like Paul Feig will bring to the table in this new film.
Finding Neverland Screenwriter David Magee Wrote The Screenplay For The School For Good And Evil
When it comes to an adapted screenplay, you always have to make sure that you find the right person to do it, because with novels, there are so many details that need to somehow make it into the movie. The School for Good and Evil found its screenwriter in David Magee.
Magee is a perfect choice, because not only has he been around the business for some time, he's had plenty of experience in writing fantasy, working on films such as the Academy-Award winning Life of Pi, the Disney sequel Mary Poppins Returns, and wrote the screenplay for Finding Neverland, the story of the author who created the legendary character, Peter Pan. Truly, he has great experience up his sleeves, and I'm eager to see what he'll do with the fantastic story that is The School for Good and Evil.
The School For Good And Evil Is Currently Filming
No need to worry whether or not production has been halted due to any reasons, because we are happy to report that The School for Good and Evil is currently filming in Europe. According to the Belfast Telegraph, production has been underway since April of 2021 in north Belfast in Ireland.
With that in mind, hopefully, we might be able to see the filming wrap by the end of the, year and possibly see the release maybe sometime by mid-2022. Either way, all we can do is guess until then, and hope that a debut date comes out with time.
With an amazing cast, awesome story, and filming already underway, The School for Good and Evil is looking to be an amazing addition to Netflix's original film line-up. I can't wait for more news to come out soon regarding its release, and for a trailer to drop as soon as possible. We could all use a little movie magic in our lives.
Big nerd and lover of Game of Thrones/A Song of Ice and Fire. Will forever hate season eight. Superhero and horror geek. And please don't debate me on The Last of Us 2, it was amazing!
Your Daily Blend of Entertainment News
Thank you for signing up to CinemaBlend. You will receive a verification email shortly.
There was a problem. Please refresh the page and try again.