Zack Snyder: 3 Genres The Army Of The Dead Director Should Explore Next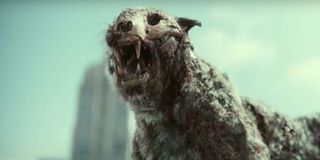 CinemaBlend participates in affiliate programs with various companies. We may earn a commission when you click on or make purchases via links.
As of now, Zack Snyder is really known best, and most prominently for two genres so far: the superhero movie and the zombie thriller. The latter is how his career as a feature filmmaker began with his 2004 remake of George A. Romero's classic consumerism satire Dawn of the Dead and the former would consume his life almost relentlessly after he kicked off the DCEU movies with Man of Steel in 2013. Now that he has gone back to his roots with the Netflix original release of Army of the Dead, I think now is the time that Snyder should really try to broaden his horizons.
To be fair, I realize that his career is not completely tied down to costumed vigilantes and reanimated, flesh-eating corpses. He followed Dawn of the Dead with the period war epic 300 and followed Watchmen with his animated young adult fantasy novel adaptation Legend of the Guardians: The Owls of Ga'Hoole in 2010 and a young adult fantasy brought to life in Sucker Punch the following year. In fact, it those unique one-timers amidst the comic book action and post-apocalyptic carnage are key reasons why I am looking forward to seeing Zack Snyder branch out into other styles. Since he has already admitted the world is not ready for his adaptation of Ayn Rand's controversial classic The Fountainhead, I have a few other ideas of some more accessible genres he might consider trying out next, starting with one that could use and extra boost in creativity.
A Horror Slasher Film
I have a little confession to make: Army of the Dead is actually the first Zack Snyder movie that I can really say I loved and, while I am still intrigued by the questions I had by the ending of Army of the Dead, the film's depth has less to do with why I enjoyed it and more to do with what it keeps simple and fun. That is the same reason why fans of the best horror movies enjoy slashers like Halloween or Friday the 13th - they are seeking something, essentially, short on plot but big on scares and excitement. That may sound far from what Snyder specializes in, but it is exactly why I would like to see him put his stamp on the subgenre.
Dawn of the Dead and Army of the Dead prove that Zack Snyder knows his horror movies and aims to put a fresh spin on them, especially in terms of visual style. I think that a filmmaker as aesthetically gifted as he is has what it takes to make a slasher movie more than a series of grisly murders, but the sort of visually inventive, mysteriously suspenseful thrill ride that the genre does not have enough of, if you ask me. Not to mention, the traditional stalker-killer mantra would allow him to the freedom to bring more focus to character and aesthetic and less plot development while staying grounded… or, at least, as grounded as a B-movie such as this can allow.
A Western Adventure
You know, speaking of horror movies, one of the genre's most celebrated masters is John Carpenter, creator of 1978's aforementioned Halloween and The Thing from 1982. However, you could also make the argument that the defining style of his career is really the Western, which is especially evident in 1981's Escape from New York (also a film that Army of the Dead is clearly inspired by in part). Come to think of it, I actually think there is an argument to be made that most of Zack Snyder's films also borrow from the once dominant genre set during the early days of American civilization.
For instance, both 300 and Batman v Superman: Dawn of Justice are really your typical "this town ain't big enough for the both of us" stories but without any of those cliched gunfights and some drastic alterations in costume design. Plus, Justice League has a similar structure to The Magnificent Seven (both stories follow a crew of unique heroes coming together to fight a larger threat) and taking out the zombie element makes Army of the Dead an old fashioned search for buried loot put at risk by greed and deceit like The Good, the Bad and the Ugly. It almost makes you wonder how Zack Snyder has not yet tried his hand at a full-blown, traditional western and, considering what his visual gifts could bring to the genre, I really want to see it.
A Musical
One element of filmmaking that I think Zack Snyder also consistently excels at is his choice of music, and not just with who he picks to score the flick, but the popular songs he selects to play throughout many of his films. You could just look at Zack Snyder's best title sequences (such as when Richard Cheese and Allison Crowe's "Viva Las Vegas" plays at the beginning of Army of the Dead or how well Bob Dylan's "The Times They Are a Changing" spells out Watchmen's themes) as examples of how these songs (and the particular versions he chooses) never fail to enhance the moment the needle drops. It almost convinces you that he should take advantage of his ear for choosing soundtrack listings to the next level.
For some, this might be the point of the article that pushes them away and diminishes all credibility they may have seen in me. Perhaps I should remind them that Sucker Punch is as much a ballet as it is an action movie and that Zack Snyder has a background in directing music videos, such as ZZ Top's single for the In the Army Now soundtrack called "Swirl," the 1992 Morrissey song "Tomorrow," and, of course, My Chemical Romance's cover of Bob Dylan's "Desolation Row" from the Watchmen soundtrack. With all of that in mind I am honestly willing to bet that, with the right story and the help of some really talented musicians, Snyder could make a musical that would turn a sworn hater of the genre into a fan.
There are some people who are really just looking forward to what Zack Snyder does with the world he introduced in Army of the Dead, while some are dying to see him return to comic book movies to #RestoreTheSnyderverse and others would rather he never make another movie for as long as he lives. Whether or not his movies work for you, you cannot deny that his style is unique and could really be used to some other creatively dry film genres' advantage. If you agree, what genre do you think would work best with his talents?
This poll is no longer available.
Your Daily Blend of Entertainment News
Jason has been writing since he was able to pick up a washable marker, with which he wrote his debut illustrated children's story, later transitioning to a short-lived comic book series and (very) amateur filmmaking before finally settling on pursuing a career in writing about movies in lieu of making them. Look for his name in just about any article related to Batman.
Your Daily Blend of Entertainment News
Thank you for signing up to CinemaBlend. You will receive a verification email shortly.
There was a problem. Please refresh the page and try again.