Cruella 2: 5 Reasons Why It's Great The Disney Sequel Is Happening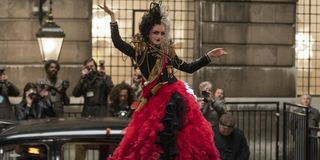 CinemaBlend participates in affiliate programs with various companies. We may earn a commission when you click on or make purchases via links.
Warning: SPOILERS for Cruella are ahead!
Cruella is out and available to purchase on Disney+, and by and large, the origin story of the villain of 101 Dalmatians appears to be a hit with audiences. Now we've learned that a sequel is already in the works, and will give audiences more stories with Estella before she goes full tilt on being a villain.
I'm excited for the news, as it's been my hope since watching that Disney ultimately planned more Cruella movies before a possible 101 Dalmatians remake. There's plenty of good reasons for this to happen, and not just because I want to see the wonderful Emma Stone with black and white hair.
The Cruella At The End Of The Movie Isn't The Same Cruella We Know
Cruella had a happy ending in which Estella ultimately defeated her horrific birth mother, avenged her adopted mother's death and ultimately set herself up with an awesome career in fashion afterwards. It was an awesome end for the character, who went from a common thief to a talented fashion designer with a promising future ahead of her.
It was a great ending for Estella, but not even close to the Cruella de Vil who appeared in 101 Dalmatians. This Cruella really pulled off the perfect crime and fully realized her dream of being a prolific fashion designer. It's hard to imagine her doing something so petty as hunting down the puppies of two dogs all in the name of a luxurious coat. Ultimately a sequel gives more time for Emma Stone and writers to develop the character and fully flesh out her eventual villainous turn.
We Aren't Really Given A Reason To Dislike Cruella
Much like Maleficent, Cruella gave us some insight into someone who was previously portrayed as a heartless villain with no redeemable qualities. I can say by the end of the movie that I definitely understood and liked Estella, and even came to appreciate her off-the-wall persona Cruella. In fact, I liked her so much that as I indicated in the previous point, there was a disconnect between her and the Cruella de Vil who is a villain.
I think the movie is fine as it is, but audiences could certainly benefit from a second movie that shows Cruella's transformation and downfall that inevitably puts her on the path that she'd be so desperate to kidnap a bunch of puppies. At the end of Cruella, she's an uber-famous celebrity who just successfully ended her evil birth mother's career! That's not the kind of person I find desperate or thirsty for vengeance, so there has to be more to the story.
We Need More Schemes Between Cruella, Jasper And Horace
One of the high points of Cruella for me was the scams and how great Estella, Jasper and Horace were at pulling their jobs together. The three characters all shared some real chemistry together, which is thanks in large part to Emma Stone, Joel Fry and Paul Walter Hauser's work as the characters. I thought having all three together would drag down the story, but honestly, my favorite scenes were the ones they all had a part in.
I'll be candid, I want more schemes for these characters to take part in. Perhaps in another movie, Jasper and Horace could have a bigger part of the story, though I suppose that's a bit much to ask for given that they're only supporting stooges in the actual 101 Dalmatians movie. Even so, Disney took some liberties in making Cruella more likable, so I think the studio can at least buff out Jasper and Horace's story a bit as well in a potential sequel.
We Never Really See Her True Hatred For Dalmatians
In Cruella, we get a tip as to why she despised Dalmatians so much after three were responsible for the death of her adoptive mother. It's completely understandable, and to be honest, I doubt I'd be a dog person either after witnessing a pack push my mother off of a cliff. The problem is, we don't really see that anger reflected in Cruella or ever really directed at the dogs.
It's not like I wanted to see Cruella be cruel to animals or anything like that, but the Cruella movie almost went out of its way to show she wasn't going to be mean to those dogs. As I've stated a few times in this piece already, that's not the Cruella we know from the original 101 Dalmatians. Unless Disney is going to explain in a roundabout way that Cruella never actually intended to make those dogs into a coat in a 101 Dalmatians remake, we're eventually going to need to see her, at the very least, sneer at a dog going forward.
The Franchise Is Fun, So Disney Should Play With It A Bit
What surprised me the most about Cruella was how fun the movie was, and how it didn't feel like, with all due respect to Disney, a soulless cash grab that other live-action adaptations of animated films have been accused of being. By the end of this movie, I wanted more and legitimately felt like there was more for this franchise to give that I hadn't seen yet. Cruella has just reached what felt like the beginning of a promising career, and the story ended before we saw what that looked like!
I loved seeing Cruella at her peak, so the last thing I want to see next is her awful and humiliating downfall in which she's outsmarted by a bunch of puppies. In fact, I can safely say I'd rather that not happened to Estella at all, and we just continued to see her meteoric rise in the fashion world. Of course, I know we must see it happen eventually, but with a sequel, we can at least stave off the downfall for a little while longer. I'm enjoying the Cruella ride so far, so it's good to hear it's not coming to an end.
Cruella is out in theaters and able to stream on Disney+ with Premiere Access (you can subscribe to the streaming service with this link). I'm a big fan of a Cruella sequel, but there are others on the site who feel differently. For example, CinemaBlend's Mike Reyes had an uncomfortable realization watching the movie that's soured his mood on a 101 Dalmatians remake.
Your Daily Blend of Entertainment News
Mick likes good television, but also reality television. He grew up on Star Wars, DC, Marvel, and pro wrestling and loves to discuss and dissect most of it. He's been writing online for over a decade and never dreamed he'd be in the position he is today.
Your Daily Blend of Entertainment News
Thank you for signing up to CinemaBlend. You will receive a verification email shortly.
There was a problem. Please refresh the page and try again.