Ryan Reynolds Explains Why He Chose To Speak Out About His Struggles With Anxiety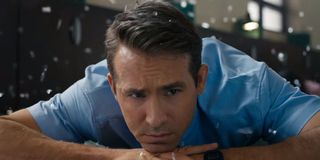 Unfortunately, in a number of cases, those who enjoying making people laugh can actually have their own internal struggles. Ryan Reynolds, the star of Deadpool and a genuinely hilarious guy, recently came out and publicly discussed his lifelong struggles with anxiety. Now, the 44-year-old actor has revealed why he chose to speak out about his mental health battle.
When he started speaking about his struggles with anxiety, Ryan Reynolds said that not enough people talk about mental health openly. In an interview with ET, Reynolds says that a big reason he spoke out is due to the three daughters he shares with wife Blake Lively. Based on his comments, it sounds like he wants to set an example for his kids when it comes to expressing one's emotions. Here it is in his own words:
This parental approach Ryan Reynolds is taking is pretty huge, and a lot of newer parents are of the same mind set. It is common for past generations, of which Reynolds speaks, to be more reserved in expressing emotions. In some cases, this upbringing can lead to children having struggles with mental health, such as the anxiety that Reynolds has dealt with. It's sure to be hard for a parent who grew up suppressing emotions to lead by example by modeling behaviors they did not see growing up, so kudos are definitely due to the girl dad.
In the same interview, Ryan Reynolds went on to explain that his children aren't the only reason he chose to speak out about mental health. Here's what the MCU star continued to say:
While it's sad that Ryan Reynolds, along with a large part of the world's population, has had lifelong struggles with anxiety, it's pretty cool that he's trying to break the cycle for his daughters. Talking about mental health is a great thing, especially when so many are fighting silent battles. It's important to remember that just because a star is highly active, staying busy, and in headlines, it doesn't mean that they aren't fighting their own internal battles.
Constantly thinking about books, coffee, and the existential dread I feel from Bo Burnham's Inside. While writing I'm also raising a chaotic toddler, who may or may not have picked up personality traits from watching one too many episodes of Trailer Park Boys.
Your Daily Blend of Entertainment News
Thank you for signing up to CinemaBlend. You will receive a verification email shortly.
There was a problem. Please refresh the page and try again.