15 Gerard Butler Movies Available To Rent Or Stream, Including Greenland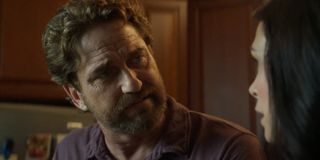 CinemaBlend participates in affiliate programs with various companies. We may earn a commission when you click on or make purchases via links.
Gerard Butler is one of those actors that has the ability to entertain fans of romantic comedies, comic book adaptations, and over-the-top disaster films better than just about anyone out there. From tearjerkers like P.S. I Love You to end-of-the-world family action-dramas like Greenland, Butler spent the first two decades of 21st Century finding new ways to up the ante and pull off some miraculous feats, no matter the genre.
And it's not like Gerard Butler has only appeared in a handful of memorable movies over the past 20 years. No, not this Scottish actor. In fact, he's had roles in so many different films over the years, it's easy to lose track of them all. But, luckily, a great number of Butler's dramas, comedies, and action spectacles are available to stream (or at least rent) right now. That being said, here are 15 movies (plus a few more from a couple of franchises) starring Gerard Butler you can watch right now.
Greenland (Amazon)
The basic premise of Greenland — the planet is under attack by a comet and John Garrity (Gerard Butler) must protect his estranged wife and sick son — is nothing new to the disaster film genre, but that doesn't make the latest Gerard Butler brush with death any less enjoyable. Director Ric Roman Waugh (who previously worked with Butler on Angel Has Fallen) doesn't pull any punches (or explosive shots of cities being destroyed) as he guides Garrity and his family to salvation in an underground bunker deep in the heart of Greenland, hence the very appropriate name.
Rent on Amazon here (opens in new tab).
Den Of Thieves (Netflix)
When Gerard Butler isn't adding to his growing collection of disaster movies, he keeps himself busy with gritty crime thrillers, like 2018's Den of Thieves, in which he plays Los Angeles Sheriff's Department detective Nicholas "Big Nick" O'Brien as he tries to take out a crew attempting one hell of a heist. With an emotionally complex narrative, some of the best heist scenes since Michael Mann's Heat, and one hell of a cast, Christian Gudegast's tour de force is a must for fans of the bank robbery genre.
Stream it on Netflix here (opens in new tab).
Rent it here (opens in new tab).
The Fallen Movies (Netflix, Amazon)
Starting with the insane Olympus Has Fallen in 2013, Gerard Butler has taken on the role of former U.S. Army Ranger and Secret Service agent (and all around badass dude) Mike Banning on three occasions (with more on the way) to save various Presidents of the United States. Whether it's in the U.K.-based London Has Fallen, or the bonkers threequel Angel Has Fallen, Butler has found a way to make the broken man with a heart of gold (and ice cold steel) come off as a bonafide hero and save the day again and again.
Stream Olympus Has Fallen here (opens in new tab).
Rent it here (opens in new tab).
Rent _London Has Fallen _here (opens in new tab).
Stream _Angel Has Fallen _here (opens in new tab).
Rent it here (opens in new tab).
Playing For Keeps (Netflix)
In the 2012 romantic comedy Playing for Keeps, Gerard Butler plays former Scottish soccer star George Dryer as he finds himself being goaded into coaching his son's team as he tries to get his foot in the door of the sports broadcasting world. Forced to fight off temptation from several of the parents of his players (Dennis Quaid with monetary bribes, Catherine Zeta-Jones and Uma Thurman with love and passion), Dryer attempts to find his way, achieve his dreams, and get his family back together.
Stream it on Netflix here (opens in new tab).
Rent it here (opens in new tab).
The How To Train Your Dragon Movies (Amazon, Netflix, Hulu)
Since the release of How to Train Your Dragon in 2010, the DreamWorks Animation franchise has become one of the most popular and successful of its time, and spawned two additional movies (How to Train Your Dragon 2 and How to Train Your Dragon: The Hidden World), and even more shorts, specials, and television series. The adventures of Hiccup Horrendous Haddock III (Jay Baruchel) and his trusty dragon, Toothless, are full of drama, emotion, and wonder as the saga of a young viking trying to escape his father's shadow and become the leader his people need.
Rent How To Train Your Dragonhere (opens in new tab).
Stream How To Train Your Dragon 2here (opens in new tab).
Rent How To Train Your Dragon 2here (opens in new tab).
Stream How To Train Your Dragon: The Hidden Worldhere (opens in new tab).
Rent it here (opens in new tab).
Law Abiding Citizen (BET+)
The 2009 crime thriller Law Abiding Citizen follows Clyde Shelton (Gerard Butler) as he wages a one-man war against the legal system, and prosecutor Nick Rice (Jamie Foxx), after a man responsible for killing his wife and daughter gets off easy in exchange for his testimony about the crime. This gripping and highly emotional series of head games shows just how far one man will go in order to get justice, even if it means becoming what he hates.
Stream it on BET+ here (opens in new tab).
Rent it here (opens in new tab).
Geostorm (HBO Max)
The 2017 sci-fi disaster film Geostorm follows Jacob "Jake" Lawson (Gerard Butler) after the climate-controlling satellite falls under the control of the wrong hands and begins to bring destruction to earth. In order to prevent the "Geostorm" from wiping out all life on Earth, Jake and his brother Max (Jim Sturgess) must get over their past differences and resolve the issue that is bringing death to billions of living souls. It's over the top and it's hard to believe, but the big-budget popcorn flick is something to behold.
Stream it on HBO Max here (opens in new tab). If you're not an HBO Max subscriber, you can sign up here (opens in new tab). *
*Rent it here (opens in new tab).
P.S. I Love You (HBO Max)
When Gerard Butler isn't kicking ass and saving the planet he also keeps himself busy with romantic dramas like the 2007 tearjerker P.S. I Love You in which he plays Gerry Kennedy, a man who wrote a series of letters to his wife, Holly (Hilary Swank) prior to his death. Over time, the letters help her come to terms with and move past the loss of her husband and start a new life for herself.
Stream it on HBO Max here (opens in new tab)
Rent it here (opens in new tab).
Timeline (HBO Max)
While probably not anyone's favorite Michael Crichton adaptation, the 2003 sci-fi adventure Timeline isn't necessarily the worst either. Centering on Chris Johnston (Paul Walker) after he and a team of archeologists, who include Gerard Butler's André Marek, travel through a wormhole back to 14th-Century France to locate his missing father, the movie takes exciting twists and terrifying turns as they uncover the mystery and fight for their lives.
Stream it on HBO Max here (opens in new tab).
Rent it here (opens in new tab).
300 (Amazon)
Neither his first or best movie, 300 remains the film people mention when the name Gerard Butler comes up. Zack Snyder's 2007 adaptation of the Frank Miller and Lynn Varley's graphic novel of the same name, this visually striking and intense war epic sees Butler take on the role of Leonidas, the King of Sparta, who rallies several hundred chiseled soldiers to defend their homeland from King Xerxes and his Persian forces. Loosely based on the real-life Battle of Thermopylae, this action-packed, bloody, and stylish military film is just as unique now as it was 14 years ago.
Rent it here (opens in new tab).
Dear Frankie (CBS All Access)
The 2005 drama Dear Frankie follows 9-year-old Frankie Morrison (Jack McElhone) as he prepares to finally meet his father, with whom he has been writing for years, as the merchant seaman's ship is returning to Scotland. The only problem, however, is Frankie's mother, Lizzie (Emily Mortimer) has been writing the letters and has to find a suitable man to masquerade as the young boy's father. Enter the Stranger (Gerard Butler), a man who not only becomes a father figure for Frankie, but a trusted companion of Lizzie's along the way.
Stream it on CBS All Access here (opens in new tab).
Rent it here (opens in new tab).
The Ugly Truth (Amazon)
In 2009, Gerard Butler and former Grey's Anatomy star Katherine Heigl got together for the romantic comedy The Ugly Truth, in which a morning show producer (Heigl) gives an opinionated and foul-mouthed talk show host (Butler) a segment on her daily broadcast. Over time, the contentious and oftentimes heated working relationship turns into something more.
Stream it on Amazon here (opens in new tab).
RocknRolla (Amazon)
Guy Ritchie's 2008 crime action flick RocknRolla follows One Two (Gerard Butler) and Mumbles (Idris Elba), two small-time crooks who finally decide to change their ways and put in some honest work for a change. The only problem with this plan is they need to borrow money from notorious criminal Lenny Cole (Tom Wilkinson) who doesn't like to have red in his books. The pair try find a way out of the mess, but if that doesn't shake out, they're better off dead.
Rent it here (opens in new tab).
The Phantom Of The Opera (Hoopla)
Before he was kicking ass, taking names, and saving the world, Gerard Butler was the titular character in Joel Schumacher's 2004 adaptation of The Phantom of the Opera alongside Emmy Rossum as Christine Daaé. This wild and eye-catching spectacle features a mostly-masked Butler falling in love and singing songs with the young Christine, just as countless actors have done in various screen and stage revivals of Andrew Lloyd Webber's Broadway sensation.
Stream it on Hoopla here.
Rent it here (opens in new tab).
Reign Of Fire (Amazon)
And then there is the 2002 dystopian sci-fi thriller Reign of Fire, which follows Christian Bale's Quinn Abercromby, Matthew McConaughey's Denton Van Zan, and Gerard Butler's Creedy as they try to save a near-future London from ruin by fire-breathing dragons. Bleak, dirty, and action-packed, Rob Bowman's fight between man and mythical beast is often forgotten 19 years later, but remains a fairly enjoyable movie to watch.
Rent it here (opens in new tab).
This is just a small portion of Gerard Butler's insanely deep filmography. For every The Ugly Truth there is a One for the Money, and a Hunter Killer for every Geostorm. The thing about the Scottish leading man is that you never really know which direction he's going to take with his career, which is one of the reasons he is so much fun to follow.