How Harley Quinn And Rick Flag's Relationship Will Change In The Suicide Squad, According To James Gunn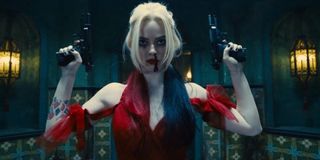 James Gunn's The Suicide Squad arrives in theaters this August and is one of the year's most anticipated comic book movies. The movie is set to bring some changes to the DC franchise, leading some to wonder if it's a sequel or a reboot. Despite the changes that are on the way, Margot Robbie's Harley Quinn and Joel Kinnaman's Rick Flag, along with and the rest of the leftover cast, will carry on. And recently, James Gunn teased how Quinn and Flag's relationship will change in the new movie.
Margot Robbie's Harley Quinn was one of the best parts of the original Suicide Squad, and it looks like her role is even bigger in James Gunn's version, which is a good sign for the upcoming movie. But with Task Force X now being made up of mostly new members, her connections with her fellow veterans could become more important. So how has her relationship with field leader Rick Flag changed? Here's what James Gunn told IGN:
When explaining the specific dynamic Harley Quinn has with Rick Flag, James Gunn says Harley really doesn't like Rick at all. Harley loves weirdos, and Rick Flag is a by-the-book, uptight military guy who is pretty tame compared to the other squad members. Needless to say, the two are definitely on opposite ends of the characterization spectrum.
James Gunn does say that this conflict between Harley and Rick isn't the film's central tension, but it is a part of the film's dynamic. So audiences may want to do their due diligence and look out for how things develop between the two. Harley Quinn seems to be character that James Gunn has wanted to tackle for a while and, from what we've seen, his version of the character is a breath of fresh air. So far he's already teased a huge set piece for Margot Robbie's fan-favorite character, which may or may not be able to up her antics from Birds of Prey. All in all, Gunn and Robbie seem to have an understanding about Harley as a character.
James Gunn seems to have put a lot of thought into the crafting of all his characters. For example, he's explained the differences in making King Shark versus making Guardians of the Galaxy's Rocket Racoon and Groot. The director also tweaked the character of Bloodsport from his comic book roots .It remains to be seen how this all translates to the final production. But if you take Flula Borg's word after seeing it, it will be unlike anything we have seen from comic book movies.
Action and spectacle are sure to delight those who watch The Suicide Squad, but the character moments will truly be what makes or breaks the film. And with James Gunn at the helm, their interactions with each other are sure to be both compelling and fun. You can see the movie for yourself when it hits theaters and HBO Max on August 6, 2021.
Movie and TV obsessive. A good Heist movie is the way to my heart. Enjoyer of everything from Marvel Movies to Rom-coms.
Your Daily Blend of Entertainment News
Thank you for signing up to CinemaBlend. You will receive a verification email shortly.
There was a problem. Please refresh the page and try again.