After Zola, Check Out More Movies And TV Episodes That Janicza Bravo Has Directed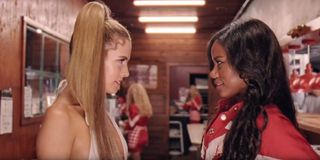 After the story went viral on Twitter, Zola has been many years in the making. Now, in 2021, Zola has finally been released in theaters worldwide. Fans of the wild story can see it play out with Taylour Paige and Riley Keough as the leads. Janicza Bravo has now directed one of the highly anticipated summer movies. Zola isn't Janicza's first film, as she took the directing chair for many other films and TV shows, such as directing several episodes of In Treatment Season 4. Many Janicza Bravo movies and TV shows are currently available to stream.
If you're interested in familiarizing yourself with additional Janicza Bravo movies and TV shows after seeing Zola, we have a few suggestions on what to check out.
In Treatment: Season 4 Episode 13 "Week 4-Eladio"
In Treatment is an HBO original series that premiered in 2008 with Gabriel Byrne as the lead. He was the lead of the show for the first three seasons. That run of the series concluded in 2011. In 2021, In Treatment returned with Uzo Aduba as lead. Each episode of In Treatment Season 4 is about 30-minutes, and focuses on Aduba's character, Dr. Brooke Taylor, and her patients. Each episode deals with Dr. Taylor's therapy sessions with her clients and her own therapy sessions.
Janicza Bravo directed four episodes of In Treatment Season 4. Those episodes were the Week 4 episodes (13-16). One of the strengths of In Treatment is that it's easy to get sucked up into the world of Brooke's clients and that's due to the talented directors and writers. They both become even more impressive this season, because most of the sessions are shot via video calls to bring COVID into the storylines.
Stream In Treatment on HBO Max (opens in new tab)
Buy In Treatment on Amazon Prime (opens in new tab)
Mrs. America: Season 1 Episode 8 "Houston"
Mrs. America is an FX miniseries. It tells the story of the movement behind ratifying the Equal Rights Amendment (ERA), which would offer women more rights, and those who opposed it. The series includes many historical and political figures of the '70s, including Gloria Steinem (Rose Byrne), Phyllis Schlafly (Cate Blanchett), and Shirley Chisholm (Uzo Aduba), and women affected by this movement.
The "Houston" episode focuses on Alice (Sarah Paulson) and her journey at an ERA convention. It's an excellent episode, as it marks a major turning point for Alice. She starts to see that those wanting the ERA may not be the radical monsters that she once believed them to be.
Stream Mrs. America on Hulu (opens in new tab)
Love: Season 3 Episode 5 "Bertie's Birthday"
Love is a Netflix original series that follows Mickey (Gillian Jacobs) and Gus (Paul Rust), two people who seem like an ill-fated match but somehow also seem like soulmates. Love lasted for three seasons.
Janicza Bravo directed the episode "Bertie's Birthday." Bertie (Claudia O'Doherty) is one of Love's main supporting characters. She's always been a main part of Mickey's story as her roommate, but Bertie very rarely has episodes entirely about her, which makes "Bertie's Birthday" such a nice change. It's also a key episode for Bertie and Chris (Chris Witaske), who are two characters with the same sweetness that feels slightly out of place in the Love world, but makes them easily lovable in it.
Stream Love on Netflix (opens in new tab)
Atlanta: Season 1 Episode 9 "Juneteenth"
Donald Glover created, stars, and executive produces Atlanta, a series about an upcoming rapper, "Paper Boi" (Brian Tyree Henry), and his manager cousin Earn (Donald Glover). Lakeith Stanfield and Zazie Beetz also star in Atlanta.
In many episodes, Earn and his friends find themselves in situations that are strange but offer important commentary about society, especially in terms of black America. "Juneteenth" continues that tradition with an episode where Earn and his ex-girlfriend, Vanessa (Beetz), attend a Juneteenth party hosted by a black woman and her white husband--who tries to present himself as "woke." The irony and the strangeness of the whole situation adds to the comedy and cleverness of the episode.
Stream Atlanta on Hulu (opens in new tab)
Buy Atlanta on Amazon (opens in new tab)
Divorce: Season 2 Episode 4 "Ohio"
Divorce was an HBO original series that aired from 2016 to 2019. The series followed Frances (Sarah Jessica Parker) and Robert (Thomas Haden Church) as they embarked on a divorce. It followed their lives as they adjusted to their new normal of being apart. Divorce is mainly a comedy, but definitely had some dramatic moments.
The "Ohio" episode followed Robert as he returned home to check on his hospitalized father. Frances then decides to join him on this journey. The episode shows Robert and Frances in more amicable terms, bonding and united in a way they haven't been since their divorce.
Stream Divorce on HBO Max (opens in new tab)
Buy Divorce on Amazon (opens in new tab)
Forever: Season 1 Episode 3 "The Lake House"
Forever stars Maya Rudolph and Fred Armisen. It follows June (Rudolph), a woman whose husband suddenly dies. She grieves and starts to plan the next chapter of her life without him, only for herself to suddenly die, as well. They're reunited in the afterlife. Forever is a show about whether the idea of forever is really something that can bring lasting happiness.
Janicza Bravo directed two episodes of Forever, "The Lake House" and "Krase." "The Lake House" episode happens right after June's sudden death and her reunion with Oscar (Armisen). We see the couple find themselves plotting a haunting, and June's sadness about not only dying but not getting to experience a life without Oscar.
Stream Forever on Amazon Prime (opens in new tab)
Buy Forever on Amazon. (opens in new tab)
Lemon
Lemon is on of many hilarious dark comedies, and it was directed and co-written by Janicza Bravo. It stars Brett Gelman, Judy Greer, Gillian Jacobs, Michael Cera, Shiri Appleby, and Nia Long. The film follows Isaac, an acting workshop teacher who is still holding on to the dream of an acting career. Instead, the only jobs he seems to book are commercials and ads for diseases and illnesses.
Isaac is a very dysfunctional and destructive character. He has no filter, which often leads to awkward situations. He also seems to be an agent of chaos when it comes to his own life and happiness. Lemon uses a very distinct style that almost makes everything and everyone seem detached from the moment. It also feels like a play more than a movie. Lemon is Bravo's feature-length film directorial debut.
There are other Janicza Bravo movies and TV shows streaming right now, like Them and Dear White People. You can find Them on Amazon Prime and Dear White People on Netflix. Zola is one of the 2021 movies that many will be talking about and that's partly due to Bravo's superb directing. You can catch Zola now playing at a theater near you.
Spent most of my life in various parts of Illinois, including attending college in Evanston. I have been a life long lover of pop culture, especially television, turned that passion into writing about all things entertainment related. When I'm not writing about pop culture, I can be found channeling Gordon Ramsay by kicking people out the kitchen.
Your Daily Blend of Entertainment News
Thank you for signing up to CinemaBlend. You will receive a verification email shortly.
There was a problem. Please refresh the page and try again.