6 Great Mortal Kombat Characters We Still Haven't Seen In The Movies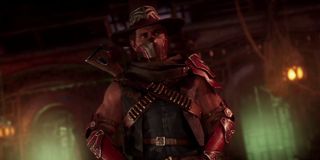 Remember the recent Mortal Kombat movie? Well, there was something that I always thought was really weird about it. The cast almost entirely consisted of Mortal Kombat characters from the first and second games (Minus Johnny Cage, of course). But there was also Nitara, the winged vampire who made her first video game appearance in Mortal Kombat: Deadly Alliance. Kabal was also in it, as was Reiko, and they first appeared in Mortal Kombat 3 and 4, respectively.
So, why is this weird? Well, because it's just so random. Unlike, say, Mortal Kombat: Annihilation, which threw in pretty much every character and their mother, Mortal Kombat 2021 seemed to have just picked and chosen its characters from the later games indiscriminately. And if that was the case, then I would have preferred a few more or other characters from the Mortal Kombat video game roster than those three additions. Now, to make this list, I had to not only look at the three live-action Mortal Kombat movies that we've gotten, but I also checked out Mortal Kombat Legends: Scorpion's Revenge, as well as Mortal Kombat: Legacy (so no Stryker or Kenshi on this list). So, which characters have we still not gotten in any of the movies that I'd like to see? Well…
Erron Black
Making his first appearance in Mortal Kombat X, Erron Black is pretty much what happens when you cross Roland Deshain from the Dark Tower series with pretty much every other gunslinger interpretation from the wild west. And as somebody who loves westerns, I was really happy to find a sharpshooting cowboy roaming around Outworld.
Like most antiheroes, Erron Black is neither good nor bad. Yes, he has his own self-interests in mind, but he's likely to help just as much as he's likely to shoot somebody square in the face. He went into Outworld with Kano in the games, so I would love to see him possibly appear in a sequel to the recent Mortal Kombat movie with Kano (because come on now, if there is a sequel, they gotta bring back Kano). I mean, don't you want to see a murderous cowboy if we ever get another Mortal Kombat movie? I know I sure do.
D'Vorah
I mentioned in the intro how we got Nitara in the recent Mortal Kombat movie, but I'm sorry. Nitara kind of sucks. I mean, she's okay as a character, but she's just kind of bland. But I'm all about D'Vorah. Making her first appearance in Mortal Kombat X, D'Vorah is part of the Kytinn species, which means she's really just a whole bunch of insects that have come together to form a human being.
But here's the cool thing about D'Vorah. You know how Aang from Avatar is The Last Airbender. Well, D'Vorah is the last of her kind, too. And by being the last of her kind, she's willing to band with pretty much anybody if it means preservation of her species. I always love turncoat characters, and I think she would be a cool addition to any Mortal Kombat movie. Especially with all the bug powers. Bzzzzz!
Darrius
Making his first appearance in Mortal Kombat: Deception, the argument has been made that Darrius is one of the worst Mortal Kombat characters of all time, and that he's just a "knock-off" of Blade. But you know what? Blade is awesome, and even though Darrius isn't a half-vampire, half-human hybrid (he's actually a freedom fighter, believe it or not), I just think it would be cool to have a character like Darrius since he's so unlike any of the characters we've seen so far in the movies.
In fact, he's a member of the Realm of Order, which gets deep, deep into the weeds when it comes to Mortal Kombat lore. Now, I'm not saying that I'm looking for a Mortal Kombat movie that really explores some of the more ridiculous and nerdy aspects of the MK realm, but I think it would be a kind of cool shout out to the fans who have actually been following the series for all this time.
Fujin
Making his first appearance in Mortal Kombat Mythologies: Sub-Zero as a boss before becoming a playable character in Mortal Kombat 4, Fujin is actually Mortal Kombat mainstay, Raiden's, younger brother. But instead of being the God of Thunder, he's the God of Wind. I mean, how freaking cool is that?
We've seen Raiden in pretty much every Mortal Kombat movie, but never his brother. And if it were up to me, there would have already been a buddy movie where the two brothers are knocking each other around and causing havoc all around Outworld. Come on. You know you want that, too.
Frost
Debuting in Mortal Kombat: Deadly Alliance, do you like Sub-Zero? Cool. Then meet Sub-Zero's apprentice. As a member of the Lin Kuei, Frost was pissed off when her teacher made peace with longtime rival, Scorpion. She challenged Sub-Zero, lost, and had to wander the land. You know, basic martial arts stuff.
The thing is, Frost is also a cyborg. Long story short, she wanted to get revenge against Sub-Zero, and so she received enhancements of sorts. I actually want to see more cyborgs in the Mortal Kombat movies, and a female cyborg would be really cool. And yes, I'm now aware that I keep saying "cool" when talking about ice characters. Blame my subconscious.
Ferra & Torr
Lastly, I really want to see Ferra & Torr in a Mortal Kombat movie. Making their debut in Mortal Kombat X, Ferra & Torr are pretty much a package deal. Ferra rides, and Torr carries. They act as bodyguards to Kotal Kahn. And do you really want to make them angry?
Ferra & Torr are one of the more unique characters in the Mortal Kombat universe, and after seeing so many of the same faces in the past three live-action MK movies, I'd really love to see the story of a young rider and her giant brute. It's the heartwarming story sweeping the nation!
In the end, I just want to see some different characters in a Mortal Kombat movie. But what do you think? Out of the characters listed here, which one do you think would be the coolest to make an appearance in any upcoming Mortal Kombat movies? Make sure to answer in the poll below! And for any news on 2021 movies or even 2022 movies, make sure to stop by often!
This poll is no longer available.
Rich is a Jersey boy, through and through. He graduated from Rutgers University (Go, R.U.!), and thinks the Garden State is the best state in the country. That said, he'll take Chicago Deep Dish pizza over a New York slice any day of the week. Don't hate. When he's not watching his two kids, he's usually working on a novel, watching vintage movies, or reading some obscure book.
Your Daily Blend of Entertainment News
Thank you for signing up to CinemaBlend. You will receive a verification email shortly.
There was a problem. Please refresh the page and try again.