Brian Austin Green Has Some Comments For The People Thinking He's Taking Digs At Ex Megan Fox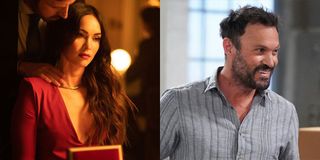 Megan Fox And Brian Austin Green's big split was a notable one in 2020, but it's not as fresh as it once was given Fox has moved on with Machine Gun Kelly and Green has embarked on a relationship with Dancing with the Stars pro Sharna Burgess. Recently, the former Beverly Hills, 90210 actor shared a sweet post with Burgess from a recent trip to Disney World in which he made a comment that some took to be a shot at Fox. Now, Green has shared his own thoughts on the matter.
Why Do Some People On The Internet Think Brian Austin Green Is Taking Digs?
The post in question was publicly shared on Instagram this week. In it, Brian Austin Green is seen canoodling with Sharna Burgess in the Happiest Place on Earth. The post in question is captioned "It's been a really long time since I've been with someone I can truly share life with." Given, Brian Austin Green only broke up with Megan Fox in the middle part of 2020, it seems as if some people felt the comment might not be in the best taste.
It probably does not particularly help things that Brian Austin Green has seemingly made comments that have come off as digs before. Back in August, it came off as if he were not above a little petty revenge after Megan Fox famously appeared in a post with Machine Gun Kelly with a very memorable caption "Achingly Beautiful Boy… I am yours." Soon after, Brian Austin Green shared his own posts with his kids… and featuring the caption his ex had favored.
I'm just saying, I see why it's not so far-fetched to think Brian Austin Green would not be above a little dig or two, even if the above Instagram post was simply a jest. Still, it's worth pointing out that both Megan Fox and Green have been co-parenting together for over a year now since their initial split. They've both moved on to new partners and Megan Fox was even positive on the Disney-related post, noting, "Grateful for Sharna" along with a heart emoji. So, clearly there are not hard feelings on Fox's end.
How Brian Austin Green Responded After The Post Went Viral
A good chunk of Internet users noticed the post from Brian Austin Green, as well as responses from both Sharna Burgess and Megan Fox when they dropped online. Some commenters on Instagram mentioned things like "shots fired" or "weird to bring your ex into a perfect moment with your new girlfriend." It was enough to prompt Green to feel he needed to respond, so he took to Instagram Stories to share his thoughts, noting,
Honestly, this is in keeping with what both have said in the past. Brian Austin Green has said that he doesn't want anyone to come off like "the villain" where their divorce is involved. (A note some celeb couples could probably take.) Even Sharna Burgess has chimed in and said the two have created and raised wonderful kids. And Fox comments on his fun relationship posts, so in a lot of ways this whole thing seems to have gone as swimmingly as it possible could. Except for all the Machine Gun Kelly/ Megan Fox haters, maybe.
Amazing Race & Top Chef superfan with a pinch of Disney fairy dust thrown in. If you've created a rom-com I've probably watched it.
Your Daily Blend of Entertainment News
Thank you for signing up to CinemaBlend. You will receive a verification email shortly.
There was a problem. Please refresh the page and try again.