How Megan Fox And Brian Austin Green Are Co-Parenting After Split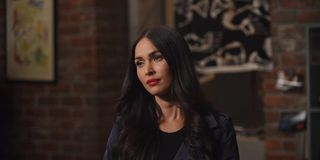 It's never easy when a married couple with kids split up. Earlier this year, it was announced that 90210's Brian Austin Green and Transformers' Megan Fox separated after ten years of marriage. They have three kids together, and recently Brian Austin Green addressed how they're co-parenting after the split.
Brian Austin Green was a guest on the Hollywood Raw podcast to set the record straight about rumors swirling about him. During the interview, he was asked where things stand with him and Megan and how things are going overall after the split. Here's what Brian Austin Green had to say:
This sounds like a pretty mature way to handle a tough situation. Brian Austin Green and Megan Fox separated back in May. As he recalls it on his own podcast, Megan Fox was off on a five-week shoot and two weeks after she returned things became "weird" and she voiced that she liked herself better when she was away.
Brian Austin Green and Megan Fox are parents two-three children: Noah, Bodhi, and Journey. In the past, Brian Austin Green has gushed over his children on social media and Megan Fox always wanted kids with the 90210 star. They remain a family unit, albeit the couple is separated.
This is not the first time their relationship has been on the rocks, though. In 2016, Megan Fox reportedly planned to divorce Brian Austin Green, but later, the couple was able to reconcile and mend the relationship. Soon after, Fox became pregnant with her third children, Journey. And in that way, their brief reunion still resulted in something special.
Since the separation, rumors have swirled that Megan Fox and Machine Gun Kelly have been in a romantic relationship. They first met on the set of Midnight in the Switchgrass and have since been spending a lot of time together. Brian Austin Green has also been the subject of paparazzi when seen with other women after the separation. But on the podcast he also said Megan Fox has been a responsible person who makes good choices. He hopes no one treats either one as a villain or a victim, and that he still plans to have family vacations and holidays together.
Your Daily Blend of Entertainment News
Thank you for signing up to CinemaBlend. You will receive a verification email shortly.
There was a problem. Please refresh the page and try again.