Kristen Stewart Explains Why She Went Shoe-Less On The Red Carpet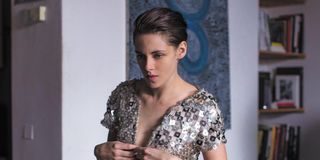 Kristen Stewart has been one of Hollywood's most sought-after actresses for years. She's also one of the most talked about -- from her career choices to her love life. People are so fascinated by her that sometimes it seems like even her slightest movement -- like going shoeless on a red carpet -- can become a viral moment.
In 2018, Kristen Stewart was on the jury for the Cannes Film Festival and was on hand for many of the event's biggest moments. While on the red carpet for the premiere of BlackKklansman, she took off her high heels before she ascended the famous steps of the Palais des Festivals. The move was captured ad nauseum by the media outlets that were present, and it became one of the festival's most headline-grabbing moments.
According to Kristen Stewart's recent chat with InStyle thought, her decision to forego her footwear wasn't quite as big of a deal as everyone made it out to be:
At the time, news outlets' coverage of Kristen Stewart's brief, barefoot excursion slanted toward the idea that she was taking a stand against Cannes' ban on flat footwear. Some even went so far as to assume she was actively protesting the dress code. So it's interesting to hear her candid thoughts about it and to realize that it was a move that was more about comfort than making a statement.
Of course, this wasn't the first time Kristen Stewart's actions were scrutinized by curious observers. Since 2007, she's been a household name, thanks to her breakout performance as Bella Swan in the Twilight franchise. This means that everything from what she wears, to what movies she stars in, to who she dates, is liable to become a hot topic.
Kristen Stewart has managed this attention with a unique combination of dry wit and self-composure. The actress has also made some pretty interesting decisions when it comes to her career. In the years since Twilight, she's shown she's not afraid to take chances and has taken on a wide range of roles, from indie dramas like Personal Shopper to thrillers like Underwater.
Next up, she's continuing to keep fans on their toes. Her Christmas-themed movie, Happiest Season, hits VOD on Thanksgiving weekend. Then, she'll switch gears and portray the iconic Princess Diana in the upcoming film Spencer.
Your Daily Blend of Entertainment News
Your Daily Blend of Entertainment News
Thank you for signing up to CinemaBlend. You will receive a verification email shortly.
There was a problem. Please refresh the page and try again.