The Best Dev Patel Movies And TV Shows (And How To Watch Them)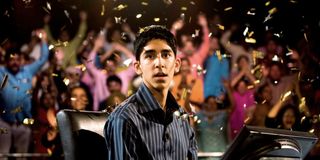 CinemaBlend participates in affiliate programs with various companies. We may earn a commission when you click on or make purchases via links.
Since the early days of the 21st Century, Dev Patel has become and remained one of the best living actors and one who is more than capable of handling himself in everything from comedies like Best Exotic Marigold Hotel to white-knuckle action thrillers like Hotel Mumbai and anything and everything in between. From television to film, Patel has dazzled audiences around the world with his charm, charisma, and outstanding acting chops.
Below is a brief yet impressive list of the best Dev Patel movies and TV shows from throughout his career (not including The Green Knight) as well as everywhere you can rent and buy them digitally or physically and streaming. From Slumdog Millionaire to Skins this is the best of the best…
Slumdog Millionaire (2008)
Danny Boyle's 2008 eye-catching drama Slumdog Millionaire tells the story of Jamal Malik (Dev Patel), a Mumbai teenager who finds himself on his country's version of Who Wants to be a Millionaire. When accused of cheating on national television, Jamal begins to reflect on the decisions and life events that led up to this moment.
Winner of eight (out of ten) Academy Awards, including Best Picture, Slumdog Millionaire is anchored by Dev Patel's star-making performance of a young man who finds himself in a position that defies explanation. And while Patel wasn't nominated for an Oscar, he did receive the Chicago Film Critics Association Award for Most Promising Performer, which certainly proved to be the case for the talented actor in the years to come.
Stream Slumdog Millionaire on Hulu.
Rent/Buy Slumdog Millionaire on Amazon.
Buy Slumdog Millionaire on DVD/Blu-ray on Amazon.
Lion (2016)
Garth Davis' 2016 biographical drama Lion sees Dev Patel take on the role of Saroo Brierley, who at 5 years old, got separated from his brother on a train that ended up taking him thousands of miles across India. Years after being adopted by John (David Wienham) and Sue Brierley (one of Nicole Kidman in one of her best movies), a fully-grown Saroo traces his steps through Google Earth and sets out to find his family after all this time.
At times heartbreaking and others inspirational, Lion is a movie that will have you on the edge of your seat with one hand on a box of tissues. In a movie that is filled with great actors like Nicole Kidman and Rooney Mara, Dev Patel is in a league of his own as a man determined to reconnect with his mother and brother. It's easy to see why Patel was nominated for so many awards, including an Oscar, for his emotional performance.
Buy Lion on DVD/Blu-ray on Amazon.
The Newsroom (2012-2014)
As the title implies, Aaron Sorkin's HBO drama The Newsroom spends three seasons with the anchors, producers, and researchers of the fictional ACN 24-hour news channel and how its major players deal with some of the bigger moments of the early 21st Century.
Possibly one of the best collection of actors ever assembled for a show about a media outlet, The Newsroom cast is full of great actors from top to bottom. And while Jeff Daniels and Emily Mortimer receive the lion's share of the praise, it's Dev Patel's Neal Sampat that really steals the show. Often the moral center of the show's major storylines, Neal consistently challenged the status quo and helped his employees open their eyes and hearts to new ideas and beliefs.
Stream The Newsroom on HBO Max.
Rent/Buy The Newsroom on Amazon.
Buy The Newsroom on DVD/Blu-ray on Amazon.
Best Exotic Marigold Hotel (2011)
Directed by John Madden, the 2012 British comedy Best Exotic Marigold Hotel follows a group of retirees played Judi Dench, Maggie Smith, and Bill Nighy who find themselves questioning their decision to spend their golden years in India after their luxurious retirement facility is anything but luxurious or peaceful. Looking to make the most of the situation, the group enlists the services of Sonny Kapoor (Dev Patel) who finds himself in over is head like the rest of them.
If anything, Best Exotic Marigold Hotel is an unofficial test for Dev Patel as it sees him stand toe-to-toe with some of the most talented and prolific actors of all time, especially his scenes with Maggie Smith. While it touches on some serious issues, the movie has a joyful and vibrant tone that makes it the perfect movie to revisit time and time again.
Stream Best Marigold Hotel on Cinemax.
Rent/Buy Best Marigold Hotel on Amazon.
Buy Best Marigold Hotel on DVD/Blu-ray on Amazon.
The Personal History Of David Copperfield (2020)
Based on one of Charles Dickens' most beloved books and characters, Armando Iannucci's The Personal History of David Copperfield follows the iconic literary figure on a series of exciting and fun adventures set in Victorian Era England.
Nominated for multiple awards, including Golden Globe consideration for Dev Patel's portrayal of David Copperfield, the movie has a remarkably upbeat and optimistic tone, one that is honestly a breath of fresh air. It would be easy for an actor to get lost in the shuffle considering who's on screen with them — Hugh Laurie, Tilda Swinton, Ben Whishaw — but here comes Patel with his youthful demeanor and scene-stealing charisma at every turn.
Stream The Personal History Of David Copperfield on HBO Max.
Buy The Personal History Of David Copperfield on Amazon.
Buy The Personal History Of David Copperfield on DVD/Blu-ray on Amazon.
Modern Love (2019)
Based on the New York Times column of the same name, the 2019 Amazon anthology series Modern Love tells eight different stories of love, heartbreak, new beginnings, and the next chapter for various residents living and loving in New York City.
The episode titled "When Cupid Is a Prying Journalist" tells the story of Joshua (Dev Patel, who was nominated for a Primetime Emmy Award), the founder of a dating app whose interview with a reporter by the name of Julie (Catherine Keener) quickly turns to his personal history with finding love. Modern Love is a must-watch for anyone looking for something to watch after going through the best movies on Amazon Prime.
Hotel Mumbai (2018)
Anthony Maras' 2018 action thriller Hotel Mumbai, which is based on the 2008 terrorist attacks that claimed the lives of 175 people and injured hundreds more, tells the story of the staff and guests at the Taj Mahal Palace Hotel as the building is under siege by a group of armed combatants. What follows is a deadly, intense, and emotional fight for survival even in the face of certain death.
Dev Patel's portrayal of a man who is able to remain calm in a situation as dire as a terrorist attack is truly something to behold and should be talked about more. Although not as noteworthy as some of his other performances, Patel's ability to pull off a range of emotions all while being resilient at every turn is something else.
Rent/Buy Hotel Mumbai on Amazon.
Buy Hotel Mumbai on DVD/Blu-ray on Amazon.
The Man Who Knew Infinity (2016)
Directed by Matthew Brown, The Man Who Knew Infinity follows self-taught mathematics genius Srinivasa Ramanujan (Dev Patel) as he battles higher education, racism, and a devastating illness to become one of the most well-respected mathematicians of all time.
It's hard to not like Dev Patel in any performance and that's especially the case in The Man Who Knew Infinity. With a balance of brains, charisma, and determination, Patel's portrayal of one of the giants of the math world is enough to turn this into one of the best biopics of our time.
Stream The Man Who Knew Infinity on AMC+.
Rent/Buy The Man Who Knew Infinity on Amazon.
Buy The Man Who Knew Infinity on DVD/Blu-ray on Amazon.
Skins (2007-2008)
And then there is Skins (the original British version, not the American remake) which featured Dev Patel in his first on-screen role. During the teen drama's first two seasons, Patel portrayed Anwar Kharral, a Pakistani muslim who does everything his religion forbids including engaging in premarital sex, recreational drug use, and eating pork.
Anyone who wants to see where Dev Patel came from in terms of acting should definitely check out Skins as it shows off the actor's charm and acting abilities at such a young age.
The list of the best Dev Patel movies and TV shows will certainly only get longer and longer as the years go by especially with The Green Knight being on the list of the most anticipated 2021 movies. If you are looking for more great streaming options, check out our updated list of the best movies on Netflix.
Your Daily Blend of Entertainment News
Philip grew up in Louisiana (not New Orleans) before moving to St. Louis after graduating from Louisiana State University-Shreveport. When he's not writing about movies or television, Philip can be found being chased by his three kids, telling his dogs to stop barking at the mailman, or yelling about professional wrestling to his wife. If the stars properly align, he will talk about For Love Of The Game being the best baseball movie of all time.