F9: How To Watch The Latest Fast And Furious Movie Streaming At Home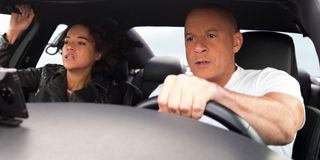 CinemaBlend participates in affiliate programs with various companies. We may earn a commission when you click on or make purchases via links.
In June 2021, F9 came onto the scene and broke all kinds of pandemic-era records at the global box office and reminded fans of the Fast and Furious franchise why they fell in love with Dom Toretto and the moviegoing experience in the first place. But just as the dust has settled and everyone has moved on to other movies, F9 is here once again but this time you can watch it from the comfort of your home, home garage, or car floating in outer space if that's your thing.
How do you watch F9 streaming? Below is a quick breakdown where and how you can watch the Toretto brothers go head-to-head and the long-awaited return of fan-favorite Han Lue. There's a lot to unpack in a short amount of time so let's get into the nitty gritty of how to watch F9 streaming at home with your family.
Where To Watch F9 Streaming
If you missed your first opportunity to see F9 in theaters or maybe just didn't feel like going to your local movie house but still want to catch the latest chapter in the Fast and Furious franchise, you're in luck because the movie is currently available on a number of platforms. And while the movie isn't yet available to stream on services like Peacock Premium, you can watch all the action on Amazon, Vudu, YouTube, RedBox on Demand, and countless others.
If you do end up watching F9 streaming on any of those VOD services, it will set you back $19.99 for a 48-hour rental (HD and SD are the same price; no 4K for now) once you start the movie. This is similar to what Universal Pictures has been doing with its releases going back to Trolls World Tour in April 2020.
Rent F9 on Amazon. (opens in new tab)
Will F9 Be Available To Stream On Peacock?
The short answer is yes, F9 will be available to stream on Peacock at some point in the future, but it's not all that clear when it will arrive on the streamer. In July 2021, Deadline reported that Peacock and Universal Pictures had signed an agreement where all of the studio's 2022 movies will arrive on the streamer after they complete their theatrical runs.
That deal will go into effect in 2022, but before that Universal releases will make their pay TV and streaming debut on HBO as part of a deal expiring at the end of 2021. These movies typically debut on HBO and HBO Max more than a half a year following their theatrical debut so it remains to be seen how this will be handled with F9 streaming on HBO Max. There is also a deal between Universal and Amazon that will see F9 and other releases including the upcoming Fast and Furious movies become available on IMDb TV after they stream on Peacock for four months, per Variety.
When We Can Expect To See F9 On Home Video
An exact release date for the F9 home video release has not yet been disclosed by Universal Pictures, but there's a good chance we will see the movie land on DVD, Blu-ray, and 4K UHD Blu-ray (as well as cheaper digital rental options) fairly soon. For example, News of the World was released in theaters on December 25, 2020 and landed on home video a little less than three months later on March 23, 2021. This means we will most likely see F9 come to home video at some point in late September, three months after it opened in theaters on June 25. The movie is already available for pre-order on Amazon.
Pre-order F9 on DVD/Blu-ray/4K on Amazon. (opens in new tab)
Now that you know where and how to watch F9 streaming, all there is to do is grab your closest friends and family, a bucket of Corona, and watch the globe-trotting adventure unfold. And after that, check out everything we know about the upcoming Fast and Furious 10.
Philip grew up in Louisiana (not New Orleans) before moving to St. Louis after graduating from Louisiana State University-Shreveport. When he's not writing about movies or television, Philip can be found being chased by his three kids, telling his dogs to stop yelling at the mailman, or yelling about professional wrestling to his wife. If the stars properly align, he will talk about For Love Of The Game being the best baseball movie of all time.
Your Daily Blend of Entertainment News
Thank you for signing up to CinemaBlend. You will receive a verification email shortly.
There was a problem. Please refresh the page and try again.