Release The Villeneuve Cut? Sounds Like Dune's Jason Momoa Wants The Blockbuster To Get The Snyder Cut Treatment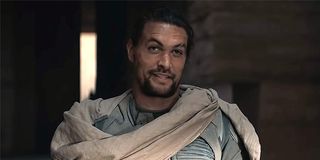 It's hard to pick an upcoming Jason Momoa project that I'm most excited about, but Dune just may make the top of the list. The long-awaited adaptation of Frank Herbert's sci-fi novel that was previously translated into movie form in 1984 is almost here, and Momoa can't stop hyping us up about it. Apparently the film, which has now been seen by the star on the big screen, is pretty sweet - but it would be even better if it got the Snyder Cut treatment.
Zack Snyder came out with his cut of Justice League back in April, which Jason Momoa starred in as Aquaman. Snyder had to drop out of the film after principal photography was completed, resulting in a less than favorable outcome for DC fans when Joss Whedon was brought on to finish the theatrical cut. Years later, Snyder was able to make a version of Justice League he and fans could be proud of for release on HBO Max, even if that meant the film was a whopping four hours.
Sometimes time restraints can really cut into a film being truly epic, and the Justice League story Zack Snyder wanted to tell was really worthy of the full four hours. Apparently Jason Momoa feels similarly about Dune, and thinks a four or even six hour film instead of the two and half one that was made could do the story justice without having to trim anything. Here's what the Aquaman star said in an interview with The New York Times Magazine exactly:
Even though Jason Momoa says Dune deserves more time and that he wants to see director Denis Villeneuve's full version of the film with no cuts, we still can expect a pretty amazing film. Momoa's interviewer, when asking how amazing it was working on the film, said he had seen a preview screening of the film and thought that it was pretty epic. Momoa himself responded by saying how cool the film ended up being.
Fans of the 1984 version of Dune should be sprinting to the theaters. The '80s version took an amazingly crafted universe from Frank Herbert and made it something we could visually look at. However, so much has changed with technology and CGI since then that a story like Dune could reach a whole new level with the special effects we have available to us now.
Although not the four-to-six hour-length film that Jason Momoa is dreaming of, Dune will be released to theaters and HBO Max on October 22. The upcoming film could just be the biggest cinematic release of the year, and it's definitely not something you want to miss. Oh, and don't forget that this version of Dune is only adapting the first half of the original novel, so there's a good chance the main players could reunite to tell that second half in Dune 2.
Constantly thinking about books, coffee, and the existential dread I feel from Bo Burnham's Inside. While writing I'm also raising a chaotic toddler, who may or may not have picked up personality traits from watching one too many episodes of Trailer Park Boys.
Your Daily Blend of Entertainment News
Thank you for signing up to CinemaBlend. You will receive a verification email shortly.
There was a problem. Please refresh the page and try again.