Upcoming Robert De Niro Movies: What's Next For The Hollywood Legend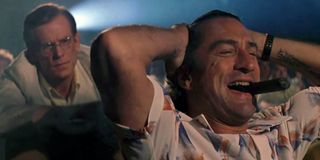 At this point in his career, Robert De Niro could sit back, polish his two Oscars (not to mention his Cecil B. DeMille Award), and rest on his laurels, but that's not the style of the Hollywood living legend, at least not for the next few years. In the near future, the 77-year-old actor, director, producer, and all-around badass will take on roles that hit some of the major genres of his career. With comedies, dramas, another David O. Russell movie, and an exciting crime thriller that sounds like Heat on wheels, we will be talking about the man who brought Travis Bickle, Jack Walsh, and Max Cady to the big screen.
It is hard to predict if any of Robert De Niro's upcoming projects will be held in the same light as his previous, career-defining roles, but with another collaboration with Martin Scorsese, a project with James Gray, and some team-ups with some of Hollywood's brightest stars, the next few years look pretty good for the iconic actor. Let's take a look at all of his confirmed projects.
The Comeback Trail - TBD (Completed)
If there are two genres in which Robert De Niro shines they would be comedy and crime, and some of the actor's best work has come in either of those respective genres or when they're combined, like in Midnight Run, and more recently in American Hustle. Luckily for everyone, De Niro will soon appear in what could potentially be another great crime comedy in The Comeback Trail, a movie with an all-star cast that was originally supposed to be released in 2020.
In The Comeback Trail, Robert De Niro plays one of a pair of producers (Scrubs alum Zack Braff is the other half) who find themselves in a situation in which they owe a mobster (Morgan Freeman) a large sum of cash with no way of paying off the debt. When another producer has an untimely death on a film set, the duo come up with an ingenious yet highly unethical idea: "accidentally" kill the star of their movie (Tommy Lee Jones) and collect the insurance payout to fix their issues.
Per Deadline, The Comeback Trail was supposed to come out November 13, 2020, but the domestic release of the crime caper has since been pushed back to an undisclosed date. The movie, which had a trailer released in September 2020, is already completed so expect to see this as soon as a new date is announced.
Wash Me In The River - TBD (Post-Production)
Robert De Niro is also no stranger to thrillers, having appeared in some of the most gripping additions to the genre over the years, including his intense and terrifying portrayal of Max Cady in the 1991 remake of Cape Fear. De Niro will soon join John Malkovich and Jack Huston in Randall Emmett's upcoming Wash Me in the River. A classic revenge story, as described by The Wrap, it centers on an opioid addict (Huston) who looks to get revenge against group of drug dealers after his fiancée overdoses on their product, and the two cops (De Niro and Malkovich) who are trying to stop him before it's too late.
The role Jack Huston will play was originally meant for Machine Gun Kelly, but the rapper-turned-actor was forced to step away from the project in November 2020, per Deadline. Taylor Kitsch was also attached to the role at one point, but he, too, had to abandon the project prior to Huston's casting. Production on the action-thriller, which was compared to No Country For Old Men by Deadline, began in November 2020 and wrapped in January 2021. No release date has been announced at this time.
United David O. Russell Film - TBD (Filming)
David O. Russell is cooking up something impressive, but few people outside of the star-studded cast and producers have any idea as to what it is. Nevertheless, the writer/director responsible for such films as The Fighter, Silver Linings Playbook, and American Hustle is currently putting together a yet-to-be-titled movie starring previous collaborators Robert De Niro and Christian Bale, as well as everyone from Margot Robbie to John David Washington and Rami Malek to Anya Taylor-Joy, plus many, many more. The project has been in the works for a while now, but details are still being kept under wraps, according to Variety.
Although there is a great deal of mystery surrounding the untitled David O. Russell movie, including its plot and who each of these highly-decorated actors will portray within its story, the film will be released by New Regency and 20th Century Studios when it's ready for its big reveal, per Deadline. Production was well underway in January 2021, per KFTV, but no release date has been announced at this time.
Killers Of The Flower Moon - TBD (Pre-Production)
Over the course of Robert De Niro's storied career, he has worked with Martin Scorsese almost more than any other director, with nine feature films (and one short film) coming from their partnership. That number will soon grow to 10, as De Niro will take one of the main roles in Scorsese's adaptation of David Grann's 2017 non-fiction book Killers of the Flower Moon, with another longtime collaborator of the director, Leonardo DiCaprio, taking on the other lead spot. Grann's book serves as a chronicle of a series of murders of wealthy members of the Osage tribe in Oklahoma back in the 1920s shortly after massive and lucrative oil deposits were found beneath their land, and the FBI's investigations into the crimes.
This will mark the first time Robert De Niro and Leonardo DiCaprio have appeared in a movie together since the 1996 drama Marvin's Room, and will also be the first time the two longtime Martin Scorsese collaborators have teamed up to work with the director (not counting the 2010 promotional short the two starred in), which is actually hard to believe. In addition to De Niro and DiCaprio, Lily Gladstone has joined the cast, per The Hollywood Reporter.
Production on Killers of the Flower Moon, which will be released in theaters through Paramount and streaming through Apple TV+, is set to begin in March 2021, as revealed by screenwriter Eric Roth during a November 2020 appearance on the ScriptNotes (opens in new tab) podcast. There is no word on when the movie will be released at this time.
Armageddon Time - TBD (Pre-Production)
At some point in the near future, Robert De Niro will lead yet another all-star cast in James Gray's Armageddon Time, which has been described by Deadline as a coming-of-age story based on the drama of the director's experiences in a pre-Reagan America. Though their characters have yet to be revealed, De Niro, Oscar Isaac, Donald Sutherland, Anne Hathaway, and Cate Blanchett are all set to star in the upcoming drama from the director whose last film was the heart-wrenching space drama Ad Astra.
No release date has been given for Armageddon Time, though when it does hit theaters, it will do so through Focus Pictures. Production is slated to begin at some point in 2021 in New York, according to the Deadline report mentioned up above.
After Exile - TBD (Pre-Production)
Robert De Niro is also set to appear in writer/director Joshua Michael Stern's upcoming crime drama After Exile which will see veteran actor take on the role of Ted Delaney, a father trying to help his son, Mike (Shia LaBeouf), re-enter society after serving time in prison for killing someone during a violent robbery. First announced by Deadline in August 2019, After Exile will follow De Niro's former criminal not only while he gets his son adjusted to his new life but also tries to get him to help prevent his younger brother from taking a similar path in life. Also appearing in the movie will be Shailene Woodley, who will be taking on the role of Dana, Mike's childhood friend who now wants to help right his wrongs after their relationship turned sour.
According to the Philadelphia Inquirer, production on After Exile was supposed to get underway in the "City of Brotherly Love" in September 2019 but there have not been any updates in well over a year at this point. Hopefully this project isn't one that slips between the cracks and becomes lost to time.
The Formula - TBD (Announced)
As mentioned time and time again, Robert De Niro is no stranger to the crime genre, and at some point in the next couple of years, the actor who led movies like Ronin, Heat, and won an Oscar for his portrayal of a young Vito Corleone in The Godfather Part II will appear in yet another crime thriller called The Formula. De Niro will be starring beside a post-Star Wars John Boyega in the movie that will reportedly follow a former Formula One driver as he becomes a getaway driver, though the identities of the actors' characters have yet to be revealed.
When The Formula is released, it will be through Netflix, which was the home to Robert De Niro's 2019 crime epic The Irishman. It still remains to be seen when the movie will be released, when it will enter production, or who else will be joining the cast alongside De Niro and John Boyega, but expect more details in the coming months.
It should be noted that none of mentioned upcoming Robert De Niro movies have release dates at this time, but that can change without a moment's notice, so make sure to check back for any and all updates. If you want to see what movies you can see in theaters (and on streaming services) this year, make sure to check out CinemaBlend's updated 2021 Movie Release Schedule.
Your Daily Blend of Entertainment News
Philip grew up in Louisiana (not New Orleans) before moving to St. Louis after graduating from Louisiana State University-Shreveport. When he's not writing about movies or television, Philip can be found being chased by his three kids, telling his dogs to stop yelling at the mailman, or yelling about professional wrestling to his wife. If the stars properly align, he will talk about For Love Of The Game being the best baseball movie of all time.