Upcoming Amy Adams Movies And TV: What's Ahead, Including Zack Synder's Justice League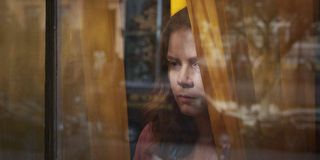 An accomplished actress who only continues to impress us with her versatile and distinguished talents, Amy Adams is one of our greatest and most revered working actresses. And thankfully, she has several intriguing and exciting new projects on the near horizon, many of which pique our curiosity.
From Hillbilly Elegy to Zack Snyder's Justice League, Amy Adams remains a busy and impressive woman, and we might be mere months away from the movie or TV show that finally turns this Academy Award-nominated actress into a future Oscar and/or Emmy winner. Things only continue to look bright and promising for the astonishing talent, and we're here to list just a few of the noteworthy titles that Adams currently has lined up on her growing resume. If you're a big Amy Adams fan, as well you should be, here's what we can look forward to seeing in the not-too-distant future.
Hillbilly Elegy - November 2020 (Completed)
Based on the best-selling memoir of the same name by J.D. Vance, Hillbilly Elegy is considered a modern exploration of the American dream as seen by three generations of an Appalachian family. The cast includes Amy Adams, Glenn Close, Gabriel Basso, Haley Bennett, Freida Pinto, and more, and it'll serve as the latest from director Ron Howard. Adapted to the screen by Oscar-nominated screenwriter Vanessa Taylor (The Shape of Water), this is undeniably expected to be an awards season hopeful, which is why Netflix is planning to release the movie sometime in November (the exact date isn't known at this time). As a six-time Oscar nominee, there's a chance that this role in this buzzworthy feature may be the one that finally turns Adams into an Oscar winner. Though, of course, it's much too early to know for sure. But we'll find out soon.
The Woman In The Window - Expected 2021 (Completed)
Once thought to be an awards season contender, The Woman in the Window has faced a number of unfortunate challenges and difficulties in the lead-up to its delayed release. Between a studio transfer, a scandalous exposé regarding the author of its source material, a number of poor test screenings resulting in disparaged rewrites, reshoots, and re-edits, and several release date pushbacks, Joe Wright's misfortuned potboiler thriller hasn't had an easy road to the big screen. Now, it's not going to the big screen at all. As it was announced earlier this year, Netflix is now set to release the movie on their site after Disney sold it to the streaming service, with its debut date left unconfirmed. Expectations have been dampened due to the hassles it has faced, but it's also hard not to remain intrigued.
Zack Snyder's Justice League - 2021 (Filming/Post-Production)
It has been a long and winding road for Zack Synder's director's cut of Justice League. From the blockbuster's troubled production to its upcoming HBO Max mini-series, this project's history is filled with many twists and turns. So much so that our managing director wrote a whole book about it. But it's finally happening. Sometime next year, the newfound streaming service will debut Snyder's intended vision for the project, notably after Joss Whedon took over reshoots and post-production duties following a tragedy in Snyder's personal life. The results of the final film were largely dismissed, and we'll have to wait to see if the Snyder Cut is ultimately better. But the director is reportedly in the midst of filming additional scenes, and the folks involved all seem excited. Time will tell. Meanwhile, Amy Adams is expected to reprise her role as Lois Lane.
Kings Of America - TBA (Pre-Production)
Well, it looks like Amy Adams is sticking with Netflix for the near future. In addition to Hillbilly Elegy and The Woman in the Window, Netflix is also set to produce Kings of America, a limited series set to star Amy Adams, who'll also serve as an executive producer. Meanwhile, Adam McKay reunites with his Vice and Talladega Nights star to direct the pilot. From creator Jess Kimball Leslie and showrunner Diana Son (Genius: Aretha, 13 Reasons Why), Kings of America will follow three women who find their lives interwoven with Wal-Mart: one is an heiress, one is a maverick executive, and the other is a longtime Wal-Mart saleswoman and preacher who fights against the company in the biggest class action lawsuit in U.S. history. It's currently unclear when production will start or when we should expect to see this new series on Netflix.
Dear Evan Hansen - TBA (Filming)
Following its Broadway theatrical run, which resulted in six Tony awards, including Best Musical, it was only a matter of time before Hollywood brought Dear Evan Hansen to the big screen. Sure enough, Universal Pictures is finally moving forward with its film adaptation, directed by Stephen Chbosky (The Perks of Being a Wallflower) with a screenplay by Steven Levenson, who also wrote the award-winning stage production. Likewise, Ben Platt, son of producer Marc Platt, is reprising his Tony-winning lead role, and he'll be joined by some outstanding supporting talents. Notably, Julianne Moore, Kaitlyn Dever, Amandla Stenberg, Danny Pino, and Amy Adams will also star in this new musical drama, which started production back in late August, according to Ben Platt. Filming is expected to continue through Thanksgiving. No release date has been announced. Adams plays Cynthia, the mother to Platt's Evan and Dever's Zoe.
Disenchanted - TBA (Announced/Possibly Pre-Production)
It's honestly surprising that we haven't gotten a continuation to Enchanted yet. Disney's loving parody/homage to their brand of princess movies was a smart, appealing comedy with a radiant star-making performance from Amy Adams. Given the studio's love of milking sequels, one would assume that this film would've gotten at least two or three by now. Alas, the long-promised follow-up still remains dormant, somehow, with false starts and broken promises leaving a lot of fans disappointed in the 13-plus years since the original movie hit theaters.
Nevertheless, sequel talks have been happening since 2010 (maybe even earlier) and we might soon be getting Disenchanted. Or maybe not? It was revealed back in March of this year that the Disney sequel is reportedly entering pre-production, though it's unclear if that's still the case amid COVID-related delays. Nevertheless, it's supposedly happening. But we'll have to keep waiting.
Nightbitch - TBA (Announced)
Now that's a title with a bite. Earlier this summer, it was revealed that Amy Adams would star in Annapurna's upcoming adaptation of Nightbitch, based on Rachel Yoder's forthcoming 2021 debut novel. The story is curiously about an unnamed former artist-turned-stay-at-home housewife who believes she's turning into a dog after the birth of her son.
Details are limited otherwise, but it's hard not to be intrigued by that title and synopsis alone. Adams is currently the only name attached to the project at the moment. Currently, there are no screenwriters, producers, or director(s) attached (or, at least, announced) to the project. It's also unclear if Adams is involved strictly as an actress or if she's also producing, given that she's produced a couple of her recent/upcoming projects of late. Once more details are disclosed, we'll keep you posted. I wonder if that title will stick around.
The Most Fun We Ever Had - TBA (Announced)
Following the success of Sharp Objects, it's no surprise to learn that Amy Adams is returning to work with HBO. In addition to Zack Snyder's aforementioned Justice League over at HBO Max, Adams is signed on to star and executive produce The Most Fun We Ever Had, based on the best-selling book of the same name by Claire Lombardo, who will also adapt.
Also set to star Laura Dern, this multigenerational saga follows four sisters as they struggle to exist in the shadow of their parents' idealistic marriage, notably when a son who was given up for adoption 15 years earlier returns into their lives, as it was reported by Deadline. Anya Epstein (The Affair, In Treatment) will serve as an executive producer and showrunner. It's not yet clear when cameras are expected to roll or who else might be involved.
The Poisonwood Bible - TBA (Announced)
In addition to The Most Fun We Ever Had, Amy Adams has another project lined up with HBO. Specifically, she's set to develop an adaptation of Barbara Kingsolver's novel, The Poisonwood Bible, into a limited series. The Pultizer Prize-nominated story, published back in 1998, follows the wife of an evangelical missionary (Adams) as she takes her four children to the Belgian Congo during colonial upheaval in 1959, as Deadline reported last year.
In addition to playing the lead role, Adams is expected to executive produce this mini-series as well. Kingsolver and the aforementioned Anya Epstein, meanwhile, will serve as writers on this new project. It's unclear if the overlapping talent involved in this project and the one mentioned previously suggests that this new show fell through, but there haven't been any reports to suggest otherwise. Nevertheless, developments for this TV adaptation haven't been quick.
These are hopefully only a few of the upcoming projects we can expect to see Amy Adams in. As one of Hollywood's most respected Oscar-nominated actresses, she continues to expand herself with several intriguing, diverse, and exciting new movies and shows. We'll continue to keep you posted on what Adams has in store and more right here at CinemaBlend.
Your Daily Blend of Entertainment News
Will is an entertainment writer based in Pittsburgh, PA. His writing can also be found in The Playlist, Cut Print Film, We Got This Covered, The Young Folks, Slate and other outlets. He also co-hosts the weekly film/TV podcast Cinemaholics with Jon Negroni and he likes to think he's a professional Garfield enthusiast.