Chris Pratt Says Arnold Schwarzenegger Endorsed Amazon's The Tomorrow War For One Big Reason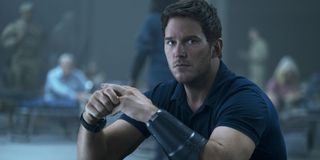 Amazon's The Tomorrow War already has the approval of millions of fans, if the streaming ratings are anything to go by. The sci-fi thriller was the most-streamed movie in America the first week it was released. But leading man Christ Pratt had one specific viewer to impress: former movie star and California governor Arnold Schwarzenegger, who also just happens to be his father-in-law. Fortunately, the Terminator himself gave The Tomorrow War his stamp of approval, and there was one major thing that won him over.
Chris Pratt recently chatted with AP Entertainment about The Tomorrow War and his famous father-in-law. The Jurassic World star reported that although Arnold Schwarzenegger hasn't actually seen the movie yet, he applauded the trailer for one specific reason:
That's a pretty solid compliment coming from your father-in-law. One only has to revisit Meet the Fockers to know the pain of trying to win an in-law's approval. Arnold Schwarzenegger also hit the nail on the head when it comes to what makes a good sci-fi movie. At the end of the day, aliens and spaceships can't distract from a story with no emotional weight. Viewers can only be distracted by lasers and futuristic gadgets for so long before they start to look for a film's substance. It's part of the reason the Marvel Cinematic Universe is so popular. Fans absolutely love the characters, which provides the main impetus for them to watch the countless movies and TV shows about the Avengers.
Although let's be honest, everyone loves aliens. They do make a movie a lot more fun - just ask Chris Pratt. While he was happy to see Arnold Schwarzenegger approve of The Tomorrow War's interpersonal relationships, he's also excited for his father-in-law to get an eyeful of the movie's villains:
A solid father-daughter relationship and aliens; what more could you ask for from a sci-fi blockbuster? If you haven't already gone to the future with Chris Pratt, you can stream The Tomorrow War now on Amazon Prime Video.
Actor, singer, and occasional dancer. Likes: fashion, books, old buildings. Dislikes: cilantro, the NJ Turnpike, sneaker wedges.
Your Daily Blend of Entertainment News
Thank you for signing up to CinemaBlend. You will receive a verification email shortly.
There was a problem. Please refresh the page and try again.