Chris Pratt's Tomorrow War Got A Ton Of Viewers On Amazon, So Bring On The Sequel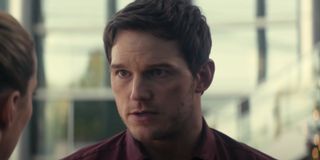 The Tomorrow War was a long time coming. Originally scheduled for a release in theaters, the Chris Pratt-led science fiction thriller was delayed by COVID-19 and ended up premiering on Amazon Prime Video over last Fourth of July weekend. The Independence Day holiday is a popular theatrical release time for summer blockbusters, but how would a big-budget popcorn movie like The Tomorrow War do on a streaming service? Luckily for the film's producers, the answer is quite well - so well, in fact, that a sequel might already be on the horizon.
As of July 30, Nielsen has ranked The Tomorrow War as the number one most-streamed movie in America, beating out Luca on Disney+ and several new offerings from Netflix, such as The Ice Road and Fear Street Part One: 1994. The movie is also the second most-streamed general program, beaten only by Netflix's Manifest, which originally aired on NBC.
The Tomorrow War's numbers are impressive, especially given the fact that the movie has been available on Amazon Prime for almost a month. Its consistent viewership reportedly has producers considering a sequel, although Amazon has not officially responded to the rumors. The ingredients for a hit franchise are already assembled, though, so it's possible that a sequel could be greenlit sooner rather than later.
What are those ingredients, you ask? First up, you have a sci-fi plot that involves aliens, time travel and an interspecies war, guaranteeing slick special effects and plenty of action-packed fight scenes (two elements that often appear in the mega-franchise Marvel movies).
Second, you have Chris Pratt in the leading role of Dan Forester. The former Parks and Recreation funnyman has transformed into a bona fide movie star. He plays Peter Quill/Star Lord in the Marvel Cinematic Universe, appearing in the Guardians of the Galaxy film series, as well as Avengers: Infinity War, Avengers: Endgame. and the upcoming Thor: Love and Thunder. As if that wasn't enough to cement his leading man status, Chris Pratt also stars as dinosaur expert Owen Grady in the Jurassic World film series alongside Bryce Dallas Howard. The dude is franchise gold. Choosing him to lead a new series is a no-brainer, and his marketability isn't set to decline anytime soon. Jurassic World: Dominion is scheduled for a 2022 release, and Guardians of the Galaxy Vol. 3 is in pre-production.
What could a sequel to The Tomorrow War be about? It's hard to say. Chris Pratt had pretty much saved humanity by the end of the first film, but time travel is tricky. As many sci-fi films have shown before, even the tiniest of actions could have major repercussions down the line, so there's plenty of room for the writers to let their imaginations whip up a second film.
While we're waiting for any more updates on a Tomorrow War sequel, you can stream The Tomorrow War on Amazon Prime Video.
Actor, singer, and occasional dancer. Likes: fashion, books, old buildings. Dislikes: cilantro, the NJ Turnpike, sneaker wedges.
Your Daily Blend of Entertainment News
Thank you for signing up to CinemaBlend. You will receive a verification email shortly.
There was a problem. Please refresh the page and try again.