How Ryan Reynolds Feels About Taylor Swift Outing His Kids' Names On Folklore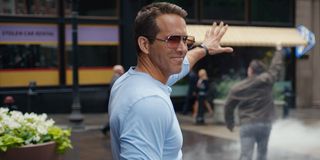 Ryan Reynolds's new video game movie Free Guy, about a background character in a video game that's about to go offline forever, is gearing up for its August 13th release. Judging from the reactions from its recent screening, the video game movie looks like it's going to be a fun time at the theater. Reynolds and Jodie Comer are certainly excited for fans to see it in theaters. While promoting his new film, Ryan Reynolds has discussed how he feels about Taylor Swift revealing his daughter's name on Folklore.
Taylor Swift's song "Betty" from her 2020 album Folklore reveals the names of Ryan Reynolds's and Blake Lively's daughters. Reynolds discussed the situation on SiriusXM, how it came to be, and his feelings about it. He explained himself and his wife's reaction to Taylor deciding to use their names for a song, saying:
Ryan Reynolds says Taylor Swift asked, and he and Blake Lively said yes because they trust her and they know her very well. And thus, the song revealed the name of the couple's youngest child. The song tells a teenage love story, and the characters named throughout it are Reynolds' daughters. Ryan Reynolds jokingly says his daughters had no idea and that they opt not to tell their daughters anything. It's quite the flex that Taylor Swift used your children's names for a song.
Earlier in the interview, Ryan Reynolds talks about his feelings toward being the only guy in a house full of women as something he never really thinks of and growing up the youngest of four brothers and how hilarious and rough that could be. Reynolds certainly has a great perspective on parenting and his daughters. Reynolds has also spoken recently about maturing, and how a major attitude shift in his 30's helped him finally make Deadpool, so all the perspective he has gained has paid off big time.
Ryan Reynolds has talked about the challenges of playing Deadpool and his video with Taika Waititi's Korg, stressing the perfectionism he strives for when it comes to Deadpool and the anxiety of making sure he's doing an adequate job. Reynolds has to stay on his toes comedically between Deadpool and having to respond to Hugh Jackman's constant jabs and all that practice seems to have paid off in Free Guys.
Free Guy could very well be the most fun you have in theaters this summer. Ryan Reynolds has promised that the film is filled with pop culture references and easter eggs to add to the excitement of finally seeing the film. Free Guy might be just the movie Deadpool fans need to hold them over until the franchise MCU debut.
Your Daily Blend of Entertainment News
Movie and TV obsessive. A good Heist movie is the way to my heart. Enjoyer of everything from Marvel Movies to Rom-coms.
Your Daily Blend of Entertainment News
Thank you for signing up to CinemaBlend. You will receive a verification email shortly.
There was a problem. Please refresh the page and try again.