Ryan Reynolds' Free Guy Has Screened, Check Out What People Are Saying About The Video Game Movie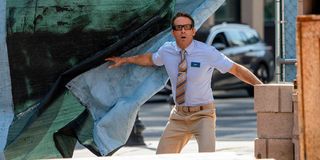 Ryan Reynolds in a comedy? Who would have thought?! Reynolds stars as Guy in Free Guy, an upcoming sci-fi action comedy directed by Shawn Levy (Stranger Things, Big Fat Liar). The film's cast also includes Jodie Comer, Lil Rel Howery, Utkarsh Ambudkar, Joe Keery, and Taika Waititi. In a video game, Guy is a non-player character (NPC) working as a bank teller. Thanks to a program developed by programmers Milly (Comer) and Keys (Keery) inserted into the game by the publisher Antoine (Waititi), Guy becomes aware that his world is a video game, and goes on a journey to make himself the hero, creating a race against time to save the game before the developers can shut it down.
Judging by the newest trailer, Free Guy looks like a lot of fun, which is to be expected from the man who brought us Deadpool (who, by the way, has officially joined the MCU, in a very relevant way). The social embargo for the video game movie has lifted, so critics are sharing their thoughts on social media. Let's take a look at what they're saying.
CinemaBlend's own Mike Reyes is absolutely singing the movie's praises, saying that it was everything he'd hoped for and more. He applauded Levy and Reynolds for their creation of a universe that is both hilarious and "bitingly satirical." Reyes can't wait to see the comedy again, saying:
Nikki Novak of Fandango also highly praised Reynold's latest blockbuster, predicting that it will be a hit with viewers. She enjoyed that the video game movie actually makes you feel like you're in a video game, and that it's clever and original, with fun surprises in store. Novak also commended Reynolds' and Comer's performances, saying:
It sounds like this action comedy is going to be really fun, as the positive opinions just keep on comin'. Steven Weintraub from Collider was smiling from the beginning to the very end. He also commended on the surprise twists featured that actually made his jaw drop, and argued that viewers should see it as soon as possible to avoid spoilers. Weintraub said:
Jacqueline Coley from Rotten Tomatoes considers Free Guy the best video game movie ever made, but she also noted that non-gamers will still enjoy it (which director Shawn Levy also assured us of). Coley also praised Joe Keery's performance in the comedy. She said:
Seriously, people are really enjoying this movie! Chris E. Hayner from Gamespot loved the film and specifically praised the over-the-top action, the Easter eggs (which Ryan Reynolds promised us the film will be riddled with), and the cast's performances. Hayner said:
Well, there you have it! People are singing Free Guy's praises, and now I'm even more excited to see this comedy. We'll soon be able to see what audiences think, when the film releases in theaters on August 13.
Before Ryan Reynold's comedy video game movie releases next month, plan your next movie-going experience with our summer release guide.
Your Daily Blend of Entertainment News
Thank you for signing up to CinemaBlend. You will receive a verification email shortly.
There was a problem. Please refresh the page and try again.