Hugh Jackman's Latest Jab At Ryan Reynolds Involves Free Guy's Director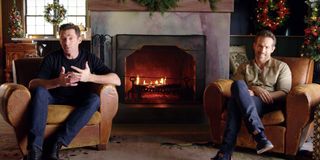 As far as Hollywood feuds go (and even inter-Marvel feuds you could say), none quite compare to that of Hugh Jackman and Ryan Reynolds. Starting back when they met on the set of X-Men Origins: Wolverine, the two can just not get enough of throwing jabs at one another. The "feud" is still in full swing, as Jackman playfully taunts Reynolds for not getting to hang out with Free Guy director Shawn Levy, even though he stars in his upcoming film.
Apparently Hugh Jackman is now targeting the people close to Ryan Reynolds in their ongoing faux feud, because he recently posted a picture with Shawn Levy on his Instagram after being invited to a party thrown by the director. And he called out Reynolds for not being invited to the same party.
Maybe it's a case of one or the other, else there be some major shenanigans happening at the party. Or, you know, maybe Reynolds was busy - either way, you can check out the post for yourself below:
It's clear from Hugh Jackman's playful caption that there really was no huge scandal surrounding the lack of invite. In fact, the two actors seem to be pretty close despite their merciless ribbing of one another. When they're not taunting each other on social media, the two do actually have pleasant hang outs and can even throw a compliment or two each other's way at times.
When describing just what it is that makes the fake hate between each other so strong, Ryan Reynolds even says that he thinks Hugh Jackman is the best guy he knows - and that just makes "hating" him so much more fun. Honestly, that just makes the snide remarks and offhand comments that have been going back and forth for, like, a decade even more fun to witness.
Fans are, like always, loving the shade thrown in Hugh Jackman's post. One commenter seems concerned with how Ryan Reynolds is going to respond to being left out of the party, because we know how much he loves to get back at Jackman. Now it seems he could possibly involve either Shawn Levy in the feud or even one of Jackman's own films' directors to get even. Another commenter just wanted to say how much she loves the bickering back and forth between the two old friends, saying "I swear the relationship between Hugh and Ryan is what gives me LIFE." Me too, girl, me too.
Free Guy finally drops to theaters in a couple weeks, on August 13th. The wild altered reality film seems to be right up Ryan Reynolds' alley and has already gotten some fans' approval. Keep an eye out for any possible faux feud references, because we all know Reynolds likes to drop them in films from time to time!
Constantly thinking about books, coffee, and the existential dread I feel from Bo Burnham's Inside. While writing I'm also raising a chaotic toddler, who may or may not have picked up personality traits from watching one too many episodes of Trailer Park Boys.
Your Daily Blend of Entertainment News
Thank you for signing up to CinemaBlend. You will receive a verification email shortly.
There was a problem. Please refresh the page and try again.