Katherine Schwarzenegger, Other Famous Moms Share Support After Warm Bodies Actress Teresa Palmer Talks Experience Breastfeeding For More Than 2000 Days Straight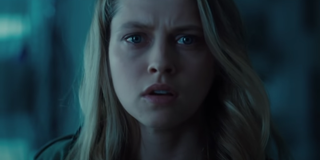 The first week of August is set aside every year to celebrate World Breastfeeding Week, during which mothers from all over the world make the decision to breastfeed their child(ren), and some celebrity moms used the celebratory week to speak out with their own stories in support of themselves and other celebrity moms. Warm Bodies star Teresa Palmer used the week to both acknowledge her amazing milestone of over 2700 days straight of breastfeeding, and stars like Katherine Schwarzenegger and Vinessa Shaw have shown their support for her incredible accomplishment.
In an inspiring Instagram post, Teresa Palmer shares many beautiful pictures of herself and her family while breastfeeding and she also explains her breastfeeding journey throughout the years, including both the bad and the good. Check out the post below:
Teresa Palmer says she has been nursing nonstop since having her first child back in 2014, and her journey including a number of tandem years as she continued to have children. She's currently pregnant with her 4th child, and she will continue to nurse her daughter as well as the baby once her newest child is born.
Breastfeeding very rarely comes easy to mothers, even though it's arguably the most natural thing a human can do. Women who attempt to nurse their children undergo both physical and mental obstacles. It can be incredibly painful and exhausting, and it requires women to give up their body autonomy in a time when they are emotionally vulnerable.
In her post, Teresa Palmer gives her love to the mothers who wanted to but were unable to fulfill their own breastfeeding journey, saying she was privileged enough to live out her own. She also reveals how much judgement she has faced from both the media and onlookers when out feeding her children over the years, which is a common occurrence for women who choose to nurse their kids.
The actress has received overwhelming support on her post from both fans and other celebrity moms. Katherine Schwarzenegger, wife and mother to Chris Pratt's elusive daughter, shared her love for Palmer in a sweet comment on the actress' post:
Katherine Schwarzenegger isn't the only one who has high praises for Teresa Palmer. Vinessa Shaw, who played Allison in Hocus Pocus, commented on the post giving props to Palmer. The actress also revealed a piece of her own breastfeeding journey, which is also impressive. Here it is in her own words:
Not every mother who has dreams of nursing their baby can see that reality, though. NCIS Los Angeles star Daniela Ruah commented on Teresa Palmer's post, throwing her love Palmer's way while also stating she wishes she could have had enough milk to nurse her own. In her own words:
National Breastfeeding Week has come to an end, but it's still super inspiring seeing so many famous women come together and support each other as mothers, especially when others can cast their own judgements on parenting choices and the ways in which women chooses to feed their babies. We're sending so much love to all the moms out there, and a huge congrats to Teresa Palmer for her breastfeeding milestone and upcoming baby!
Your Daily Blend of Entertainment News
Thank you for signing up to CinemaBlend. You will receive a verification email shortly.
There was a problem. Please refresh the page and try again.