The Best Maggie Smith Movies And How To Watch Them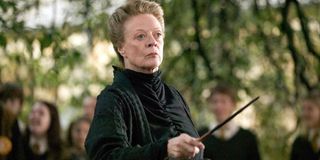 CinemaBlend participates in affiliate programs with various companies. We may earn a commission when you click on or make purchases via links.
When it comes to current Hollywood legends, there are few that cross my mind instantly without really having to think about, but one that always comes up is Dame Maggie Smith, an actress who has spread her talents throughout several decades, from the theatre to the big screen to the small screen.
In some way or the other, you have seen her best films - and maybe even her best roles on television. She has been around the block, from her time in the fantasy genre with The Harry Potter movies, or maybe even her main role in the Downton Abbey TV show. While you could spend time watching some of the best movies on Netflix, I think it's time to look at some of Smith's best movies to date. Regardless, if you are in need of wanting to watch any of Maggie Smith's best films, look no further than here to find where they are streaming, rentable, or other.
The Harry Potter Movies (2001-2011)
In one of her many film appearances over couple of decades, one of Maggie Smith's biggest roles has been portraying Professor McGonagall in the Harry Potter franchise. If for some reason you have no idea what Harry Potter is about, the film series follows the story of a young wizard, who suddenly finds out that he has magical powers, and must travel to a wizarding school named Hogwarts to learn how to harness them.
The Harry Potter franchise was one of the biggest film sagas of all time, with plenty of fans, merchandise and a whole theme park to go along with it. For ten years, Maggie Smith portrayed the iconic professor of Hogwarts, creating memorable lines ("I've always wanted to do that spell!") to other moments that have made us love her for the bad-ass she is. If you haven't taken out the time to watch the Harry Potter films, do so soon. Trust me, you won't regret it.
Stream the Harry Potter films on Peacock. (opens in new tab)
Rent the Harry Potter films on Amazon. (opens in new tab)
A Room With A View (1985)
In A Room with a View, we follow the story of a young woman named Lucy, who is living in the final throes of the restrictive and repressed culture of Edwardian England, while she develops feelings for a young man with a free spirit, named George Emerson.
Maggie Smith plays Charlotte Bartlett, the cousin of Lucy, and for her role in this film, she received an Academy Award nomination. The film itself is a great romance for fans who adore a good love story, but at the same time it's a good commentary on the culture of England at the time and how much had to change for people to actually be free again. The film also stars Harry Potter co-star, Helena Bonham Carter alongside Maggie Smith, so if you want to see these two work together decades before they were on opposing sides of the wizarding war, check out A Room with A View.
Stream A Room with a View on HBO Max. (opens in new tab)
Rent A Room with a View on Amazon. (opens in new tab)
Hook (1991)
Hook is a classic family film that everyone needs to watch. In this Robin Williams-led movie, an adult Peter Pan has forgotten what it's like to be a kid and lives a new life now, known as Peter Banning. However, when Captain Hook kidnaps his children, he must return to Neverland to save them.
I have to say, this may not be a critically acclaimed film, but it's one of my favorites from director Steven Spielberg. Maggie Smith actually portrays the elder version of Wendy from the original Peter Pan story, and does a fantastic job. The sets are stunning and the music is phenomenal. I mean, it's written by John Williams, so you really can't go wrong with it.
Rent Hook on Amazon. (opens in new tab)
Sister Act I And II (1992 & 1993)
Are you ready for a miracle? This movie follows the story of Deloris Cartier, who witnesses her mobster boyfriend killing an employee, and is now hidden away in a convent under the witness protection program. But while she's there, she shakes things up among the choir of nuns.
Maggie Smith as the Reverend Mother is the perfect casting. I could never picture anyone else there. And she and Whoopi Goldberg's Deloris have such amazing chemistry, it makes this film so much fun to watch. However, the music is really what draws you in with this film. You'll be up on your feet in no time, clapping and singing along to these awesome songs. Trust me. With a sequel - and a third movie planned to release on Disney+ - Sister Act is a heck of a lot of fun to watch.
Stream the Sister Act films on Disney+. (opens in new tab)
Rent the Sister Act films on Amazon. (opens in new tab)
Othello (1965)
Othello was based on the Shakespeare play of the same name, and follows the story of the titular character when he appoints Cassio and Iago as his chief lieutenant. Angered by his decision, Iago plans the downfall of Othello by falsely implicating Othello's wife and Cassio into a love affair.
I will say that for most, you might want to be a fan of Shakespeare to enjoy this one, but that doesn't mean it's still not an enjoyable film. The story has all of the twists and turns you would expect from a playwright like Shakespeare and has plenty of great moments all around with Maggie Smith portraying Desdemona, Othello's wife.
California Suite (1978)
Based on the 1976 play of the same name, California Suite follows the story - or several stories - of guests who are all staying in a luxury suite in California.
One of my favorite parts about this film is that it's not really one consecutive story - each new part features new characters, about their own issues of what's happened in this hotel. But the story that Maggie Smith's character, Diana Barrie, brings is the best out of all of them, focusing in on the scandals that might happen in Hollywood and the fallout that could occur once revealed.
Smith won the Academy Award for Best Supporting Actress in her role, so it's not a surprise that this is one of her best films to date.
Rent California Suite on Amazon. (opens in new tab)
The Prime Of Miss Jean Brodie (1969)
In this British drama film, The Prime of Miss Jean Brodie stars Maggie Smith as the titular character, who is an unrestrained school teacher at a girls' school in Edinburgh, who often romanticizes fascist leaders like Mussolini, and believes she is to be in the prime of her life, but ends up realizing later on that her life is far from prime.
The film won Maggie Smith her first Academy Award, and it's well-deserved. She does an excellent job portraying Jean Brodie, showing the conflicting values that the teacher holds. While it is a bit harder to watch this film, considering it's not available to rent or stream online, you can purchase the DVD of The Prime of Miss Jean Brodie. It really is one of Maggie Smith's best pieces of work, and you won't regret watching it.
Buy The Prime of Miss Jean Brodie DVD on Amazon. (opens in new tab)
The Best Exotic Marigold Hotel (2012)
In one of her releases from the last decade, The Best Exotic Marigold Hotel follows the story of a group of British pensioners who are deciding to retire from their jobs, and move to a retirement hotel in India, that is ran by a young and eager man named Sonny.
Let me just say that this film has one of the best cast ensembles I have seen in film, led by the talents of not only Maggie Smith but Judi Dench, Penelope Wilton, Tom Wilkinson and so many others. But it's not just that - the comedy in this is honestly very funny. Each of the cast members work well off of each other and produce a good story that really captures the heart of growing older and becoming retired, while keeping it light-hearted and fun.
Stream The Best Exotic Marigold Hotel on HBO Max.
Rent The Best Exotic Marigold Hotel on Amazon. (opens in new tab)
Travels With My Aunt (1972)
In another Academy-Award nominated role, we take a look at Travels with My Aunt. In this film, loosely based on the novel of the same name, we follow the story of a middle class nephew and an amoral aunt who are drawn into sharing a life, drawing them closer despite having completely different outlooks on life.
Maggie Smith was absolutely brilliant as Augusta in Travels with My Aunt. Her chemistry between her and Alec McCowen, who plays her nephew in the film, is top-notch and believable, but the story that they go through is truly what makes this film shine above the rest.
Rent Travels with My Aunt on Amazon. (opens in new tab)
Gosford Park (2001)
As the last film item on this list, Gosford Park is a satirical black comedy film that follows the story of a wealthy Britons plus an American producer, as well as their servants, who are gathering for a shooting weekend at Gosford Park, but a murder occurs, and the rest of their supposed fun weekend turns into an investigation.
First off, this is a classic murder mystery plot, with plenty of fun twists and turns, almost like a Knives Out sort of situation. You can't go wrong with those, in my opinion. Second, the ensemble cast that comes with this film is outstanding too, with people like Helen Mirren, Eileen Atkins, Alan Bates and so many others acting alongside Maggie Smith. Thirdly, Maggie Smith received yet another Academy-Award nomination for her role in this film as Constance, Countess of Trentham, so you know she's going to be amazing in this movie. Give it a shot if murder and mysteries are your thing.
Rent Gosford Park on Amazon. (opens in new tab)
(Bonus Item) Downton Abbey (2010-2015)
While this wasn't originally a film, Downton Abbey deserves its own section. This popular PBS historical drama series is set in the fictional Yorkshire country estate of Downton Abbey, depicting the lives of the aristocratic Crawley family and their servants in the post-Edwardian era.
The series covered several major historical events, such as the sinking of the Titanic, the First World War, the British general election of 1923 and so many others. Maggie Smith stars in a large ensemble cast full of talent, and a story that spreads so far and is so connected that you can barely see any plot holes, in my opinion. The show went on for six series (seasons) and would also have a film made in 2019, and is due for a sequel, with Downton Abbey 2 due out in 2022, so that just shows you how popular this show truly was.
Stream Downton Abbey on Peacock. (opens in new tab)
Rent Downton Abbey on Amazon. (opens in new tab)
To me, these are some of the best movies on Amazon Prime right now and deserve all the praise in the world. I'm going to need to look into the 2021 movies that are coming out so I can see if Maggie Smith will be in any of them, because if so, I can't wait to see this legendary actress once more.