The Best Mystery Movies And Where To Watch Them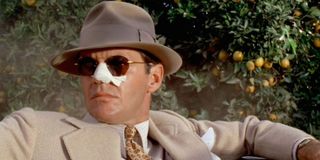 CinemaBlend participates in affiliate programs with various companies. We may earn a commission when you click on or make purchases via links.
Since the dawn of cinema, theaters around the world have been filled with people who just can't get enough of a good mystery. In the 100+ years that people have been frequenting their local movie houses, filmmakers by the likes of Alfred Hitchcock, John Huston, David Fincher, Christopher Nolan, and Rian Johnson have crafted intricate narratives about murder, mistaken identities, and international conspiracies which have confounded their characters while turning their audiences into amateur sleuths eager to solve the case. These directors, and many others, are responsible for the the best mystery movies that have graced the silver screen and streaming services for decades now.
With so many great mystery movies out there like Knives Out, Rear Window, and literally thousands of others, picking one or 21 is no easy task. Fear not, armchair detectives, as we've put together a comprehensive list of movies that fall into that category. With titles inspired by classic murder-mystery novels and psychological thrillers from the minds of their directors themselves, here are some of the best options the genre has to offer.
Knives Out (2019)
One of the best modern examples of the whodunit, Rian Johnson's twist-heavy murder mystery Knives Out follows the family of the recently deceased Harlan Thrombey (Christopher Plummer) as they find themselves being interviewed by an eccentric detective by the name of Benoit Blanc (Daniel Craig), who has been hired to uncover the truth behind what appears to be a suicide. But, as we see in one of the best movies on Amazon Prime, truth is often stranger than fiction.
Rent/Buy Knives Out on Amazon.
Buy Knives Out on DVD/Blu-ray on Amazon.
Gone Girl (2014)
David Fincher's 2014 thriller Gone Girl, which was based on Gillian Flynn's novel of the same name, follows Nick Dunne (Ben Affleck) as he attempts to get to the bottom of the apparent disappearance of his wife, Amy (Rosamund Pike). Like any good mystery, Gone Girl has the audience sympathizing with Nick while at other times ready to lock him up for a crime he did not commit. A testament to Flynn's masterful writing and Fincher's knack for visual storytelling, this Academy Award-winning film will leave you with more questions than answers.
Buy Gone Girl on DVD/Blu-ray on Amazon.
Searching (2018)
When David Kim's (John Cho) teenage daughter goes missing and the short-sighted police investigation into the matter goes nowhere, the determined father takes matters into his own hands to track down his daughter. Instead of taking a normal route to a story we've seen versions of countless times over the years, the stylistic Searching spends a large portion of its runtime inside the phone, computer, and social media platforms of the missing 16-year-old girl to uncover the mystery.
Buy Searching on DVD/Blu-ray on Amazon.
Rear Window (1954)
Alfred Hitchcock's Rear Window has one of the best premises for an engaging crime thriller: professional photographer L.B. "Jeff" Jefferies (Jimmy Stewart) is home with a broken leg with nothing more to than watch his neighbors living their everyday lives. But, when Jefferies goes snooping around a little too much one night, he believes he has uncovered something major and starts off on a dark and twisted path.
Rent/Buy Rear Window on Amazon.
Buy Rear Window on DVD/Blu-ray on Amazon.
Get Out (2017)
Jordan Peele quickly put his name in the running for the title of modern master of suspense with his socially-conscious and absolutely terrifying psychological thriller, Get Out, in early 2017. When Chris Washington (Daniel Kaluuya) goes with his girlfriend Rose Armitage (Allison Williams) for what appears to be a quiet weekend at her family's idyllic estate, he has no idea the horrors (both physical and psychological) that await. One of the most unique horror movies in a generation, if not more, Get Out will have you on the edge of your seat the entire time.
Buy Get Out on DVD/Blu-ray on Amazon.
Seven (1995)
Released just two years after David Fincher's disastrous time on set filming Alien 3, his gritty thriller, Seven, proved that the filmmaker's legacy would be more than just a panned sequel in a sci-fi franchise which had lost its voice. Morgan Freeman and Brad Pitt star as two detectives hunting down a serial killer who uses the seven deadly sins as his calling card. Just a heads up, but if you haven't seen Seven, make sure to be careful when looking the movie up on Amazon as one of the displayed images gives away a big twist.
Buy Seven on DVD/Blu-ray on Amazon.
North By Northwest (1959)
Alfred Hitchcock's 1959 suspense classic North by Northwest follows New York City ad executive Roger Thornhill (Cary Grant) as he finds himself becoming the target of Phillip Vandamm (James Mason), a spy who mistakes the unassuming everyman as a government agent. With Vandamm and his henchmen hot on his tail, Thornhill must travel the country to lose the determined villain while also uncovering the truth of the mix up.
Stream North By Northwest on HBO Max.
Rent/Buy North By Northwest on Amazon.
Buy North By Northwest on DVD/Blu-ray on Amazon.
The Fugitive (1993)
After being wrongfully accused and convicted of murdering his wife, Richard Kimble (Harrison Ford) escapes from a wrecked prison transport and sets off to find those responsible for his wife's death and bring them to justice in The Fugitive. Easier said than done, as Kimble is being pursued by U.S. Marshal Samuel Gerard (Tommy Lee Jones), who cares about nothing except capturing the man who was convicted of the crime.
Rent/Buy The Fugitive on Amazon.
Buy The Fugitive on DVD/Blu-ray on Amazon.
The Gift (2015)
Joel Edgerton's 2015 thriller The Gift centers on Simon (Jason Bateman) and Robyn Callem (Rebecca Hall), a happily married couple whose lives are thrown into disarray when Gordo (Edgerton), shows up unexpectedly at their house. What at first appears to be an old classmate of Simon's swinging by to catch up slowly transitions into something much more sinister, especially as the truth of their relationship begins to unfold.
Buy The Gift on DVD/Blu-ray on Amazon.
Zodiac (2007)
David Fincher's Zodiac doesn't have as many twists and turns as some of his earlier work like Seven or The Game, but the 2007 crime thriller has a slow methodical pace as reporters, detectives, and an eager cartoonist attempt to find the person who claimed multiple lives in the East Bay area in the late 1960s and early 1970s. With Fincher's distinct style, pacing, and attention to detail, this murder mystery grabs ahold of you in the early goings and doesn't let go until the very end.
Buy Zodiac on DVD/Blu-ray on Amazon.
Murder On The Orient Express (1974)
Sidney Lumet's 1974 adaptation of Agatha Christie's Murder on the Orient Express is one of the classic murder mystery films of all time and one that should be enjoyed by all. Anchored by Albert Finney's Hercule Poirot, the movie's all-star cast (Lauren Bacall, Ingrid Bergman, Sean Connery) helps bring to life one of the classic novels of the 20th Century in a remarkable way. Even if you've read the book and know who's responsible for the murder of Samuel Ratchett, there's never a bad time to revisit this wonderful tale over again.
Stream Murder on the Orient Express on HBO Max.
Rent/Buy Murder on the Orient Express on Amazon.
Buy Murder on the Orient Express on DVD/Blu-ray on Amazon.
L.A. Confidential (1997)
Based on James Ellroy's novel L.A. Confidential, this 1997 neo-noir crime thriller follows three police officers with different backgrounds and moral codes who work together (a very loose term) to solve a series of murders in a corrupt 1950s Los Angeles. Starring Russell Crowe, Guy Pearce, Kevin Spacey, and Kim Bassinger in an Academy Award-winning performance, this movie is as intriguing as it is stylish, which is saying something.
Stream L.A. Confidential on Starz.
Rent/Buy L.A. Confidential on Amazon
Buy L.A. Confidential on DVD/Blu-ray on Amazon.
Memento (2000)
Today, when you see a Christopher Nolan movie you go in expecting to find all sorts of twists, turns, revelations, and red herrings, but when Memento was released in 2000, only those who were familiar with Nolan's late 1990s short film, Following, knew the tricks the visionary director had up his sleeve. What initially appears to be a fairly straight-forward revenge movie — Leonard (Guy Pearce) sets out to avenge the rape and murder of his wife — turns into anything but when it's revealed the film's protagonist suffers from a rare form of memory loss which complicates things, to say the very least.
Buy Memento on DVD/Blu-ray on Amazon.
Wind River (2017)
One year before Taylor Sheridan became a household name with the Paramount series Yellowstone, he wrote and directed one of the most intense and unsettling mysteries in recent memory with the 2017 thriller Wind River. When the body of 18-year-old woman is found on an American Indian reservation in Wyoming, FBI agent Jane Banner (Elizabeth Olsen) is sent in to investigate. Quickly realizing the out-of-towner is in over her head, tracker Cory Lambert (Jeremy Renner) jumps on board, only for the pair to come to a grave discovery with large implications.
Stream Wind River on The Roku Channel.
Rent/Buy Wind River on Amazon.
Buy Wind River on DVD/Blu-ray on Amazon.
Chinatown (1974)
Roman Polanski's 1974 noir classic Chinatown starts off with Los Angeles private eye J.J. "Jake" Gites (Jack Nicholson) being hired by a woman claiming to be Evelyn Mulwray, who wants the sleuth to tail her husband under the pretense that he is not being faithful to their vows. The whole mess gets a hell of a lot more complicated when Jake meets the real Mrs. Mulwray (Faye Dunaway), opening another world of deception, corruption, and issues rooted in municipal water supplies.
Stream Chinatown on Paramount+.
Buy Chinatown on DVD/Blu-ray on Amazon.
The Usual Suspects (1995)
Bryan Singer's 1995 crime comedy The Usual Suspects is one of those movies with the all-time great endings that leave you wanting to start it over as soon as the credits roll. When a big heist goes kaboom and only one member — an unassuming con artist by the name of Roger "Verbal" Kint (Kevin Spacey) — is left to tell the tale, it's up to U.S. Customs agent Dave Kujan (Chazz Palminteri) to get to the bottom of it all, but whether or not his story holds any water (or coffee) remains to be seen.
Buy The Usual Suspects on DVD/Blu-ray on Amazon.
Brick (2005)
A good murder mystery doesn't require dark back alleys, corrupt politicians, or demented serial killers to make an impact, and Rian Johnson proved that in 2005's Brick, which is primarily set within the various social circles of a seemingly everyday high school. When Brendan Frye's (Joseph Gordon-Levitt) ex-girlfriend is found dead after making a rather unsettling phone call, he pulls out all the old tricks of the classic private detectives in order to solve her murder.
Buy Brick on DVD/Blu-ray on Amazon.
The Maltese Falcon (1941)
One of the quintessential examples of film noir, John Huston's 1941 classic The Maltese Falcon follows detective Sam Spade (Humphrey Bogart) as he finds himself trapped in an ever-growing web of deceit, murder, and a mysterious statue. And while Sam isn't anyone's go-to example of man of exceptional character or morals, the people he meets on his perilous journey to the bottom of one of cinema's greatest mysteries make him look like a saint by comparison.
Stream The Maltese Falcon on HBO Max.
Rent/Buy The Maltese Falcon on Amazon.
Buy The Maltese Falcon on DVD/Blu-ray on Amazon.
Mystic River (2003)
In Clint Eastwood's 2003 crime drama Mystic River, three childhood friends — Jimmy Markum (Sean Penn), Dave Boyle (Tim Robbins), and Sean Devine (Kevin Bacon) — each deal with the fallout of the murder of one of their daughters. When the investigation brings the matter closer to home than anyone would have ever expected, the already fractured bond shared by the three is put to the ultimate test.
Stream Mystic River on HBO Max.
Rent/Buy Mystic River on Amazon.
Buy Mystic River on DVD/Blu-ray on Amazon.
Memories Of Murder (2003)
Long before he made Oscar history with Parasite, Bong Joon-ho gave the world Memories of Murder, a dark and twisted story loosely based on Korea's first recorded serial killer. The movie follows detectives Park Doo-Man (Song Kang-ho), Cho Yong-koo (Kim Roi-ha), and Seo Tae-Yoon (Kim Sang-kyung) as they attempt to track down the murderer before he claims yet another victim.
Stream Memories of Murder on Hulu.
Rent/Buy Memories of Murder on Amazon.
Buy Memories of Murder on DVD/Blu-ray on Amazon.
Clue (1985)
The 1985 crime comedy Clue is probably the lightest movie on this list (in terms of tone), but it still remains one of the best mystery movies ever released, and definitely the funniest of the bunch. When a dinner party is interrupted by the host's death, his guests (all with aliases) are trapped in the sprawling mansion to solve the mystery at hand. With several twists, turns, and surprises from out of left field (not to mention the multiple endings), this adaptation of the classic board game is worth the price of admission and then some.
Buy Clue on DVD/Blu-ray on Amazon.
Well, that's certainly more than enough mystery to get you through a long weekend (or even longer) with more movies to spare. And, this is barely even the beginning of all the great crime thrillers, crime comedies, and other mysteries available streaming, through rentals, or on good old-fashioned physical media. With so many mysteries being included with the best movies on Netflix, there's so much out there. In the event you've seen all these movies (and all these streaming services have to offer), now's the perfect time to check out CinemaBlend's list of 2021 movie premiere dates.
Philip grew up in Louisiana (not New Orleans) before moving to St. Louis after graduating from Louisiana State University-Shreveport. When he's not writing about movies or television, Philip can be found being chased by his three kids, telling his dogs to stop yelling at the mailman, or yelling about professional wrestling to his wife. If the stars properly align, he will talk about For Love Of The Game being the best baseball movie of all time.
Your Daily Blend of Entertainment News
Thank you for signing up to CinemaBlend. You will receive a verification email shortly.
There was a problem. Please refresh the page and try again.