Free Guy Reviews Are Live, Check Out What Critics Are Saying About The Ryan Reynolds Action Comedy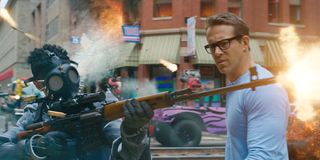 Ryan Reynolds' next comedy is almost here. He stars as the titular Guy in Free Guy, an upcoming sci-fi action comedy from director Shawn Levy (Stranger Things, Big Fat Liar). The movie also stars Jodie Comer, Lil Rel Howery, Utkarsh Ambudkar, Joe Keery, and Taika Waititi. In a video game called Free City, Guy is a non-player character (NPC) working as a bank teller. Thanks to a program developed by programmers Milly (Comer) and Keys (Keery) inserted into the game by the publisher Antoine (Waititi), Guy becomes aware that his world is a video game, and goes on a journey to make himself the hero, creating a race against time to save the game before the developers can shut it down.
Based on social media reactions, people really seem to be enjoying Reynolds' video game comedy, and it sure looks like a lot of fun. I mean, what else would you expect from the man who brought us Deadpool (who, by the way, has officially joined the MCU, in a hilarious way)? The sci-fi movie releases in theaters on Friday, August 13, and critics reviews are starting to roll in. Let's see if they're as positive as the early social media reactions, shall we?
Let's start with the CinemaBlend side. Our very own Mike Reyes had a lot of fun watching Free Guy, and rated it 4 out of 5 stars. He argued it might be the most fun anyone could have in theaters this summer. With a perfect blend of punchlines and emotional beats that don't overtake one another, the comedy showcases Reynolds' humor and Lil Rel Howery's wholesome energy, according to Reyes. He thinks the blockbuster will be re-watched over and over again by fans, saying:
Pete Hammond from Deadline was absolutely "smitten" with Free Guy. He praised Reynolds' performance, which combined charm, wit, and emotion, among other qualities. He thought the rest of the cast was absolutely terrific, too, giving special recognition to Comer and Waititi. Hammond really enjoyed the sci-fi flick as it took on new urgency and action as its runtime continued, and said:
The positive reviews continue with Yolanda Machado from Nerdist. She commended the incredible world-building and thought the graphics were impeccable and engaging. She also praised the "perfect" cast, like we've seen in other reviews, and particularly enjoyed how Comer's Millie/Molotov girl character was portrayed. Molotovgirl isn't just a "science nerd" in the video game, nor is she desirable because she wears revealing clothing. She's just a smart, focused, creative character, a great representation of a modern woman. Machado said:
Aaron Neuwirth from We Live Entertainment also enjoyed Free Guy overall, but he still had some criticisms. He thought that since the film tries to appeal to a wider audience, not just gamers, some of the gags are less impressive to video game experts, and the script loses a bit of edge in the process. But he commended several aspects of the comedy, specifically the casting choices (definitely sensing a pattern here). Neuwirth said:
Hoai-Tran Bui also enjoyed the comedy overall, but thought that it still had some faults. While she really enjoyed Reynolds' refreshingly, painfully sincere performance, she thought the climax of the movie felt too full of needle-drops and pop culture references and didn't quite make the impact it wanted to. But she thinks Free Guy is one of the best video game movies out there. Bui said:
Well, critics sure seem to be enjoying Reynolds' Free Guy overall! You can see for yourself when it releases in theaters next Friday, August 13.
Until then, you can check out the other movies coming out this summer with our release guide.
Your Daily Blend of Entertainment News