Wait, Is Marvel Making A Secret Wars Movie?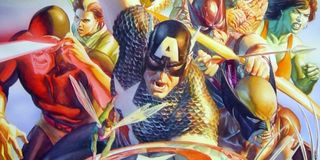 Like its Distinguished Competition, Marvel Comics has published a lot of crossover events over the years, and among the more well-known ones is Marvel's Super Heroes Secret Wars, often simply referred to as Secret Wars. The 12-issue limited series was written by Jim Shooter, who was Marvel Comics' editor-in-chief from 1978 to 1987. Now some comments from the man himself indicate that Marvel might be trying to adapt Secret Wars for the big screen.
First, let's establish some context. During a panel appearance at Megacon Orlando (via Geekosity Mag), Jim Shooter recalled how he was called up one day by an executive from the "property management area" of Marvel (as opposed to an editor) who wanted to see if Shooter was interested in writing a Secret Wars novelization. Shooter said he'd consider it, but after seeing the contract, he realized it was a "draconian work-for-hire thing" and found the deal unacceptable.
So Jim Shooter turned down the offer, and later on, he received a call from David Bogart, the Senior Vice President of Operations & Procurement of Publishing at Marvel Entertainment. Bogart apologized for what his subordinate had done and asked if Shooter would sign a retroactive work-for-hire Secret Wars agreement to the tune of $10,000, which he agreed to do. That led to the following exchange between Shooter and Bogart:
For those unfamiliar with Secret Wars, the storyline, which was tied into a same-named toy line, saw various Marvel heroes and villains being taken by a cosmic entity called The Beyonder to duke it out on a planet called Battleworld. Jim Shooter said at the panel that Marvel didn't have "a single piece of paper" saying it owned characters put in Secret Wars like Beyonder, Titania and Volcana (as well as Spider-Man's black costume, later revealed to be the Venom symbiote), so evidently the company was covering its legal bases over three and a half decades later. However, this tipped Shooter off that there are evidently plans to adapt Secret Wars into a movie.
Now keep in mind that even if Marvel Studios is exploring bringing Secret Wars to the big screen, that doesn't necessarily mean that will happen. For all the Marvel Cinematic Universe movies and TV shows we've gotten over the last 13 years, no doubt there are plenty of ideas batted out that ended up being trashed. That said, following the conclusion of the Infinity Saga (with Avengers: Infinity War and Avengers: Endgame adapting the Infinity Gauntlet storyline), Secret Wars would work nicely as the next big MCU crossover event. Though as Shooter noted, there would be some complications regarding what could be featured in the Secret Wars movie. In his words:
It's also worth mentioning that in 2015, Marvel published a separate Secret Wars event that was focused on the collapse of the multiverse, with each universe's respective Earth being mashed together to form a different kind of Battleworld. With Disney+'s Loki series having opened up the MCU's multiverse, and Spider-Man: No Way Home and Doctor Strange in the Multiverse of Madness set to build off those events, I imagine that a Secret Wars movie would draw more influence from the newer story than the original. Though that's not to say that the MCU couldn't combine elements of both into a fresh narrative. Looking at the first Secret Wars for inspiration, even if he's not pitting heroes against villains in a battle royale, this hypothetical movie could be a great opportunity to spotlight The Beyonder.
Rest assured, if/when the day comes that Marvel announces a Secret Wars movie, we'll let you know. In the meantime, keep track of what the MCU is releasing in the coming years with our Marvel movies guide and Marvel TV shows guide.
Connoisseur of Marvel, DC, Star Wars, John Wick, MonsterVerse and Doctor Who lore. He's aware he looks like Harry Potter and Clark Kent.
Your Daily Blend of Entertainment News
Thank you for signing up to CinemaBlend. You will receive a verification email shortly.
There was a problem. Please refresh the page and try again.