Loki Season 2 Has Been Confirmed, And The MCU Has Huge Questions To Answer After Introducing Its Newest Supervillan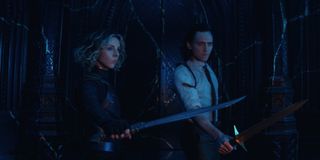 SPOILER WARNING: The following article contains major spoilers for Loki Season 1. If you have not yet watched the finale, read on at your own risk!
For the last seven days, Marvel fans everywhere have been asking the same question: who is the being who lives at the end of all time? The fifth episode of Loki concluded with a brilliant cliffhanger teasing that Tom Hiddleston's titular God of Mischief and Sophia Di Martino's Sylvie were finally going to unmask the real mastermind behind the Time Variance Authority, and the finale didn't disappoint in delivering the answer. However, the big reveal it delivers is only one of several exceptionally exciting things about what plays out in the chapter – including a post-credits scene that confirms that we will be getting a Loki Season 2.
It remains unclear if we will be getting more WandaVision, and all signs point toward the story in The Falcon And The Winter Soldier continuing in the developing Captain America 4, but now we know for a fact that Loki will be the first Marvel Cinematic Universe series on Disney+ to get a second round of episodes. Given how generally great the show has been, that's excellent news when taken in all by itself… but it should also be noted that it's also basically a necessity following the crazy ending that plays out in Season 1. Let's go over the major facts that we are left with after that stunning finale.
The Time Variance Authority Was Created By Kang The Conqueror
As Loki progressed, the show included more and more clues that Kang The Conqueror was going to be introduced as the creator of the Time Variance Authority, and the finale "For All Time, Always" made it a reality with the first appearance of Jonathan Majors in the role (though it should be noted that he's never actually referred to as "Kang"). It was in September of last year that we first learned that Majors would be playing the time-traveling supervillain in the Marvel Cinematic Universe, though the news only confirmed that he would be appearing in Peyton Reed's upcoming Ant-Man And The Wasp: Quantumania. That's still happening, but he's made his debut earlier than expected.
The whole explanation for how Kang came to found the Time Variance Authority is laid out in the episode, with the effervescent, confident being even putting on a little show for the Lokis with his futuristic technology. Prior to the creation of the TVA, the multiverse was in chaos not because of all varieties of rampant variants, but instead solely because of Kang's variants – specifically those with a hunger to conquer reality. The Kang we meet in the episode created the sacred timeline-worshiping organization as a means of quelling his alternate selves and keeping timelines orderly and pruned. In this goal it is effective, but it also sacrifices endless innocents to function.
We also learn that all of the events that unfold in Loki were preordained by Kang, as when we meet him he is ready to abdicate his throne and relinquish it to Loki and Sylvie. That being said, he leaves the conclusion a mystery to himself… and it ends in horror and tragedy.
The Kang That Created The TVA Is Now Dead, And His Variants Are Set To Destroy The Multiverse
When Kang sits down with Loki and Sylvie, he gives them two choices. Either they can choose to succeed him as the leaders of the TVA, allowing him to retire from the position he has held for eons; or they can choose to kill him and let the multiverse devolve into Kang-led chaos. His fear seeming to legitimately outweigh his desire for a throne, Loki has a change of heart about taking down the organization and puts in a vote for Option A – but Sylvie ultimately can't be dissuaded. A passionate first kiss provides her perfect opportunity for distraction, and after sending Loki through a Time Door she finishes the mission that she began when she was kidnapped as a child.
Kang offers no resistance as she stabs him in the abdomen, merely smiling and saying, "See you soon."
He likely isn't wrong, as it takes no time at all for everything in the multiverse to start falling apart. With TVA Kang dead, there is nobody with the power to keep his variants in check, and it leaves the Marvel Cinematic Universe on the verge of multiversal war.
On beyond Loki Season 2, it seems fair to ponder at this point how these events are going to impact all of the many, many MCU projects that we are set to see released in the coming years. The aforementioned fact that Kang is in Ant-Man And The Wasp: Quantumania would seem to suggest that its story will be impacted, and one can't help but wonder if these events are the titular chaos in Sam Raimi's upcoming Doctor Strange In The Multiverse Of Madness (which is based on a script by Loki creator Michael Waldron). But could this also be something reflected in Destin Daniel Cretton's Shang-Chi And The Legend Of The Ten Rings, Chloe Zhao's Eternals, or Jon Watts' Spider-Man: No Way Home? We'll have to wait and see.
Loki Is Betrayed By Sylvie After Professing His Love, And Is Stranded In An Alternate Timeline
The announcement of Loki Season 2 is a great thing not only because there are still a lot of questions from Episode 5 to which we don't answers, but also because the titular character is not exactly left in a safe or comfortable place at the very end of the show. As noted, he is betrayed by a woman to whom he opens his heart, but more significantly he is, for lack of a better word, lost.
When Sylvie kicks Loki through the Time Door and kills Kang, she sincerely screws up the God of Mischief's existence – starting with the fact that he is now stuck on a timeline that is not his own. He is in full panic mode when he finds Mobius (Owen Wilson) and Hunter B-15 (Wunmi Mosaku), confessing everything that happened to him, but things go from awful to apocalyptic as he realizes that they have no idea who he is. And that isn't even the end of it, as he then discovers that that the TVA is now occupied by a massive statue of Kang (a nice little Planet Of The Apes nod).
Could Loki Season 2 wind up being the Marvel Cinematic Universe equivalent of the 1990s series Sliders, with the God of Mischief going from reality to reality searching for home? Time will tell, but I'll happily go on record supporting that idea.
Sadly we don't presently have any sense of when we will actually get to see Loki Season 2, but after that exceptionally exciting finale it instantly becomes one of our most anticipated developing Marvel projects. On that note, now that Season 1 has come to an end, it's time to look ahead, and you can scope out everything that is on the horizon in both our Upcoming Marvel Movies guide and our Upcoming Marvel TV guide.
Your Daily Blend of Entertainment News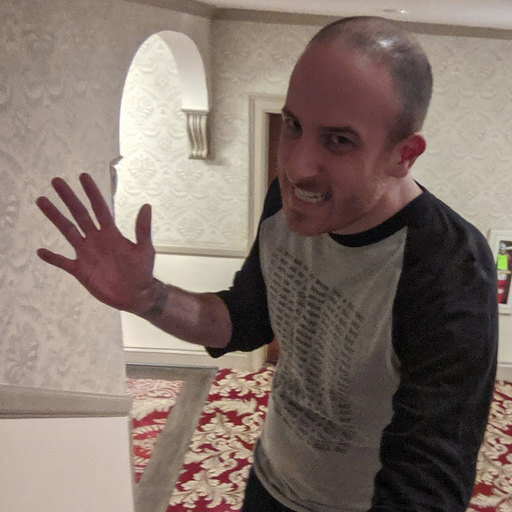 Assistant Managing Editor
NJ native who calls LA home and lives in a Dreamatorium. A decade-plus CinemaBlend veteran who is endlessly enthusiastic about the career he's dreamt of since seventh grade.