Enchanted 2's Idina Menzel Talks Reuniting With Amy Adams For Disney+'s Sequel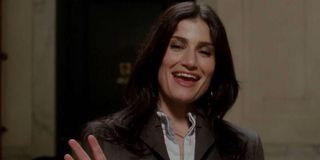 Sometimes when movie casts reunite for a sequel, it's hard to recapture the winning chemistry they had the first time around. It sounds like that wasn't the case for the cast members of the highly anticipated Enchanted 2, though -- at least according to Idina Menzel. She revealed what it was like to reunite with co-star Amy Adams, and it sounds like the actresses had yet another magical experience on set.
In Enchanted, Idina Menzel played Nancy Tremaine, a woman caught between two charming men -- Robert Phillip and Prince Edward. For Disenchanted, the Disney+ sequel, she will reprise her role, alongside Amy Adams, Patrick Dempsey and James Marsden. Filming recently wrapped on the sequel, and the actress recently gave US Weekly an update on her experience-- and she had nothing but good things to say:
Idina Menzel also had plenty to say about her Oscar-nominated co-star and what it was like to work with her again after so much time in between Enchanted and Disenchanted. The Tony-winning actress continued:
Back in 2007 when Enchanted was released, Amy Adams was just beginning to make a name for herself in Hollywood. Her performance as Giselle is still regarded by many as one of her best to date. Still, in the years since Enchanted, she's earned numerous accolades and become one of the most recognizable stars of this generation, thanks to a wide range of roles in films like Arrival and American Hustle.
So it's cool to hear that Idina Menzel -- who has become a superstar in her own right thanks to her other Disney character, Frozen's Elsa -- was so excited to reunite with her co-star. It's also good to know that despite how much success she's gained, Amy Adams remains down to earth -- even when she's playing a princess, it sounds like she's keeping it humble.
While Idina Menzel's great experience on the Disenchanted set should be enough to get fans excited, there's much more where that came from. From the time the sequel was announced to the recent celebration of production wrapping, we've heard tons of buzzworthy details -- including hints from director Adam Shankman that there will be some huge musical numbers. We also know that the film will bring a few classic Disney characters into the fold.
Disney+ hasn't announced an official release date for Disenchanted yet, but it seems likely that the film will hit the streaming platform some time in 2022.
Your Daily Blend of Entertainment News