Tom Felton Celebrates The Weekend With Throwback Harry Potter Photo, And He And Rupert Grint Solemnly Seem Like They're Up To No Good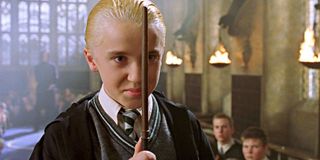 Has any Harry Potter actor done more to keep our love of the Wizarding World alive than Tom Felton? The Boy Who Was Once Draco Malfoy regularly shares updates and throwbacks that remind us why the HP cast remains so beloved to this day. While some of his social media posts are heartfelt, many others end up showing a more mischievous side to both the actor and his former castmates. Case in point? His recent Instagram update featuring himself and Rupert Grint, which shows both seemingly up to no good.
Whether he's celebrating Harry Potter anniversaries or making fun of his on-screen dad, he always finds a way to show fans how much he loves the series that changed his life. This past weekend was no exception -- take a look at his cheeky Instagram post:
The caption on the photo -- "Weasley x Malfoy" -- calls out his Harry Potter antagonist along with Grint's beloved character, Ron. But their attire is decidedly devoid of any Hogwarts insignia, which seems to hint that this is actually a candid photo of the actors during their downtime. It's hard to tell for sure exactly what's happening in the photo, but it looks like the two actors might be smoking. Also, it seems like they might have swords.
That's definitely the type of behavior that would get some points deducted from Gryffindor and Slytherin. Regardless of where and when it was taken, the mood the photo sets is pretty striking -- with their rumpled suits and sunglasses, their vibe is much more Reservoir Dogs than Sorcerer's Stone.
While we'd love to get some more context behind this photo, chances are Tom Felton will leave it up for fans to come to their own conclusions. So unless Rupert Grint -- who recently joined Instagram to introduce the world to his new daughter -- wants to chime in, we may end up being left in the dark on this one.
Between this recent throwback, and Tom Felton's birthday shoutouts to Daniel Radcliffe and Hermione Granger herself Emma Watson, the Harry Potter nostalgia is especially real. It's been a decade since Harry Potter and the Deathly Hallows Part 2 hit theaters, and it's hard to say when we'll get a chance to see the actors reunited.
Of course, there's always a chance the actors might come back together on screen. With the various rumors regarding future Harry Potter films, it's natural to wonder if any of them could feature the original characters. Some of the franchise's stars, including Rupert Grint and, yes, Tom Felton too, have left the door open for future appearances, as well. So maybe we can hope that a future Weasley x Malfoy update, with even more bad behavior, is on the horizon.
Your Daily Blend of Entertainment News