Nicolas Cage As Himself In The Unbearable Weight Of Massive Talent Is As Crazy And Amazing As You'd Hope In First Look At Footage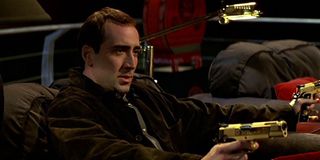 When we first heard about Tom Gormican's The Unbearable Weight Of Massive Talent back in November 2019, it immediately set fire to our imaginations. After all, it's an action comedy that features Nicolas Cage playing himself, and what more from cinema can you really ask? We've been anticipating it ever since then, and while we still have a little while to wait for its arrival in theaters next year, today we got our very first look at it, and we now find ourselves more excited than ever.
Following a week of fascinating studio presentations at CinemaCon – the Las Vegas-based annual convention for theater owners – this afternoon marked Lionsgate's turn to showcase their upcoming slate, and nothing during the 90-minute event got a better reaction than The Unbearable Weight Of Massive Talent. The movie was previewed with an extended red band reel that set up the plot and all the key characters, and based on what was shown it looks like it has a great chance of being a big screen highlight of 2022.
Based on an original screenplay by Kevin Etten and Tom Gormican, The Unbearable Weight Of Massive Talent begins with Nicolas Cage (Nicolas Cage) sincerely struggling in his acting career. His remaining skills as a performer are being questioned, he can't land roles, and he is ready to throw in the towel and quit the profession. Still, however, he has bills to pay, and thus he can't refuse when his agent (Neil Patrick Harris) tells him about a rich individual named Javi (Pedro Pascal) who wants to pay the Con Air star one million dollars to attend his upcoming birthday party.
Nicolas Cage gets on a boat to Majorca and arrives at a beautiful palatial estate, and while things get off on an awkward footing – with Cage, not knowing the identity of his benefactor, unknowingly asking Javi if oral sex is part of the reason behind his requested presence – the relationship eventually take a turn for the amicable.
As it turns out, Javi is the world's number one Nicolas Cage fan, and has a whole display dedicated to the performer's work – including a full scale Face/Off statue that Cage first calls a monstrosity before offering $20,000 to purchase it. The two men start a fast friendship… but then things take a turn for the worst.
Unbeknownst to Cage, Javi is actually Javier Gutierrez, who is under surveillance by U.S. federal agents, and has a reputation as being one of the most ruthless men on the planet. One of the feds (Tiffany Haddish), who is totally unaware of the actor's work, attempts to get Cage to work with the investigation and try to put Javi away, putting him in an exceptionally dangerous position – especially because the villainous crime lord winds up finding out what his new friend is up to.
The Unbearable Weight Of Massive Talent has some vibes similar to Seth Rogen and Evan Goldberg's The Interview, but it also has its own energy, and what looks like Nicolas Cage having a ridiculous amount of fun poking fun at himself. It's without question one of the most exciting titles I've seen previewed this year at CinemaCon.
It can't be said for certain when the first trailer for The Unbearable Weight Of Massive Talent will be released online, but you should start getting excited for it now. The film will be exclusively in theaters on April 22, 2022, and for a look at everything that is set to be released next year, be sure to check out our 2022 Movie Release Calendar.
Assistant Managing Editor
NJ native who calls LA home and lives in a Dreamatorium. A decade-plus CinemaBlend veteran who is endlessly enthusiastic about the career he's dreamt of since seventh grade.
Your Daily Blend of Entertainment News
Thank you for signing up to CinemaBlend. You will receive a verification email shortly.
There was a problem. Please refresh the page and try again.