I Can't Get Enough Of Jungle Cruise's Emily Blunt Roasting Dwayne Johnson (And Apparently Neither Can He)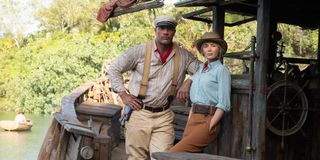 The recently released Jungle Cruise killed at the box office, and with good reason! The chemistry between Dwayne Johnson and Emily Blunt seems to be both on screen and off screen, because Blunt has some serious fun roasting her co-star. Fans can't get enough of her slight digs at the massive former heavyweight champion, and it would appear that Johnson himself feels pretty much the same.
While Dwayne Johnson has some serious face-palmable dad jokes and puns on screen for Jungle Cruise, Emily Blunt's humor is more of the roasting sort. Johnson seems to live for this type of humor off screen as well, as he shares a compilation of his co-star making jabs at him during interviews on his Instagram. Johnson seems to get in a couple jabs of his own, but it seems Blunt here is the master of the art. You can check out the video below, as well as a fun-loving caption that Johnson paired with the compilation:
There are plenty of comedic gold moments here, but I think the best part of this whole post is the fact that Dwayne Johnson refers to himself and Emily Blunt as "Em & DJ" - closely followed by Johnson's roaring "belly laugh," of course. If fans weren't convinced of the two stars' friendship before, the fact that the two have cute little shortened names together definitely seals the deal I would think.
It would seem that Dwayne Johnson finds Emily Blunt's fake snake bit to be a pretty memorable source of entertainment, because he calls that joke out specifically in his caption, saying he really got her with "The fucking snake." It does seem to really shock him in the video, although his character certainly faces more dangerous snakes in Jungle Cruise.
Dwayne Johnson's post acts as a thank you to fans as well, for loving the Disney movie and making the film the biggest blockbuster of the year so far. What is even more than another thank you video, though, is that Johnson says at the end of his caption that he and Emily Blunt have some Jungle Cruise news coming, and we just found out... it's a sequel!
A sequel for Jungle Cruise would surely rival Dwayne Johnson's biceps for being the biggest thing in the room. As successful as the film has been, especially when the pandemic is still holding box offices back slightly, news of a greenlit sequel makes all the sense in the world. The fact that Disney already has a Jungle Cruise ride that the movie was based on makes it pretty likely that a franchise could be formed here.
Fans and Dwayne Johnson are both loving the dynamic between the two Jungle Cruise leads, and the chemistry between him and Emily Blunt would certainly help come sequel time. Although we already know we've got another "Em & DJ" team up in our future, another film in the same world as Disney's Jungle Cruise has now made it to the top of our Can't Wait list.
Your Daily Blend of Entertainment News
Constantly thinking about books, coffee, and the existential dread I feel from Bo Burnham's Inside. While writing I'm also raising a chaotic toddler, who may or may not have picked up personality traits from watching one too many episodes of Trailer Park Boys.