Beyoncé Pens Heartfelt Letter To Fans Following Her 40th Birthday, And Now I'm Emotional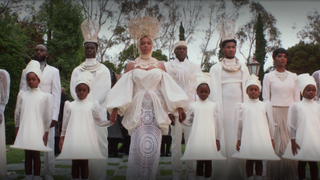 Milestone birthdays are always exciting, but even more so when they're being celebrated by one of the most iconic musicians of our lifetimes-like Queen Bey, for instance. Though Beyoncé's birthday was a few weeks ago, she marked the end of Virgo season with a heartfelt letter to her fans and supporters, reflecting on her life thus far and offering some poignant words of wisdom.
When Beyoncé turned 40 on September 4, fans around the world celebrated with her, as she commemorated it with a meaningful interactive collage. That alone would have been more than enough to show her appreciation for the good wishes she received earlier in the month, but she went even further this week when she published a hand-written letter to fans on the homepage of her website. The letter, titled "Thank you," begins with words of gratitude toward those who helped make her birthday special:
Beyoncé also took the time to share how she is feeling at the moment with a sincere reflection on the last few years of her life. She continued:
In her thank you letter, Beyoncé also made empowering remarks about how women are taught to believe they can't be happy as they get older and made it very clear she doesn't agree with that way of thinking. After telling fans this is the best she's ever felt, she acknowledged how long some of her fans have been with her before once again sharing how much she appreciates the support:
Beyoncé has always struck a delicate balance between being open with fans while also protecting her privacy. For years, she's allowed her music, spectacular live performances and other creative endeavors like filmmaking and acting to speak for her when it comes to many aspects of her personal life, from her marriage to Jay-Z to motherhood. That's one of the things many of her fans respect the most about her. It sounds like she will continue to share as much as she's able with the world as she begins this new era of her life, and we can't wait to see what comes next.
Your Daily Blend of Entertainment News