Is 'Top Gun: Maverick' Going To Win Best Picture?: 2023 Oscar Nominations Reaction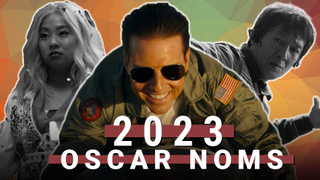 (Image credit: A24 / Paramount Pictures)
We still have a couple of months before the Oscars ceremony, but the nominations themselves are finally here. As per our yearly tradition, we take a look at the major categories to give our reactions to this year's lineup. We also have to discuss several of the Academy's notable snubs including the complete lack of nominations for Jordan Peele's Nope. Of course, with such a great year of releases in 2022, there is plenty to be excited about for films like Everything Everywhere All At Once, Elvis and more.
For more information on AMC Theatre's Best Picture Showcase: Best Picture Showcase
Timestamps (approx. only)
00:05:57 - Oscar Nominations Reactions
01:21:28 - Who We Want To Win Best Picture
01:32:40 - You People Review
01:37:52 - Infinity Pool Review
01:41:29 - Outro
Want More ReelBlend?
Sign up for our premium membership, which includes an extra episode a week, a bi-weekly newsletter from Sean, and ad-free episodes. Also, be sure to subscribe to ReelBlend on YouTube for full episodes of the show in video form. Finally, we have all kinds of fun merchandise for dedicated Blenders to flaunt their fandom with pride.
Your Daily Blend of Entertainment News
Video Producer & Podcast Lead
Gabe studied Film & Photography at Webster University. He currently spends his free time looking like a fool trying to play Ice Hockey (a recently acquired hobby), playing video games, and watching every movie starring Dwayne "The Rock" Johnson. Dwayne, if you're reading this...he sends his love.