Brad Pitt Just Spoke Out About Angelina Jolie Filing For Divorce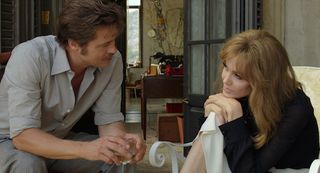 It's the end of an era. For over a decade, Brangelina seemed to be the most promising celebrity supercouple in the entertainment industry, balancing massive film success with a stable-seeming relationship. But that all came crumbling down when news broke that Angelina Jolie was filing for a divorce from husband Brad Pitt.
With news of the divorce still freshly buzzing online, Brad Pitt released a statement to PEOPLE on the matter, stating that he is most concerned about the six children he and Jolie have together.
Brad Pitt and Angelina Jolie are the parents of six children: Jolie gave birth to three and three were adopted from countries around the world. Jolie had already adopted her son Maddox before meeting Pitt, and he accompanied her on a trip to Ethiopia shortly after beginning their relationship to adopt her second child Zahara Marley. Pitt then went through the process of becoming the legal adoptive father of both children, and did the same thing when Jolie later adopted Pax from Vietnam. The couple also gave birth to daughter Shiloh in 2006, and twins Knox and Vivienne in 2008.
Both Brad Pitt and Angelina Jolie were involved in highly publicized relationships before beginning one together in 2005. Pitt spent much of the late '80s and early '90s dating a string of his film costars, including an engagement to his Seven costar Gwyneth Paltrow. He then married Jennifer Aniston in 2000, and many have theorized that the pair's later divorce in 2005 was due to a relationship between Pitt and Jolie, but all parties involved deny these claims. For her part, Jolie married her Hackers costar Jonny Lee Miller in 1996, and then Pushing Tin costar Billy Bob Thornton in 2000.
After meeting on the set of the 2005 spy thriller Mr. & Mrs. Smith, Brad Pitt and Angelina Jolie began a relationship. The pair didn't actually publicly acknowledge their relationship until Jolie revealed that she was pregnant with Shiloh at the beginning of 2006. Their couple name "Brangelina" was quickly on the cover of every tabloid, and they would remain a paparazzi fixture for their whole relationship. They announced their engagement in 2012, and got married in a private ceremony in France in 2014.
For years, the only project that Brad Pitt and Angelina Jolie collaborated on was Mr. & Mrs. Smith, but last year they released the romance drama By the Sea, which stars Pitt and Jolie as a troubled couple who have to overcome infidelity. The film was written and directed by Jolie (who is credited in it as Angelina Jolie Pitt), and Pitt was a producer on it along with his then-wife.
Your Daily Blend of Entertainment News
Your Daily Blend of Entertainment News
Thank you for signing up to CinemaBlend. You will receive a verification email shortly.
There was a problem. Please refresh the page and try again.