Lindsay Lohan Lost Part Of Her Finger During A Boating Accident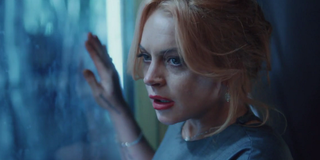 (Image credit: Till Human Voices Wake Us)
As fans of the 2004 movie Mean Girls well know, October 3rd is an important day of every year. But sadly, this year there's an air of somberness over the date, as news has come out that Lindsay Lohan nearly lost at least part of her finger in a gruesome accident over the weekend.
Lindsay Lohan was rushed to the hospital after a boating accident tore off a chunk of her ring finger, PEOPLE reports. In a SnapChat video, Lohan says that the injury happened while she was "trying to help anchor the boat by [herself]." Lohan then posted a photo of her finger in a bandaged cast, and wrote that the anchor had ripped off half her finger, and that she had to find the part that was torn off and undergo surgery to reattach it.
It's unclear where the actual boating accident took place, but it may have occurred on Lindsay Lohan's trip to Turkey, where she recently spent time visiting refugees from the Syrian city of Aleppo. News of the injury soon started to make headlines, and many outlets wrote that Lohan's finger was severed or chopped off. Lohan took to Twitter on Monday to make the horrific clarification that her finger was "ripped off" in the accident.
But thankfully, Lindsay Lohan seems to be recovering and in good spirits, even making jokes about the accident. On Monday morning, Lohan posted a photo of herself with the caption "One handed selfie," followed by three laughing emojis. She's also posted joking texts with friends in honor of the Mean Girls holiday.
Get well soon, Lindsay!
Your Daily Blend of Entertainment News