Guy Hacks Billboard And Streams Porn On It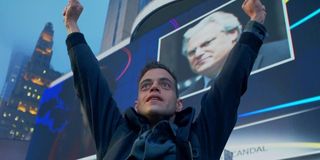 (Image credit: Mr. Robot)
Drivers on a busy thoroughfare in Jakarta, Indonesia got a very unexpected surprise last week: a gigantic screen of streaming pornography. A hacker who discovered the passcode to stream from a large video billboard in the city used it to play a porn video last Friday.
Jakarta police have identified the hacker as a 24-year-old I.T. worker who is being referred to by his initials S.A.R., CNN reports. Apparently, this guy claims that he saw the username and password that were needed to log into the billboard displayed on its control panel, and then logged into the system from his office with the information later on and began playing porn on it. I guess hacker is kind of a strong word here for a kid who just noticed a larger equivalent of a sticky note on a laptop.
S.A.R.'s porn lasted for about five minutes before someone finally cut the electricity to the billboard, but that was more than enough time for pretty much everyone driving by it to take photos and videos of the strange event and turn it into a viral joke.
While S.A.R. was most likely acting out some prank he thought would be funny, it is likely going to have serious ramifications for him. He could face up to seven years in prison if he's convicted, though he's now claiming that he played the sex film unintentionally. The police are continuing to investigate the case, and are suspicious that S.A.R. may have had an accomplice. Apparently, his story about finding the password for the billboard's operating system openly displayed doesn't add up, as there's been no evidence that the billboard operator left it out, and the police couldn't find a photo of the passcode on S.A.R.'s phone, which he claimed to have snapped.
Strangely enough, this isn't the only super bizarre porn-related story from this week. An insurance manager in Sydney who was fired for watching porn at work had the balls to turn around and sue his former company for wrongful termination, and he actually won the suit! The man pointed out that he had only downloaded the hardcore porn to his work-issued computer on lunch breaks and after work hours, so he was technically never on the clock while... you know. The argument wound up working, and the man was awarded $10,000 from his former employer.
So I guess what we've learned from all this is to be careful where you watch porn: apparently, on your lunch break is fine but on a gigantic billboard is pretty not okay.
Your Daily Blend of Entertainment News
Thank you for signing up to CinemaBlend. You will receive a verification email shortly.
There was a problem. Please refresh the page and try again.