The Overwatch Porn Parody Is Exactly What You Think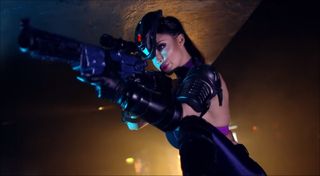 One of the most popular games this year that came out for home consoles and PC is Blizzard's Overwatch. The game also managed to become an overnight sensation in the porn industry. So to no one's surprise, one porn company is taking it the next level with a live-action role-play porn parody of Overwatch.
Posted up to the Trendzz YouTube channel, the teaser trailer for the Overwatch porn parody comes courtesy of mega-porn corp, Brazzers.
The video starts with Aletta Ocean cosplaying as Widowmaker, the sexy sniper from Blizzard's FPS title. She takes aim at the appropriately named Danny D, who is dressed up like a poor man's Reaper.
The two of them exchange fire in a poorly lit, cheap looking warehouse while making porn puns. There's nothing quite like seeing your favorite video games in a trailer where they make porn puns.
The comment section exploded in positive feedback for the trailer, with some of the most upvoted comments asking "Where's Tracer?". For those who don't keep up with the meta-community surrounding Overwatch, there's been an explosion of popularity surrounding Widowmaker and Tracer... both individually and together.
Blizzard tried hard to scrub the net of porn centered around Overwatch right when the game first came out because some of the top searches on the first page of "Overwatch" had to deal with porn based on the game's characters. In fact, there was a strong Source Filmaker (SFM) community based around the game making NSFW videos before a third-party company hired by Blizzard went through to have a lot of the SFM models removed from the net.
Modders are resourceful beings, though.
The modding community began using MMD (from the animation program MikuMikuDance) models instead of SFM models in order to carry out their fan-fiction desires regarding art and short-films centered around Overwatch that were aimed at audiences 18 years of age and older.
Eventually, Garry's Mod users managed to rip and publish more of the models from Overwatch onto the Steam Workshop, which eventually made their way back to the Source Filmmaker, allowing the pornographers to get back to doing what they do best. You're probably wondering what Garry's Mod has to do with any of this, but you can share models between Garry's Mod and SFM since they both use the Source Engine, so usually gamers rip assets and post it to the Gmod Workshop before the SFM crowd gets a hold of the assets.
In this particular case, there are no assets or materials from Overwatch involved. It's just a straight-up, live-action actors dressed up in similar clothing to the characters while cashing in on the popularity of the game. The fans are obviously excited and definitely want to see more characters appear in Brazzers' parodies. The company has been known to base a lot of their recent work on pop-culture items, such as the Marvel and DC properties.
Given how popular the Overwatch porn community is, one can only wonder what Blizzard thinks of all this.
Your Daily Blend of Entertainment News
Staff Writer at CinemaBlend.
Your Daily Blend of Entertainment News
Thank you for signing up to CinemaBlend. You will receive a verification email shortly.
There was a problem. Please refresh the page and try again.